In three week's time, we get the launch of Superman: Year One by Frank Miller, John Romita Jr and Danny Miki, from DC Comics. Yesterday we mentioned that though this series is intended to be out of continuity, be in continuity with Dark Knight Returns, Dark Knight Strikes Again, Dark Knight III: The Master Race and any other Dark Knight Universe books he has planned – and Batman Year One for good measure.
Is this power creep… or power creepy?
In Superman The Movie, Lois Lane asks (rather than sings as originally intended) if Superman can read her mind. He can't, but he does exhibit telepathic powers when in Superman II he removes her memory of Superman and Clark Kent being the same with a super-kiss.
In Lois and Clark: The New Adventures of Superman TV series, we find that Kryptonian Telepathy is the ability of Kryptonians to communicate with other Kryptonians telepathically. This ability was known to the inhabitants of New Krypton, who taught it to Superman.
While back in the Golden Age of comics, Superman's telepathic abilities would pop up now and again, a kind of feature creep…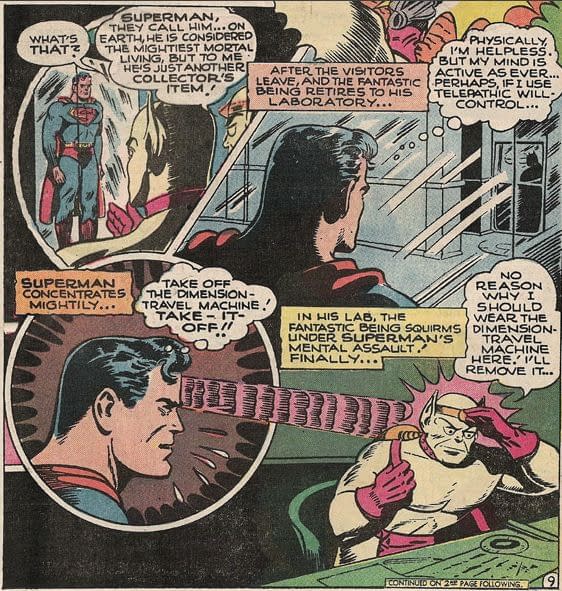 …while more recently, Superman has engaged in a Kryptonian meditation practice that gave him access to a psychic plane. And mind control.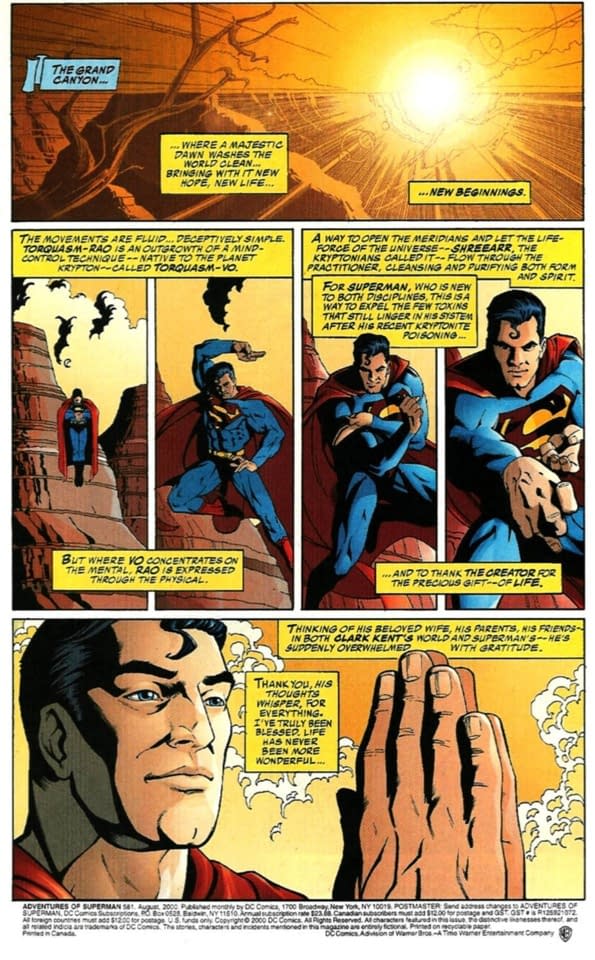 Also, he never needs Caller ID.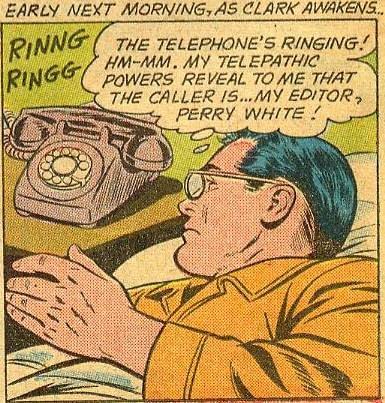 So it's been around. But in Frank Miller and John Romita Jr's upcoming Superman Year One, it's back.
The importance of parental control.
The first moment appears in the first book when Jonathan Kent finds the landed Superboy on his farm. And as he reaches out to pick up the boy-who-would-be-Clark-Kent, we get more of the rather annoying constant chattering second person perspective narration that fills this comic, often where Romita's pictures are doing more than enough to convey what's going on. But not in this case.
'Jon Kent feels something probe inside his skull. A gentle warmth makes him feel like his brain is floating. The boy coos, pleased. This is not a hostile. Let him take you to your new home. Let him think this was all his idea'.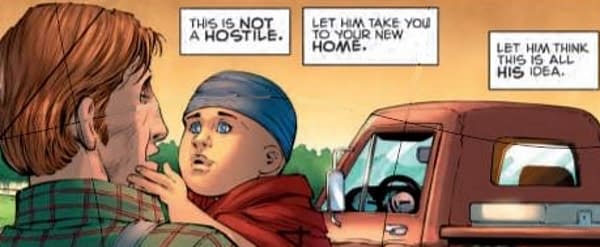 Superman, as a baby, telepathically controls his father to take him home. Which takes me straight to Miracleman, by Alan Moore, Rick Veitch and John Totleben with Winter doing similar to her parents.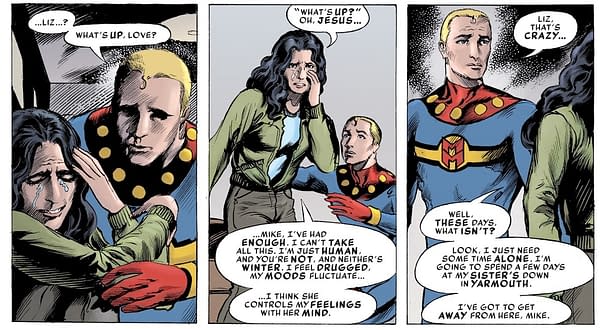 This doesn't get mentioned again in the first chapter, though there is the underlying feeling as a result that Clark Kent is controlling much around him. Including the reaction of Lana Lang to him. The Kansas farms give one an instant feel of It's A Good Life by Jerome Bixby, adapted for television for The Twilight Zone. Send them to the cornfields…
It does come up again in the second book, meeting mermaid Lori Lemaris, previously established in comics as part of a telepathic race, who he communicates telepathically right back. And the rest of her people.
'Words… the hero's voice spoke to us… to our minds… with a voice strong and sure'.
There's a lot to unpack and talk about in Superman Year One . We could easily have an article a day until publication… oh go on then. Why not? Let's see how we do…
SUPERMAN YEAR ONE #1 (OF 3) ROMITA COVER
(W) Frank Miller (A/CA) Danny Miki, John RomitaJr
From the burning world of Krypton to the bucolic fields of Kansas, the first chapter of SUPERMAN YEAR ONE tracks Clark Kent's youth in Kansas, as he comes to terms with his strange powers and struggles to find his place in our world. DC BLACK LABEL is proud to present the definitive origin of Superman as rendered by the legendary comics creators Frank Miller and John Romita Jr.!
PRESTIGE FORMAT In Shops: Jun 19, 2019 SRP: $7.99

SUPERMAN YEAR ONE #2 (OF 3) (MR)
(W) Frank Miller (A) Danny Miki (A/CA) John RomitaJr
Clark Kent's journey of self-discovery continues in the second installment of Frank Miller and John Romita Jr.'s remarkable reimagining of Superman's origin story. This chapter takes young Clark to the Pacific coast and beyond, as he discovers a place as sensational as he is…Atlantis! There he meets new people, finds love, clashes with gargantuan beasts and discovers the man he's meant to be. In Shops: Aug 21, 2019 SRP: $7.99
Enjoyed this article? Share it!