Welcome to the Fourth Bleeding Cool Top 100 Power List for the next Bleeding Cool Magazine, being serialized right now on the Bleeding Cool website.
It's an attempt to list the most powerful people working in the English speaking comic book marketplace. It's judged by all manner of attributes, the ability to influence what comics exist and sell, but also the willingness to use that power and the ability to retain said power if one aspect is taken away – a job, a gig or a prominent role. Which is why you will see a number of people on a higher spot than their bosses.
The Power List rewards those who combine roles, those who are double and triple threats and also where power is concentrated in one person or perceived identity. But it also notes certain teams who work together, who've built up a joint identity, a gestalt more powerful than the sum of their parts. Some powerful organisations or groups, where power is diffused amongst many, drop down or drop out altogether.
It does not measure talent or likeability and also does not intend to represent diversity. All it does is note power, used for the betterment – or the detriment – of comics.
The list has been created in consultation with a number of senior figures in the comics industry. However, I'm aware the one thing that can be guaranteed is that everyone will think it's wrong and prefer their own take. Including all of those who were consulted.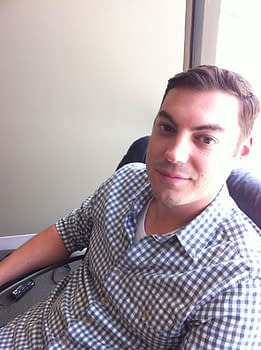 There will be a new post every day on Bleeding Cool. We'll run the previous ones below as well, so, in reverse order…
58. Matt Gagnon
Slowly, quietly, surely, as editor-in-chief of Boom! Studios, Matt Gagnon has been building a considerable original line, from Lumberjanes, The Woods, Six Gun Gorilla, Hacktivist, Klaus, Jonesy, Americatown, and more, as well as creating the media-enamoured Day Men.
He's also lined up a licensed line that brings all the boys and girls to the yard with Adventure Time, Bravest Warriors, Steven Universe, Over The Garden Wall and dominating convention sales as a result.
Position next year depends upon: Certain people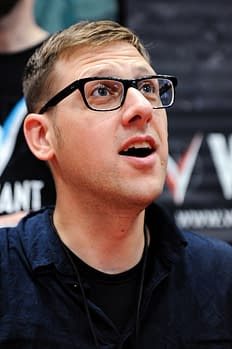 57. Jeff Lemire – NEW ENTRY
2015 was a very good year for Jeff Lemire, ten years after a Xeric Award would help him create his iconic graphic novel Essex County. Today, two hit books from Image Comics with Descender (with a Sony movie deal) followed by Plutona, a high profile launch of Bloodshot Returns from Valiant, and becoming head writer of Marvel's X-Men titles as Brian Bendis and Rick Remender bowed out, have seen him rise rapidly into the chart.
Marvel have fewer concerns over the X-Men line as they don't control the movie rights. With fewer corporate editorial notes, Jeff Lemire has a greater autonomy to do what he wants with the characters – as long as they don't interfere with the rest of the books.
Position next year depends upon: Pushing X-Men titles up the charts again, despite company PR preferring to highlight other titles. 56. Gail Simone – UP
There are few people into whose hands Dynamite could put characters best known for stories of sexual exploitation, to see them completely transformed without losing fanboy trust. That person was Gail Simone, who recruited a number of female creators to transform Vampirella, Red Sonja, Dejah Thoris and more into confident, sexy, yet far more acceptable versions of themselves to a more mainstream audience.
Added to her Kickstarting exploits, and totemic presence for a swathe of comic book fans, with new Vertigo and Image titles, they're not going away….
Position next year depends upon: Doing the same to Tarot: Witch Of The Black Rose.
#100-#98 – Dennis Barger, Janelle Asselin, Matthew Rosenberg
#97-#95 – Rich Johnston, Marc Silvestri, James Killen
#94-#92 – Jim Demonakos, Tim Buckley, Gahl Buslov
#91-#89 – Rob Liefeld, Peter Dolan, Catlin DiMotta
#88-#86 – Ken Levin, David Alpert, Kate Leth
#85-#83 – Jason Aaron, Stephen Christy, Jon Goldwater
#82-#80 – Stan Lee, Lorelei Bunjes, Marc Toberoff
#79-#77 – Jason Kingsley, Fiona Staples, Neal Adams
#76-#74 – Jim Sokolowski, Robbie Robbins, Corey Murphy
#73-#71 – Greg Capullo, Neil Gaiman, Art Baltazar & Franco
#70-#68 – Nemesis 43, Chris Powell, Mike Armstrong
#67-#65 – Hank Kanalz, Chuck Parker, John Rogers
#64-#62 – Alan Moore, Fred Pierce, John Wurzer
#61-#59 – Kate Beaton, CB Cebulski, Charles Soule
And catch up on previous years, here:
2014:
#100-#81
#80-#61
#60-#41
#40-#21
#20-#11
#10-#1
2013:
#100-#81
#80-#61
#60-#41
#40-#21
#20-#11
#10-#1
2012:
#100-#81
#80-#61
#60-#41
#40-#21
#20-#11
#10-#1
Bleeding Cool Magazine #19 is out now in all good comic book stores. Bleeding Cool Magazine #20 with the full Top 100 Power List will be out in January.
Enjoyed this article? Share it!