By Mark Avo
Although there aren't as many comic themed events outside of the Salt Lake Comic Con, there are a few geek events I would be remiss if I didn't mention first. After all, you have to eat your veggie before you eat your meat.
Tuesday, January 27th – Sunday, February 1st
All week long is the final week of the annual Sundance Film Festival. Movie screening will be occurring throughout the week in theaters in both Salt Lake City and in Park City, just a 30 minute drive into the heart of the stunning Wasatch Mountains.

Starting Tuesday and occurring again on Wednesday is the Salt Lake City Public Library's event celebrating 50 selected works by beloved author and illustrator Maurice Sendak. Billed as Maurice Sendak: 50 Years, 50 Works, 50 Reasons the event is celebrating the 50th anniversary of the publication of Where the Wild Things Are. The event starts at 10AM each day and continues until the library closes.
Wednesday, January 28th
In a tease of the winter version of the Salt Lake Comic Con FanX event, local favorite comic book shop Dr. Volts Comics will host the legendary comic book artist and writer Neal Adams for a book signing beginning at 4:00PM MST. Neal Adams is making another trip to the mountain area as he guests at the Salt Lake Comic Con FanX event but he'll first give comic book geeks a chance to talk to him in their natural environment. The great news for fans is that Wednesday is comic book day and a wonderful opportunity to pick up new books and meet a legend even if they can't make the convention on the following days.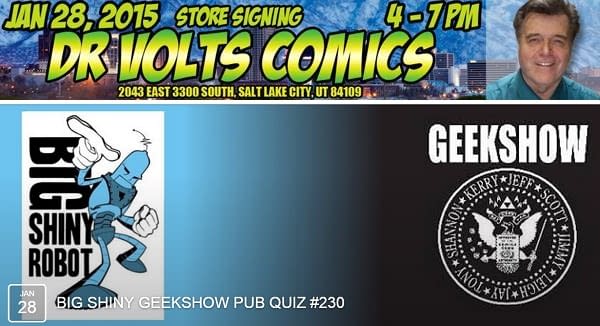 If you're of legal age and a geek with something to prove or a geek with a healthy appetite, I suggest attending the award winning Big Shiny Geekshow Pub Quiz at Lucky 13 in Salt Lake City. The weekly pub quiz never disappoints and Lucky 13 has some of the best craft burgers and cold beer this side of the Milky Way Galaxy. The event starts Wednesday at 8:30 PM and it's also a good chance to run into talented hosts of the Geekshow podcast.
Thursday, January 29th – Saturday, January 31st
The first day of the Salt Lake Comic Con FanX event kicks off with a bang and goes late for attendees that can't make the event until the work day has ended. The convention will run Thursday through Saturday evening with special events, celebrity guests, panels, an exhibition hall, and the wildly popular Kids Con for kids. Every adult ticket holder is eligible for two free tickets for children under the age of 10. Celebrities like Brandon Routh (Arrow), Carrie Fisher (Star Wars), Matt Smith (Dr. Who), Karen Gillan (Guardians of the Galaxy), and Ray Park (X-Men) from film and TV will be guests at the event. Some will even be panelists. As for comic industry specific attendees, the list is a bit smaller compared to the summer event, but still full of wonderfully talented individuals such as Neal Adams, Bill Galvan, Bill Morrison, JJ Harrison, and Dave Dorman. There are also many talented artists and authors attending the convention and a full list of celebrity guests can be found here.
Events for the convention will be the highlight for me. As a panelist, I'll get a chance to talk about comics, storytelling, and writing with peers and professionals alike. No one is attending to see me though, so expect popular panelists like Kerry Jackson, JM Bell, & Trent Hunsaker from the Geekshow Podcast, Hold 322 podcast, and the Smodcast podcast Netheads to thrill, entertain, and educate you.
There will be board game competitions featuring collectable card games and traditional table top games alike. In addition to analog gaming, there will be a Mario Kart Tournament in addition to other video game competitions occurring during the convention. If you're looking for a geeky competition with a mix between real world and the video one, you'll want to enter the Zom-B Laser tag competition occurring every day of the convention.
Cosplay will also be a highlight of the convention. The FanX cosplay contest is happening in a state with one of the largest Star Wars and Serenity (brown coats) cosplay groups so the cosplay will be highly competitive and very polished.
As stated previously, the Kids Con portion of the past Salt Lake Comic Conventions is back and will have crafting, super-hero training, and other events to make the convention kid friendly and a wonderful time for the whole family.
The entire event will be happening in the Salt Palace Convention center and information on ticketing can be found here.
If you're the partying type that likes to people watch but doesn't necessarily want to attend a large convention because you reserve your extra cash for floppies and trade paper backs you'll be interested in the X96 FanX Red Carpet Party. The party is being hosted by local, indie and alternative radio station X96. The event is open to anyone but is still an official FanX event. There is no need to have a FanX pass to get in but there is a 20 dollar cover. If you're a big spender you can buy a 100 dollar ticket and get VIP access to celebrities and comic professionals. The event is at the Infinity Event Center which is a few blocks away from the convention center.
Mark Avo can usually be found behind a keyboard coding for databases or reviewing comic books. He can also be found writing and inking The Salt City Strangers comic book or pretending he's an expert on their Indie Publishing podcast The Undead Soup. You can delight or even heckle him with your tweets @MarkAvo and he'll be totally thrilled.
Enjoyed this article? Share it!