Things To Do In New York And Philadelphia This Week If You Like Comics
Tuesday, September 23rd The 100th meeting of the NY Comics & Picture-story Symposium will be held on Tuesday, September 23, 2014 at 8 pm at Parsons The New School, 2 West 13th Street, in the Bark Room (off the lobby). The event is free and open to the public. Please note 8pm starting time. Presentations will be by Michael DeForge, Simon Hanselmann and Patrick Kyle. Michael DeForge goes through different finished and unfinished projects he's thrown away before publication. He discusses the value of abandoning projects, scripted versus improvised storytelling and the importance of digressions in the writing process. Simon Hanselmann will discuss the Australian comics scene, the virtues of Tumblr as a distribution platform, making money, 'the future' and his general comics making process. Also: various crackpot theories and obscure in-jokes.
Thursday, September 25th Locust Moon Comics at 34 South 40th Street in Philadelphia will host a Drink and Draw from 7PM-11PM.
Friday, September 26th Locust Moon Comics at 34 South 40th Street in Philadelphia will host a Jim Henson's Storyteller Signing with S.M. Vidaurri at 7PM.
Sunday, September 28th-October 3rd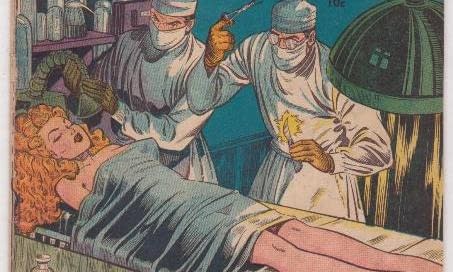 Escape Pod Comics in Huntington, Long Island, will host a Comictoberfest from September 28th-October 31st featuring a number of comic events.Kicking things off this Sunday, they will hold Cosplay Sunday: Countdown to NYCC. They say: "Less than TWO WEEKS before NYCC! Is your Cosplay ready?! Bring it down to us for finishing touches. Cosplay pros Inochii / Nerdy Lolita & Brittany Lauda – Voice Actress will have sewing machines and other tools on hand while our other Cosplayers will be wonderfully working away at their own stuff, but always ready to lend a hand!"
The Comictoberfest events also include:
Sunday September 28th: Cosplay Sunday: Countdown to NYCC https://www.facebook.com/events/531230480354981/
Sunday October 5th: On The Books Signing with Greg Farrell
https://www.facebook.com/events/354448784713841/
Monday October 6th: World-Builder Antony Johnston
https://www.facebook.com/events/681960645234040/
Tuesday October 7th: Gotham Academy Party and Batgirl #35 pre-sale!
https://www.facebook.com/events/526633474149538/
Sunday October 12th: Alex DeCampi in store
https://www.facebook.com/events/894206797274592
Monday, October 13th: Fabrice Sapolsky in store
https://www.facebook.com/events/1542464295989337/
Sunday October 26th: Halloween ComicFest