Things To Do In New York This Week If You Like Comics
Tuesday, June 17th JHU Comics on 32 East 32nd Street in New York will be hosting a signing with Josh Blaylock from 5PM to 8PM. They say: "JHU Comic Books is proud to welcome Josh Blaylock (GI Joe, Mercy Sparx, Yumiko: Curse of the Merch Girl) to our Manhattan location! As a talented writer and head of Devil's Due Entertainment, Josh is bringing everything with him under the sun to sign! Come through and meet him at this special signing event!"
Tuesday, June 17th Vinyl Fantasy, at 194 Knickerbocker Avenue in Brooklyn, will be hosting a signing with Yale Stewart at 5PM. They say: "Come hang out and meet Yale Stewart, writer and illustrator of JL8, a hilarous webcomic that features all your favorite DC characters as 8 year olds. Buy some prints, get them signed, hang out. Beer, vinyl, comics as usual".
Tuesday, June 17th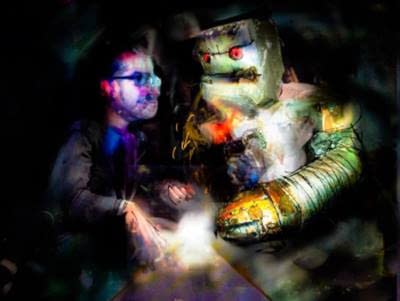 "The Myth of Power with Caveman Robot and Drummon Pierce-Nez" will be performed as part of the Comic Book Theater Festival at The Brick Theater in Williamsburg, Brooklyn, from 9-10PM. The play is described thus:
"Long thought taped over by an Arizona PBS station for a less significant Bill Moyers segment, The Myth of Power is not just in your imagination! Archetype hunter and mail-order tribal initiate Drummond Pierce-Nez gets to meet and interview his favorite pop deity, comicbook paragon Caveman Robot, live and incarnate for one sleepless night only. Get a courtside seat to the conceptual cage-match of the last 150 million years as the mechanical manchild and the hero of a thousand of his own stories dish about what the elder gods and fire-breathing Yeti were really like when the scribes weren't carving. Featuring artist and tent-show conceptualist Jason Robert Bell with comicbook writer and pop lecturer Adam McGovern, it's a panopticon of staged conversation, video, cosplay and hallucination you can take all your ancestors to!"
Wednesday, June 18th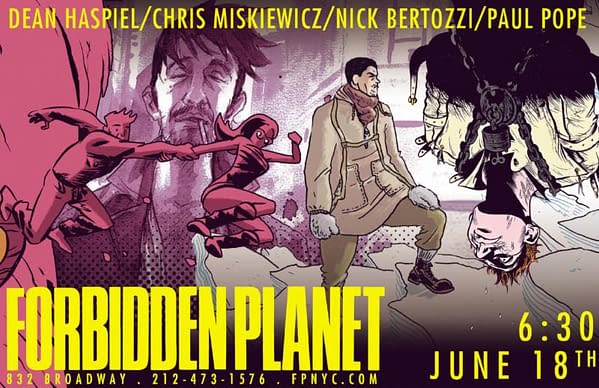 Forbidden Planet at 832 Broadway in New York will host a signing by Dean Haspiel, Chris Miskiewicz, Nick Bertozzi, Paul Pope, and Bob Fingerman at 6:30PM. They say: "A Forbidden Planet NYC Mega-Signing! Paul Pope will be signing copies the brand new release of his masterpiece ESCAPO from Z2 Comics. Dean Haspiel will be signing his new book FEAR MY DEAR: A BILLY DOGMA EXPERIENCE also from Z2. Nick Bertozzi will be signing copies of SHACKLETON. And Chris Miskiewicz will be signing issue #1 of his hugely anticipated new book THOMAS ALSOP from BOOM! Studios. Bob Fingerman will also be on hand to celebrate MINIMUM WAGE #6, the final issue of the first new story arc. Come early to make sure you can snag all 5 of these amazing books!". You can find more details here.
Friday, June 20th
"King Kirby", a play by Crystal Skillman and Fred Van Lente, directed by John Hurley, will be performed as part of the Comic Book Theater Festival at The Brick Theater in Williamsburg, Brooklyn, at 7PM. The play will also be performed from June 20th-29th as "The hysterical and heartbreaking true story of artist Jack Kirby, 'the King of the Comics'". All tickets are $18, and for tickets visit https://web.ovationtix.com/trs/pr/934831. For more info about the Comic Book Theater Festival visit bricktheater.com/comics.
Saturday, June 21st

Dean Haspiel presents "Enter to Win", a "Psychotronic Salon" at 7:30PM at Union Hall at 702 Union Street in Brooklyn, New York, featuring Jonathan Ames, Angry Bob, Tim Hall, Joseph Keckler, Jason Little, Meghan Turbitt, and an open mic spotlight of performed work including comics, prose, and comedy.
They say: "Join your host Dean Haspiel for a psychotronic salon featuring comix slideshows, spoken word, comedy, music, some very ridiculous surprises, and a chance to win the Open Mic Spotlight. Come and take your shirt off! Featuring special guests Jonathan Ames, Angry Bob, Tim Hall, Joseph Keckler, Jason Little, and Meghan Turbitt".
Jonathan Ames https://twitter.com/JonathanAmes
Angry Bob http://www.angrybob.org/
Tim Hall http://timhallbooks.wordpress.com/
Joseph Keckler http://www.josephkeckler.com/
Jason Little http://www.beecomix.com/
Meghan Turbitt http://meghanturbitt.storenvy.com/
For tickets & info visit http://www.unionhallny.com/event/569127