This Is The End — The Bleeding Cool Review In 2012 it was Snow White stories. 2009 saw a pair of Mall Cops duke it out in the multiplexes. 1999 gave us duelling CGI bug flicks. In 1998, big space rocks. A year before that, volcanoes. But in 2013, the end of the world is where it's at.
Todd Berger's fine, but somewhat neglected It's a Disaster is still fresh in the minds of the few of us that saw it. Nick Frost and Simon Pegg are just about to treat us to The World's End. Rapture-palooza offers a gonzo teen comedy approach to the End Of Days with Anna Kendrick on hand to lure over the less well-behaved end of the Twilight demographic.
And the cast of stoner classic Pineapple Express are reimagining Book of the Revelation of Saint John the Divine for the premium-grade bong set. And that's what I'm here to talk to you about today. The star-studded, drug-addled, frankly bonkers Eschaton-com This Is The End. This Is The End grew out of a little-seen short called Jay and Seth vs. The Apocalypse, made by Seth Rogen and Jay Baruchel in 2007. That was a one-set, dialogue-heavy comedy about two losers, called Seth Rogen and Jay Baruchel, bickering in a room while the world ends around them.
It's the kind of thing you might have found on Funny Or Die. Despite its substantial budget, This Is The End is the same idea. If you're looking a one-sentence summation of this film here it is: This Is The End is a giant Funny Or Die sketch. The cast is extraordinary: James Franco, Jonah Hill, Seth Rogen, Jay Baruchel, Danny McBride and Craig Robinson are at the core of the things, playing characters that are heightened, exaggerated, you might say cartoony versions of themselves. Emma Watson, Michael Cera, Jason Segel, Christopher Mintz–Plasse and Rihanna turn up in smaller or cameo rôles. There's at least one guest star that I think is best left as a surprise. And there's a musical number with a band you might just remember too.
There are two ways of looking at this film. I can imagine quite a few people seeing it as a vast overblown vanity project. A self-indulgent home video made by millionaires with more money, and more drugs, than sense. And honestly if you did think that, I'd find it difficult to argue with you.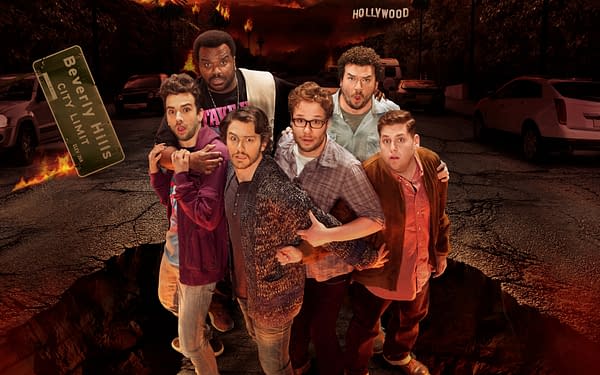 But it is also amazingly, stupidly, riotously funny. I've honestly never smoked one of those marijuana cigarettes you hear about in the Beatles records. But I found this movie hilarious.
I'd wager that if you were among a group of young gentlemen holed up somewhere with a large-screen television and a premium-grade bong you would consider a DVD of This Is The End to be the essential component of your weekend. The plot could be sketched out on a King-size Rizla. It starts with Rogen and Baruchel attending a wild Hollywood party but that soon gives way to The Rapture, then The Tribulation, and then Satan shows up with his giant swinging CGI penis.
And that's about the only negative I can find really. This Is The End is a massive sausage-fest. Sure, you'll see Emma Watson in the trailer and Rihanna in a couple of stills. But almost every frame of the film that features them is in the trailer. The rest of the movie's a lads' night in. As long as you're as tolerant of man-children sniggering about knob gags, this is the film for you. But if you're in the habit of hauling your Bechdel test apparatus into the cinema, don't bother when you go to see This Is The End. It'll come out unused.
Somewhere in the world there's a cinema that still allows smoking. And maybe someone will sneak one of those funny cigarettes into a screening of This Is The End. If that person is you, I guarantee you'll laugh and laugh and laugh until you have to rush to the lobby for an emergency Toblerone.
[youtube]http://www.youtube.com/watch?v=RmC34g6tIAI[/youtube]