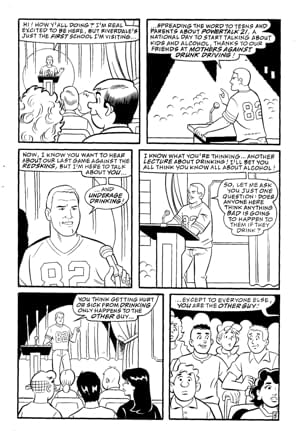 SportsWatch: Jason Witten appears in Archie to combat underage drinking. Got to say, if I lived in Riverdale I'd have started even earlier.
ClassicalMusicWatch: When classical music gets turned into comics.
Two members of Fifth House are fans of graphic novels and they approached Daniels after seeing his book, The Changers, at Chicago Comics bookstore. At that point, "Black Violet" existed only as a storyline in Daniels head, so Fifth House provided a list of musical works to inspire him and from there they worked together to create the three-part musical drama. The final selection of music includes works by Brahms, Prokofiev, Shostakovich and more contemporary musicians, including Queen.
ConWatch: Kapow gets slammed again for being a "sausage-watch" and that its lack of female stars prevents it from being like San Diego. I must confess that, even outside of manga, I'd have been surprised if comics A-lister Posy Simmonds hadn't been invited. With a film of her comic out recently too, wouldn't that have been perfect Kapow material?
ExecWatch: Wizard World has appointed Michael Mathews, former CEO of interclick, inc as their Chairman of the Board.
KickWatch: Jay Potts has launched a Kickstarter page to pay for the transition from web to print for his World Of Hurt strip.

TalentWatch: On Friday the 8th April, Marvel's CB Cebulski will be running an all day portfolio review at London's Cartoon Museum with David Lloyd and Steve Marchant, to all entrants at the museum. While you're there make sure you catch my new comic on display as well… This is The Bleeding Cool ComicChron Robot speaking. I come for your women. But for now I merely collate comic-related bits and pieces online. One day I will rule. Until that day, read on.
Starbucks Newsroom: Starbucks Digital Network, in partnership with Yahoo!, Debuts New Content Providers: The Economist, ESPN Insider and Mediabistro with Marvel Digital Comics Coming Soon
On the Entertainment Channel, watch for the upcoming arrival of the Marvel Universe as Super Heroes, mutants, aliens, armor-clad super-geniuses and thunder gods join forces with the Starbucks Digital Network on Apr. 23, 2011. Known for engrossing stories and a library of more than 8,000 characters, Marvel Comics gives Starbucks customers unlimited, free access to its full library of Marvel Digital Comics Unlimited. Spider-Man, Iron Man, Thor, Wolverine and others await to captivate as customers explore the comic realm and imagine fighting villains with a cup of coffee in hand.
Vertigo: Graphic Content » Blog Archive » Allred's Secret iZOMBIE Art Vault
iZOMBIE VOLUME 1: DEAD TO THE WORLD includes some really cool extras in a section called Allred's Secret Art Vault.
New X-Men: First Class Photo of Beast & Mystique
Nicholas Hoult and Jennifer Lawrence share a quiet moment together in this new photo from the upcoming "X-Men: First Class," hitting theaters June 3!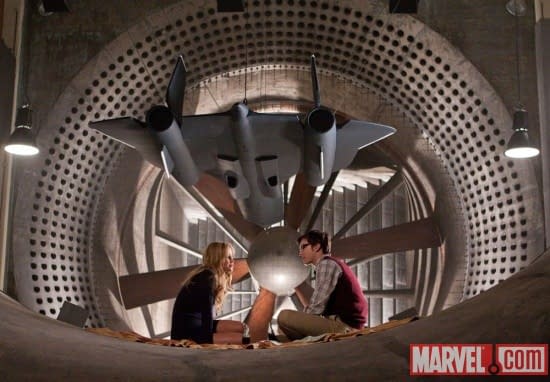 DC Universe: The Source » Blog Archive » Doomsday's Bloodthirsty Quest Continues
The Reign of Doomsday continues in its third installment, "Eclipso Rising, Part Two: Mayhem." With Eclipso's powers spreading and mightier than ever, Blue Lantern Saint Walker joins the Justice League of America to help fight off Doomsday – who proceeds to crush everything and everyone in his way of finding Cyborg Superman.
'Superman' Fight Rages – The Hollywood Reporter
That makes it more difficult for Toberoff and his clients to peddle Superman rights to another studio (and pressure Warners into a settlement). So he's now appealing the limited grant of rights to the 9th Circuit, hoping the court will finally determine who owns what. In the meantime, the clock is ticking on Warner Bros., which could lose certain rights to the character in 2013. The reboot is scheduled to hit theaters in 2012, but future films would be in jeopardy.
Warren Ellis » HALF MOON: Zeroing In
This is all still as rough as a bear's arse, on my end. There are other details to the above in other emails, I haven't yet combined it all into a clear document or a handy logline. But this is the point where we know where we are, where we're going, and the parameters for what we're going to do.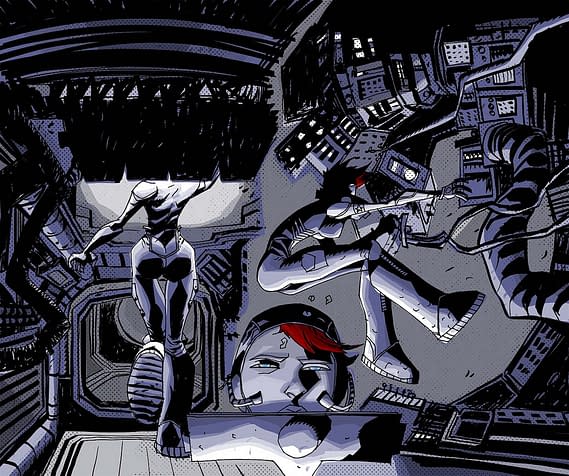 Enjoyed this article? Share it!