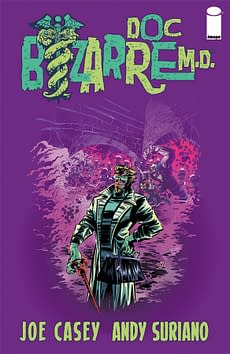 ImageWatch: Joe Casey and Andy Suriano are pushing a new graphic novel from Image, Doc Bizarre, MD, a dark comedy about a physician who deals with the supernatural.
Prepare to enter the world of DOC BIZARRE, M.D., a world of coughing creeps and diseased devils, a world where a doctor's prescription might include wolfsbane and garlic, a world where even the most powerful vampires find themselves crippled by the common cold. Who else can they turn to for relief, but DOC BIZARRE, M.D.?
SmithWatch: The Smiths comic Bleeding Cool talked about last week makes The Guardian and are now just $100 off their Kickstarter goal. And the Guardian runs previews.
JewWatch: Captain Israel and Foreskin Man hit the Huffington.
BatWatch: Sam Heughan talks about playing the lead in Batman Live!
"This production is very similar to the comics done by Jim Lee. The production is based on a lot of his drawings, so it's really true to the original.

"We had a two-week bat bootcamp before we started rehearsals, where we learned to do different kinds of martial arts and fighting.

"In the afternoons we rehearse a lot of flying scenes, where we're about 50 feet up. There's a cat-batfight and we had to learn to use the harnesses. It's been full-on but everyone is really enjoying it."
This is Computo the Comic Link Conqueror speaking. I come for your women. But for now I merely collate comic-related bits and pieces online. One day I will rule. Until that day, read on.
They say I am a work in progress. The fools.
Who Are Captain America's Biggest Foreign Box-Office Allies? [UPDATE] | Movieline
Before Captain America: First Avenger was released in July, much was made about how the title — and title character in his red, white and blue — would play in foreign markets. In fact, three countries (Russia, Ukraine and South Korea) even decided to release the film with the Marvel-approved shortened title The First Avenger. Following a successful showing stateside, good ol' Cap made his worldwide debut in many big foreign markets over the weekend; as the numbers trickle in, it looks he's got some pretty enthusiastic allies.
Features | Two men legally change their names to 'become' superheroes
Borbridge is now known as 'Baron Venom Balrog Sabretooth Vader Megatron Vegeta Robotnik Magneto Bison Sephiroth Lex Luthor Skeletor Joker Grind' and Mr. Knox-Hewson is now known as 'Emperor Spiderman Gandalf Wolverine Skywalker Optimus Prime Goku Sonic Xavier Ryu Cloud Superman HeMan Batman Thrash.' Seriously? The lads hope to make it into the history books, or at least a record book, for holding the longest names in the world.
Marvel ™ Kitchen Collection | Williams-Sonoma
Marvel kitchenware
The final WildStorm lunch. So many alumni came from near & far for our last meal together
DC Universe: The Source » Blog Archive » Behind The Scenes of DC Comics-The New 52: Inked pages from ANIMAL MAN #1
Earlier this morning, you saw Travel Foreman's pencilled art for pages #9-12 of ANIMAL MAN #1. Below, see how he layered ink over these pages to provide new depth to the visual elements of the book.
SpinoffWatch: A clip from The Consultant, a short film from the Thor Blu Ray, joining doits between Iron Man, Hulk, Thor and The Avengers.
[youtube]http://www.youtube.com/watch?&v=TBJMq-isHU4[/youtube]
Enjoyed this article? Share it!