To See Captain America Last Night In New York You Had To Leave A Little Of Your Dignity Behind (No Spoilers)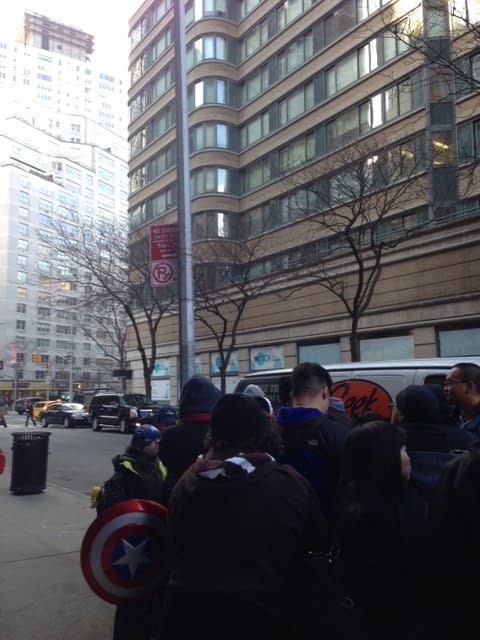 This isn't a review of the early screening of Captain America: Winter Soldier that I saw last night in New York City. Hopefully I'll put together some thoughts on that which will be rather spoilery at a later juncture. I just wanted to comment on the experience of attending one of the one early viewings in the mid-Atlantic region (that were the result of a social media contest by Marvel) and yes, make a few critiques of things I witnessed. Firstly, I was delighted to attend with our own Senior Cosplay Correspondent Ian Mageto, and there was much talk about Brubaker with Mageto really strutting his impressive comics knowledge. By 4:30 lines were around the block at the AMC Lowes Lincoln Center Cinema in New York waiting for the 7:30 screening, and though it was a little too cold out for all-out cosplay, there was plenty of fandom visible, with dashes of red, white, and plenty of blue peeking through parkas even from a distance. I was lucky to only have to wait 2 hours in the cold–many waited much longer, but they weren't dampened by the wait. Enthusiasm was running high and every person in line was thoroughly versed in the universe of the Marvel films, at least, and plenty with the comics behind them.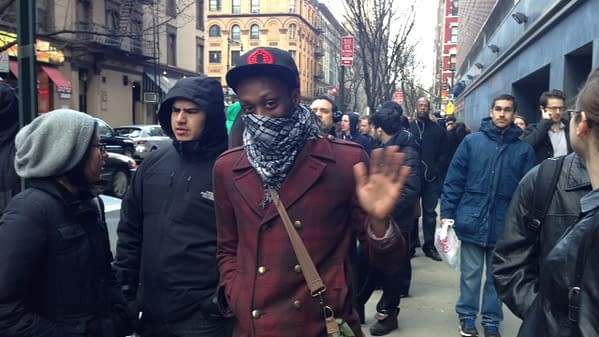 As the sun set, things clicked into gear and moving inside the theater only built up the suspense. Once I got inside though, I heard a rather horrifying story in the crowd that stopped me in my tracks even while people streamed past me to get good seats in the cinema. Apparently, those who had arrived only an hour before the screening hadn't been as lucky as me. They had joined the end of the massive line, trundling up with their precious tickets (though they were free, they were difficult to get and extremely limited), and been asked by the attendants to show their tickets in order to take their place. When they did so, the attendants then asked to take their tickets, so they dutifully handed them over. And then, without prior explanation, the attendants proceeded to tear up their tickets before their very eyes and inform them that they would not be viewing Captain America that evening. While they stood in stunned silence, they were handed other tickets and told to come back in a week's time.
Perhaps you're thinking, "Well, that's not so bad. At least they got new tickets", keep in mind that many people in the crowd had come from long distances to see the film that night. That they hadn't been given any warning that they might not gain admittance. That they had trustfully handed over their tickets only to see them torn up in a strangely callous display of power right in front of them. And remember that the majority of people in that line were enthusiastic, die-hard Cap fans. Honestly, I can't imagine fully what that must have felt like, and in my opinion, it was gratuitous behavior on the part of the organizers. I might also add that the organization had everyone's e-mail address who was a primary ticket holder and might have informed attendees that the event was overbooked or might end up becoming a disappointment for them.
Maybe because I had come a long way myself and anticipated the film so much, I was particularly upset to hear what had happened to other fans. But I shuffled along to the bag search. And there was a little more indignity to follow. Everyone was obliged to hand over their cell phones and just about all manner of electrical devices as well as being given a scan by a metal detector before being allowed to see the film. Again, you might think, "So what? The important thing is the film". True.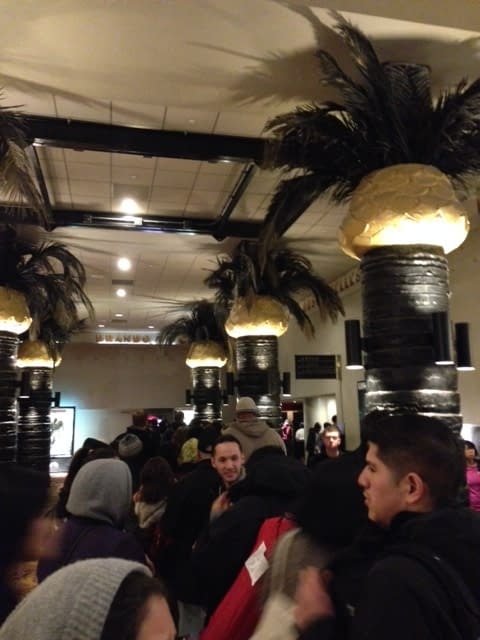 But as in the first instance, attendees were given no warning that this would happen and it caused a slight wave of shock as people realized this was the case. And it's one thing to hand over your phone for a few hours, uncomfortable though it may be (let's assume that at least one person in the crowd might have been waiting for some urgent phone call or text about the well-being of friends or family), but it's another to hand over all electrical devices in a fairly unsecured environment.
I was unfortunate enough myself to have come directly from work with my brand new laptop which I treat like a favorite pet and don't even let anyone else use. Handing it over, without a secure case (because I hadn't been forewarned about this) to be placed in a public hall on a plastic table (no protective bins were being used or storage) and leaving it simply sitting on a table for hours was very off-putting for me. Had I been warned, I would have left it at home. And leaving it on a table unsecured like that was against just about every personal instinct. There were attendants who assured there would be someone at the table at all times, but I did not feel particularly calmed by this statement when they refused to answer my question about legal liability should anything happen to it.
So, I left my dignity behind at the table because I wanted to see Captain America: Winter Soldier. Which was quite an astonishing film. I agree with others in using that word because my jaw literally dropped several times and I found myself just staring at the screen, mouth open. Some other audience members were more vocal, literally screaming their disbelief at plot elements and spectacle throughout the film. One thing is certain: this film is memorable. More on that later. It's a shame that the mechanisms necessary to have such an experience left such a dent in fan morale that it took a film of the magnitude of Winter Soldier to correct things.
Hannah Means-Shannon is EIC at Bleeding Cool and @hannahmenzies on Twitter