Top Cow kicked off their panel at Wondercon by spotlighting their new game Tales of Honor video game coming out in less than 2 weeks for IOS and continued to give out some free play access codes to audience members during the Q&A period.
Marc Silvestri, Larime Taylor, and Matt Hawkins featured on the panel with Hawkins moderating about their upcoming and ongoing work.
Hawkins asked Silvestri about the possibility of a new Darkness game, and if another is in the works. The answer is "hopefully" since the Darkness feature film is underway, and if the movie happens, there will likely be a third game. The first of the Darkness game came out 8 years ago, and is still popular on multiple platforms.
Regarding film treatments, Len Wiseman, who created Underworld franchise and the last Diehard movie is a big fan of Darkness, and also created the pilot for the show Sleepy Hollow. Currently, the rights to both Darkness and Witchblade have been optioned, so Witchblade elements will appear in the Darkness film
Via Image, Top Cow's FCBD comic "Rise of the Magi", is arriving soon, and it's an idea that Silvestri has been working on since 2008 he said. This first issue on FCBD, is a full free zero issue, and the first issue of same book ships the same time.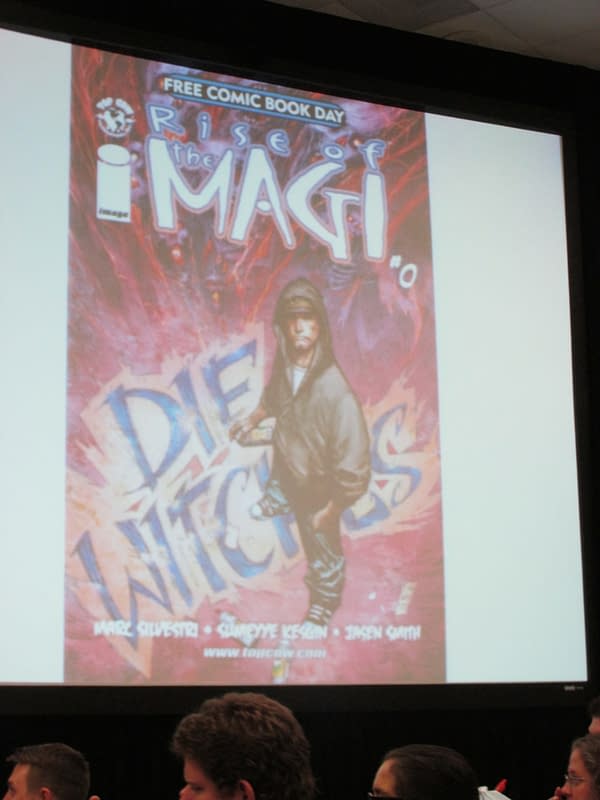 Silvestri described "Rise of the Magi" as "Harry Potter meets The Usual Suspects, and Seven Samurai". It will have a mystery unfolding, introduced readers to a "crazy world, like Harry Potter turned up to 11".
The book features our reality and another "place of magic" where our hero comes from where "magic is every day to them". Our hero is limited in his magical abilities, repairs flying carpets, and "winds up having to save two universes". It's a place where walnuts function as cellphone. A clue in our earth leads our hero "back home", following a villain, but the "big problem is that all the magic that exists in the universe has been congealed into one ball the size of a basketball and the whole universe runs on it. All of our universe runs on magic, even if we don't know it, like when we play with particle accelerators", Silvestri said. The idea is that "someone stole a little piece of it, like half a grain of salt the weight of Manhattan island", and that little fragment "can destroy the galaxy".
There's a playfulness and entertainment value in the comics, where weapons like "goblin launchers" actually consist of a shotgun shell where a "12 gage shell has 12 little goblins in it. When they hit you, they eat into you, then eat their way back out", Silvestri said and a "hand" grenade actually contains 2 or 3 dozen hands that "pull people's eyes out".
Turning to a discussion of Witchblade, the cover for issue #175 is a homage to Wolverine #251. It's going to be a "monumental issue" and the series has the "longest running female lead character in comics history". It's coming out next month with variant covers. The 4th cover is a homage to the origin of the series and has been updated to original creator.
Artifacts will be featuring part of Top Cow's talent hunt, the winners of which will soon be announced here at Bleeding Cool. In fact, one of the winners was in the audience at Wondercon. The rules for the next talent hunt will be announced at SDCC and it will be open to submittions the day after SDCC.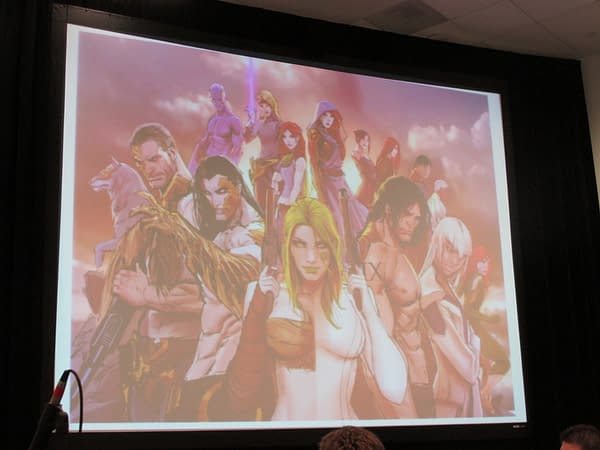 Cyber Force has always been a "big love" of Mark Silvestri's, part of the launch of Image Comics "back in the day". Silvestri commented that the "original story wasn't exactly the one I wanted to tell, and this was bugging me".
He saw it as a "great opportunity" when Matt Hawkins came to him and said, "why don't we relaunch", and do it for free. Silvestri said, "Give away the book for free? Let's not do that", but Hawkins and Philip Sablik came up with the idea to do a Kickstarter campaign and make the first few issues free to readers.
That way, they were able to do the book in full color, with 5 issues for free online or fans could pay for as a trade. For Silvestri, this story is one he's "always wanted to tell" since it's set in the world of today "but feels post-apocalyptic". In fact, readers have tended to think it is set in the future, but everyone is "being played by a corporation with technology, phone apps, and a neural computer who are tapping into power of brains via cellphones and the computer". That way, the corporation is able to "predict the future mathematically" and realize that "we are doomed". With the premise that the world is not going to survive beyond 2048 or 2050, based on the fact that the human race is going to destroy self, the question is whether the human race can be saved, or "even a piece of it".
The corporation comes to the conclusion that they could create "the next human who can survive where we couldn't", Silvestri said, and the project is known as the Aphrodite protocol. The corporation wants to destroy the world "on their terms because if they can control the end, they have a chance to restart as an Eden." The problem is they don't quite have the tech to create these new humans yet, but they probably can eventually, but the time it will take to do so will be "too late". The conclude that they must "delay the inevitable for a little while longer". Once they have the ability to create these new humans, is to set off super-volcanoes around the world.
Silvestri explained that this is all true geologically, that super-volcanoes erupt every 60,000 years or so, like at Yellowstone. "Where all pretty bubbling fountains and geysers are", he said, that's going to kill you". Such a positive view of the future from Top Cow!
Issue # 9 of Cyber Force is coming soon, and they are currently working on issue #10. They expect the series to move into a spin-off book that hasn't been announced yet.
Issue # 11 will be the last issue of Aphrodite IX, leading into a crossover with Cyberforce where we will see 2 teams working 700 years apart. The crossover is coming out in July, as an oversized one shot, all contained in one book. Beyond that, a new book with Stjepan Sejic, called The Ninth Generation, is coming as a "direct spin off".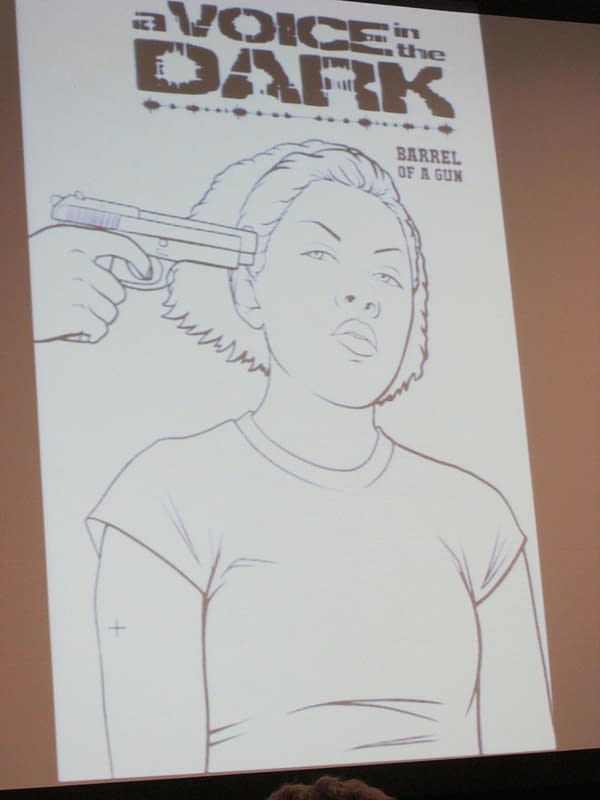 A Voice in the Dark, by Larime Taylor is going to be "rounding off its first arc" in issue # 7. Then they will be launching a new series called "Barrel of a Gun". In September, the new series will enter a 5 issue arc, picking up where #7 left off. Taylor joked that he's been doing a lot of "flash-forwards" in the series and blames Breaking Bad. For the first arc, he's been telling the "meat of the story in flashback", but now he's going to present the story that "got you there".
The first issue of the new arc deals with the aftermath of becoming a killer, and the consequences of it more than the first time around. Taylor's wife Sylv Taylor will start on coloring the interiors of the book starting with # 7 and they'll be using a "cold grey palette with spot coloring".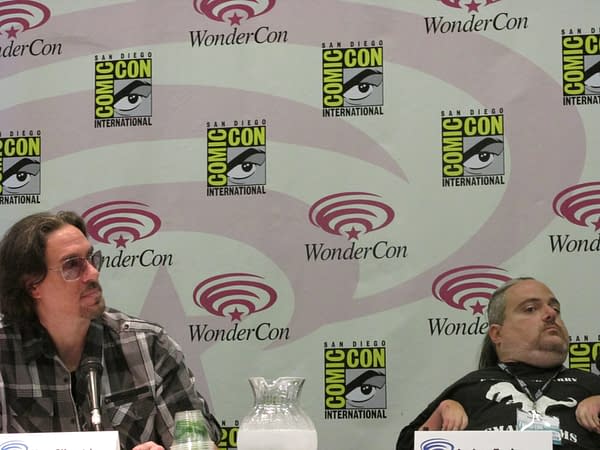 A Voice in the Dark is about a young woman who is just starting college, resisting the urges she's felt her whole life to lead her down the path to become a serial killer, Taylor said. Hawkins joked that Taylor is the only person in the history of all the companies he's worked for who's never missed a deadline on his books, and Silvestri jumped in to complain, "This is Image comics, dammit. We have a long history of being long overdue".
Hawkins commented that Death Vigil, drawn by Stjepan Sejic, is being produced "amazingly fast" since Sejic can do a full book in 2 weeks. There will be another series in an 8 part book, with the first issue arriving in July and Sejic will be writing as well as drawing it. There are currently some free strips up on Deviant art courtesy of Sejic. The July issue will be 42 pages, double sized, and the same price as it normally would be for a first issue.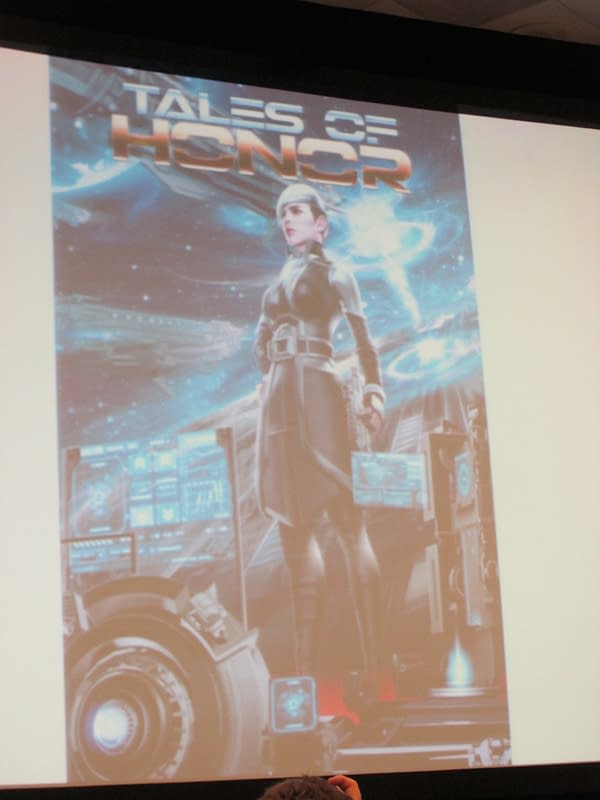 Hawkins reminded the audience of another project with Linda Sejic in the Wildfire series. It's a disaster story about "GMOs", an area where Hawkins feels that "both sides of the argument lie all the time". It's a "crazy science disaster", he said, which apparently (according to covers) will feature "killer dandelions".
Also forthcoming from Top Cow is Tales of Honor with Evergreen Studios, a "sprawling military space opera". The film company hired Top Cow to write the comic book "to help people get into the TV series". It's not a "direct adaptation" of the novels it's based on but a "loose" one with 60-100 pages of the novel told in 2 comic pages. It's a dense work, according to Hawkins.
During the Q&A, I asked the panelists "Why do you think the relationship between comics and gaming works well and what can they bring to each other?", considering Top Cow's gaming tie-ins within the same storytelling universes.
Silvestri replied, "It's not just games and comics, but comics and every other medium. We are telling stories, even when people are active participants. The best games have a story that's interesting. That's why fantasy and sci-fi works well in games, because these stories work in our own head, and our head goes to sci-fi and we become immersed in that. When the first Darkness video game came out, the whole community was ablaze about it. It was amazing to go on the forums and when people ask what the top 10 WTF moments have been in our games, everyone goes back to the first Darkness game, and what happens with Jenny. It's a story-driven game so it's a natural fit. We're telling stories".
Silvestri was also asked, "Why don't you draw anymore?" and he said he's not drawing so much lately but does have plans to do more and will be coming back to doing interiors. He said he couldn't talk about it yet, but he is "always trying to test myself and change and progress forward as both a writer and an artist".
Other questions prompted the response that Think Tank will eventually be coming back to color and Top Cow has not ruled out doing more Kickstarters in the future, but aren't sure yet what the campaign will be.
Here's the trailer for Tales of Honor, coming to IOS April 24th and Android soon after:
Enjoyed this article? Share it!