Yes, this is one of those weeks where Marvel pile up the comics and do a good job of flooding the market. Hence a number of Avengers titles, including the two main ones, both written by Brian Bendis.
But they couldn't be more different. And that's just a bit weird.
Daniel Acuna's work on New Avengers is digitally painted with a strong inking line, and lots of delineated blocks of colour rather than attempts to "sculpt" characters, an approach that's not taken as much as it could be. Kyle Baker does this a bit, but Daniel does it better. I know I was surprised. It creates a very pleasant and attractive read, especially for this average-of-seven-panels-a-page comic, which gives the storyteller a chance to pause and linger.And some great composition that takes advantage of Cage's sized and monocolour of his yellow top.
If last month's comic was criticised for being talking heads-heavy, who knows what you'll think of this one. We have the married Luke Cage and Jessica Jones going for a meal. And then, rather than cutting straight to the Rhino being thrown into the restaurant, they talk. And debate. And order. Or rather not order (poor waitress) as their entire lives spill out, and how they affect both their futures. And whether of not Jessica Jones will become a superhero. And if so whether or not she will be called Power Woman.
And then, halfway through the book, eventually Ms Marvel crashes to Earth clinging to Doctor Doom's escape capsule outside the restaurant. And that's where I lost interest with the book. See, I was really enjoying where Cage and Jones were going, before the interruption.
And then we're back in the room, with a little company. Spider-Man, Doctor Strange, the (still-alive) Thing and more. And it still works, I'm dragged back into the game. But if feels as if we have to have the fight because this is a superhero comic, when I was enjoying a well told discussion about the very realities of being a superhero. And the fight is used as some kind of catharsis in the decision, I know, but I think I preferred it last month.
And we get more of the text Avengers Assemble transcripts which makes the $3.99 price point a lot more acceptable.
And then there's Avengers. Which looks the exact opposite. Lots more four panel pages. But actually, this is even more of a talky comic in places. And instead of a couple dominating the conversation, it's Steve Rogers and Tony Stark as the ex-Captain finally finds out about the Illuminati.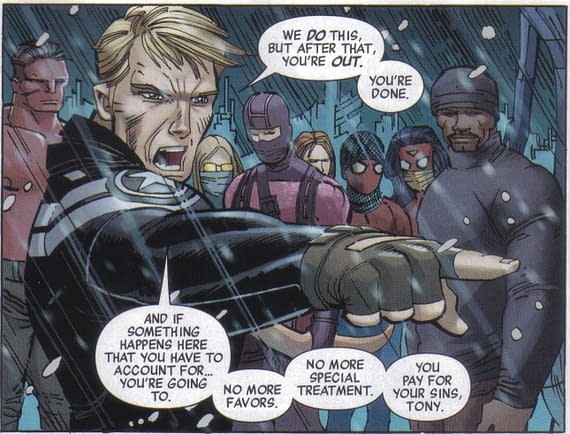 Hmm, maybe they should get a room. You know I'm sure Black Bolt had a different Infinity Gem that the one that appeared in this series. Anyway.
John Romita Jr comes into his own with the prison scenes. As the blizzarded snow scapes full to busting with characters is full busy and compressed, the prison scenes are the opposite, wide, open, creating a series of characters and some deep rich lines that sculpt faces and bodies in a deceptively basic fashion. It's a great back and forth that separates the times, the places in a very beautiful fashion. And more Avengers Assemble transcript pages too.
The very different reading experiences are hard to reconcile when read after each other, and I have no idea in what order things are meant to be happening anymore, even as characters reappear in the other books. Maybe I should check the chapter numbers in those text pages. But I think it's testament to how the same writer working the same characters after a decade can still create two very different books running alongside each other.
Comics courtesy of Orbital Comics of London.
Enjoyed this article? Share it!