Where UK Students Rate Graphic Novels: The 2015 Stan Lee Excelsior Awards
By Olly MacNamee
With the ever-present problem of boys' literacy levels being below those of girls in schools up and down the country, for many of us in the educational profession who also hold a fondness for comics, it comes as no surprise that graphic novels for many young lads is often their passport to reading. Indeed, I was never interested in anything more than a steady, addictive diet of comics; being a lover of both Superman and Asterix in equal measure as a developing teen. But then, growing up here in Britain, we had the best of both worlds; the excesses of the American tights-wearing brigade as well as the more diverse publishing sensibilities of Europe right on our doorstep.
I had more than enough choice in four-coloured comics and so never faltered from that path for many, many years. Even to this day in front of my male heavy classes, I use myself as a prime example of the archetypal reluctant reader and one who never picked up a novel – unless it was for school – until I fell in love with Literature at the age of 17. Yet here I am today, Head of an English Department/Faculty. It is not uncommon when ordering new English textbooks that support the students' learning to see a unit on comics. For the first time this year I was pleasantly surprised that the textbooks we've ordered in included an extract from Jeff Smith's Bone. Comics are now a legitimate art form and teaching resource; well at least in education.
So, it is with some fanfare I welcome the return of the highly successful Stan Lee Excelsior Award, as created some several years ago by mild-mannered School Librarian, Paul Register. It was these awards that saw me debut my writing right here on Bleeding Cool as someone really passionate about such awards; especially as they are voted on by the students themselves, with 2014's award for Best Graphic Novel going to DC Comics' Earth 2 Vol.1 (winning twice at last year's awards, scooping a further award for Best Cover too). You can read more about that ceremony here. And so, at the start of the New Year, it is only fitting that this heralds my first article of 2015 for you little Bleeders.
As to this year's shortlist (now in it's 5th year and still going strong), once again it offers something for everyone as well as looking to include a variety of different genres. They are as follows: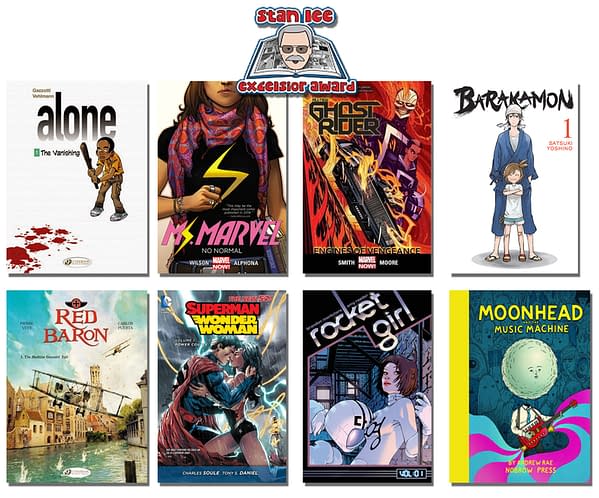 All-New Ghost Rider: Engines of Vengeance (Marvel)
Barakamon (Yen Press)
Rocket Girl – Vol.1 (Image)
Red Baron: The Machine Gunner's Ball (Cinebook)
Superman/Wonder Woman: Power Couple (DC Comics)
Moonhead and the Music Machine (Nobrow)
Alone: The Vanishing (Cinebook)
Ms. Marvel: No Normal (Marvel)
Each title has great strengths and I hope to check them all out ahead of the final results are counted up in the summer. I have my own favourites that I will be keeping an eye out for, but I wonder which is yours?
If you are a Secondary school teacher keen to get involved, visit the main website and do so. There's still plenty of time and, who knows, if you know your local comic book shop staff you could even wangle a discount. I'd rather support a local business than a particular tax-dodging online bookseller anyway.
Buy wait, that's not all.
2015 also sees the launch of a junior award, The Stan Lee Excelsior Award (Junior) with a wonderful selection from a number of publishers and a shortlist that certainly celebrates British and European comics and their comic tradition; only appropriate for a British based award. The shortlist for this inaugural year then:

Itty Bitty Hellboy (Dark Horse)
Melusine: Tales of the Full Moon (Cinebook)
Long Gone Don (David Flicking Books)
Hilda and the Black Hound (Flying Eye Books)
Bunny Vs. Monkey (David Ficking Books)
Again if you are a school that is interested – or have schoolteachers as friends – get involved. All resources to promote the awards are freely available from the appropriate websites. It was reading comics that eventually led me to my life-long love for reading that I truly believe I would not have had if I relied on the novels, poetry and plays taught to me by my own teachers when I was at school. The next Charles Dickens or Angela Carter could be waiting out there, waiting to be inspired in a way that, arguably, only comics can sometimes do.
Olly MacNamee teaches English and Media, for his sins, in a school somewhere in Birmingham. Some days, even he doesn't know where it is. Follow him on twitter @ollymacnamee or read about his exploits at olly.macnamee@blogspot.co.uk. Or don't.