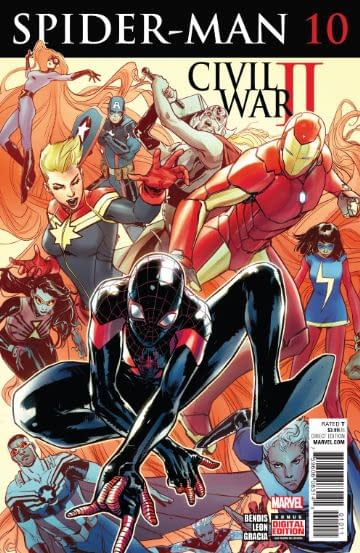 This is what happens when comics books events issues slip. And crossover issues come out willy nilly. Even when they are written by the same writer.
This week's Spider-Man #10, previewed at the bottom of this article shows a Miles Morales fearing the vision from Ulysses that he would kill Captain America, as seen in Civil War II.
The previous issue of Spider-Man saw Miles head to the Washington monument to face his destiny head on. Then in Civil War II #7, Cap also  turned up. But neither killed each other, nor had any reason to.
Instead Iron Man and Captain Marvel turned up and had a bit of a barney.
The next issue teased much.
And other recent Marvel comics seem to indicate that all is not rosy for Iron Man. But what are the circumstances? Well, I understand that this week's issue of Spider-Man will see Tony Stark, out if his suit, dying in Miles Morales' Spider-arms. The circumstances of this, I do not know.
Will Spider-Man beat Civil War II in a battle to the death?
Enjoyed this article? Share it!