Red Hood and the Outlaws #22 Review: The Plight of Bizarro
Red Hood settles up with the Penguin. Artemis meets with Lex Luthor over the welfare of Bizarro while reminiscing over the time she worked for the Metropolis mogul. Bizarro himself ponders the things he has enjoyed about having a higher intellect as it begins to fade away from him.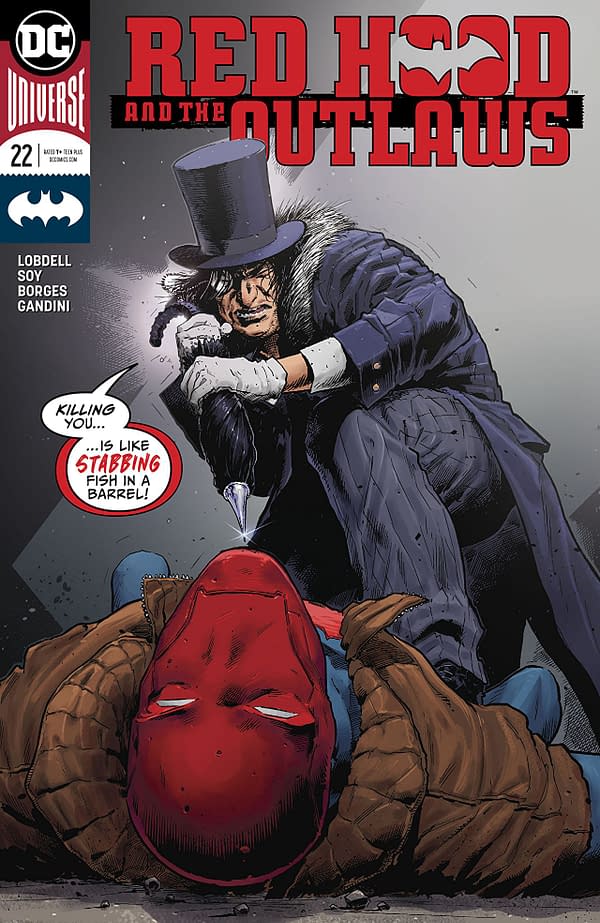 Scott Lobdell has always had a compulsion to focus on the quieter parts of the social lives of his subjects. That's a quality in his writing I've admired, and that doesn't change in this issue. Red Hood and the Outlaws #22 is a comic with little-to-no action, but we get to see how this bizarre trio gets along and how they are dealing with the changes in Bizarro.
Lobdell often tries to put a spotlight on how his teams get along, and it's quite endearing here. The finale with Jason Todd and Bizarro watching the stars while the latter's vocabulary deteriorates even threatened to jerk a tear or two from my fetid soul.
Also, watching Red Hood get one over on the Penguin likely never get old.
In any case, this comic impresses with its ability to capture and assign meeting to the small moments in the lives of Red Hood and the Outlaws.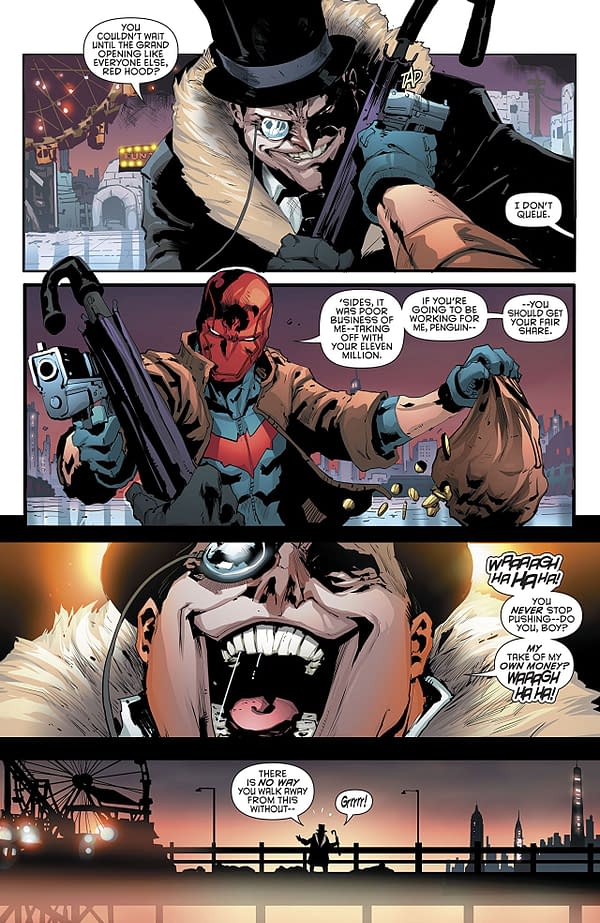 Dexter Soy's remains excellent in this installment. His propensity to play with shading while adding manga-inspired detail makes for a unique and beautiful style that is suited to Red Hood and the Outlaws. Allison Borges' work coincides with Soy's well. Veronica Gandini's coloring brings it all together and plays with the shades of various scenes in a dazzling manner.
Red Hood and the Outlaws #22 was a gem from the week I wasn't expecting. I like to check back in this title from time to time due to my love of both Red Hood and Bizarro. This issue didn't disappoint with its focus on the interiority, problems, and interactions of the team. Plus, Soy, Borges, and Gandini provide excellent artwork. This one earns a recommendation. Give it a read.