Red Hood and the Outlaws Annual #2 Review: Jason and Roy Ride Again
[rwp-review-recap id="0"]
Red Hood is back on the island where he and the Outlaws once resided. Arsenal is sticking around while Jason heals up. After Jason heals up, the two look into a drug trade that recently killed as many as 300 people in the U.S. They track the trade back to Suzie Su, and her sisters take offense to Jason and Roy hassling Suzie Su.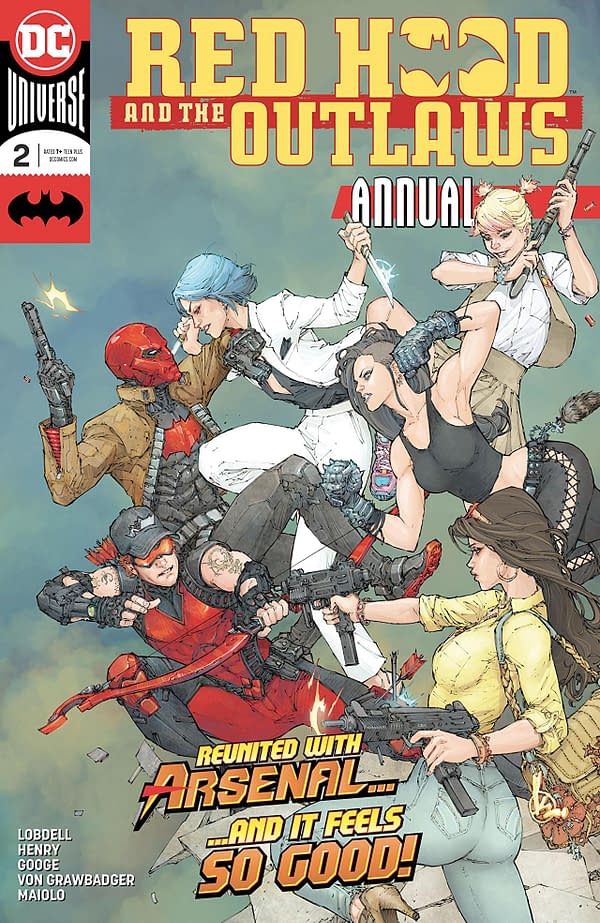 For some reason, I though Starfire was returning to the Outlaws with this issue too, but I was wrong about that.
In any case, I'm happy to see the Red Hood reunite with Arsenal at last. Jason and Roy go after a… "classic" villain in Suzie Su. She's often came off as a walking fat joke, but I will admit that Scott Lobdell set up an interesting relationship between she and Jason in issues back.
I'm quite happy to see Roy and Jason back together, if only for an issue. The two men have a wonderful friendship, and they focus on it here. We also focus on the mental health of Roy and Jason, and that grounds the book a great bit. It's endearing.
There is also a follow-up story with Bizarro and Artemis, and Lobdell writes those characters very endearingly too.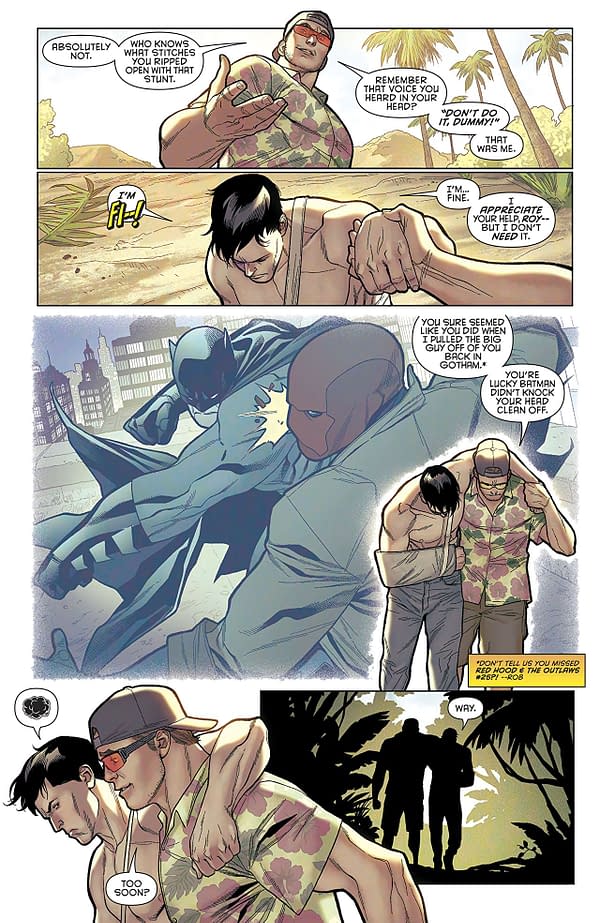 Clayton Henry and Neil Googe split the artwork in this annual, with Henry taking the main story and Googe with inkers Wade von Grawbadger handling the back-up story. Henry gives a sleek and smooth aesthetic to the main story, while Googe and Von Grawbadger give an appropriately off-beat look to the second story. Marcelo Maiolo delivers bright and popping color work throughout.
Red Hood and the Outlaws Annual #2 is another great issue from Lobdell and team, showing an ability to convey the relationships between these broken people in an earnest and endearing manner. This one comes with a recommendation. Check it out.
[rwp-review-ratings id="0"]
[rwp-review-form id="0"]