Okay, I get the feeling that this could be one of those articles that might be a case of lighting the touchpaper and running away very quickly as everything explodes around us. Be warned.
It is incredibly common for publisher, manufacturers, broadcasters, creators to offer special items at shows and call them exclusives to the show. SDCC Exclusive, NYCC exclusive, you know the kind of thing. Loot Crate is full of items that are exclusive to them. But… often they are suddenly no longer exclusive, The week after, they are selling them in their online store, or they pop up at subsequent shows, or even get listed in Diamond Previews for anyone to order.
And until now, those who had ponied down cash, airfare, hotels and tickets to be privileged to line up for several hours in a sweltering/freezing/smelling of popcorn line to pay over the odds to acquire such a gem have just had to growl, grimace, shitpost and complain.
Until now.
Because on a Loot Crate subgroup on Reddit, someone found another way. When complaining about Loot Crate selling some of their NYCC Exclusive items in their online store Loot Vault, less than a week after the show, discounted even, one enterprising buyer called Roquen22 complained – not to Loot Crate, not to NYCC, but their bank.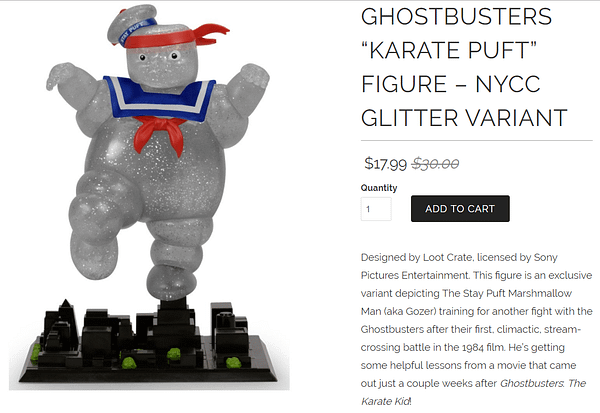 Armed with an advertisement promising the item as an NYCC exclusive, his receipt of purchase, and a current listing for the item, the bank initiated a chargeback and he was refunded in full, as the item was "not as described". While still keeping the item he had purchased.
That's a gamechanger. It means that if you say something is exclusive to a show and then offer it elsewhere, you risk chargebacks on every one you sold at the show.  Now chargebacks aren't available forever. Typically they are 120 days from purchase. So that gives people a four month window. Also a number of companies have started selling what they call "Convention Exclusives", no longer exclusive to one specific convention, but may appear at subsequent shows. And that may be the easiest way out. But you know, that 120-day window still covers this year's San Diego Comic-Con – though Funko might get away with it saying they advertised them as available elsewhere before going on sale, with Mattel it's not so clear. And all these HASCON exclusives from Hasbro too…
And now it's on Bleeding Cool, expect more "Non-Specific Convention Exclusives", maybe some clarity in the language "These items may have limited amounts made available online after the show" or "New York Comic Con Debuts" would cover it. Or they could discount sales towards the end of the show to clear stock – or burn/recycle/nuke from space what is left.
There's also a vulnerability from subscription boxes who commission an exclusive item but the manufacturer then goes ahead and sells it elsewhere anyway.
But selling NYCC exclusives from your own online store the day after the show? With one move, with one realisation, with a sudden measure of accountability imposed by the purchaser through existing consumer protection measure, that's gone, forever.
And all because of a glittery Stay Puft Marshmallow Man.
Enjoyed this article? Share it!