REVIEW: Batman Superman #6 — "A Gorgeous Symphony Of Superhero Imagery With Nothing Underneath"
(DC Comics, creative team: Joshua Williamson, David Marquez, Alejandro Sanchez, John J. Hill)
When the two most highly regarded heroes in the DC universe (sorry Diana) spend most of the issue looking sheepishly at each other because of another needless drama caused by their secrecy and privilege, it ain't a good sign. The (ugh) Batman Who Laughs has unleashed a corrupting infection on six super heroes, making them his goth-ified minions. If you're keeping score, an extra-dimensional superhero broke bad and came to turn six more heroes into villains. Even in this "muddying the good guys" era, this issue is deeply lacking on engagement for its headliners, who ponder and pout and generally don't get much accomplished outside of limp platitudes. Don't get it twisted — from the poetry of seeing Diana in battle against monsters to snippets of action scenes in fights even the heroes here consider less important ("All of us have our own enemies and dangers to deal with") — this book is a gorgeous symphony of superhero imagery with nothing underneath. RATING: MEH.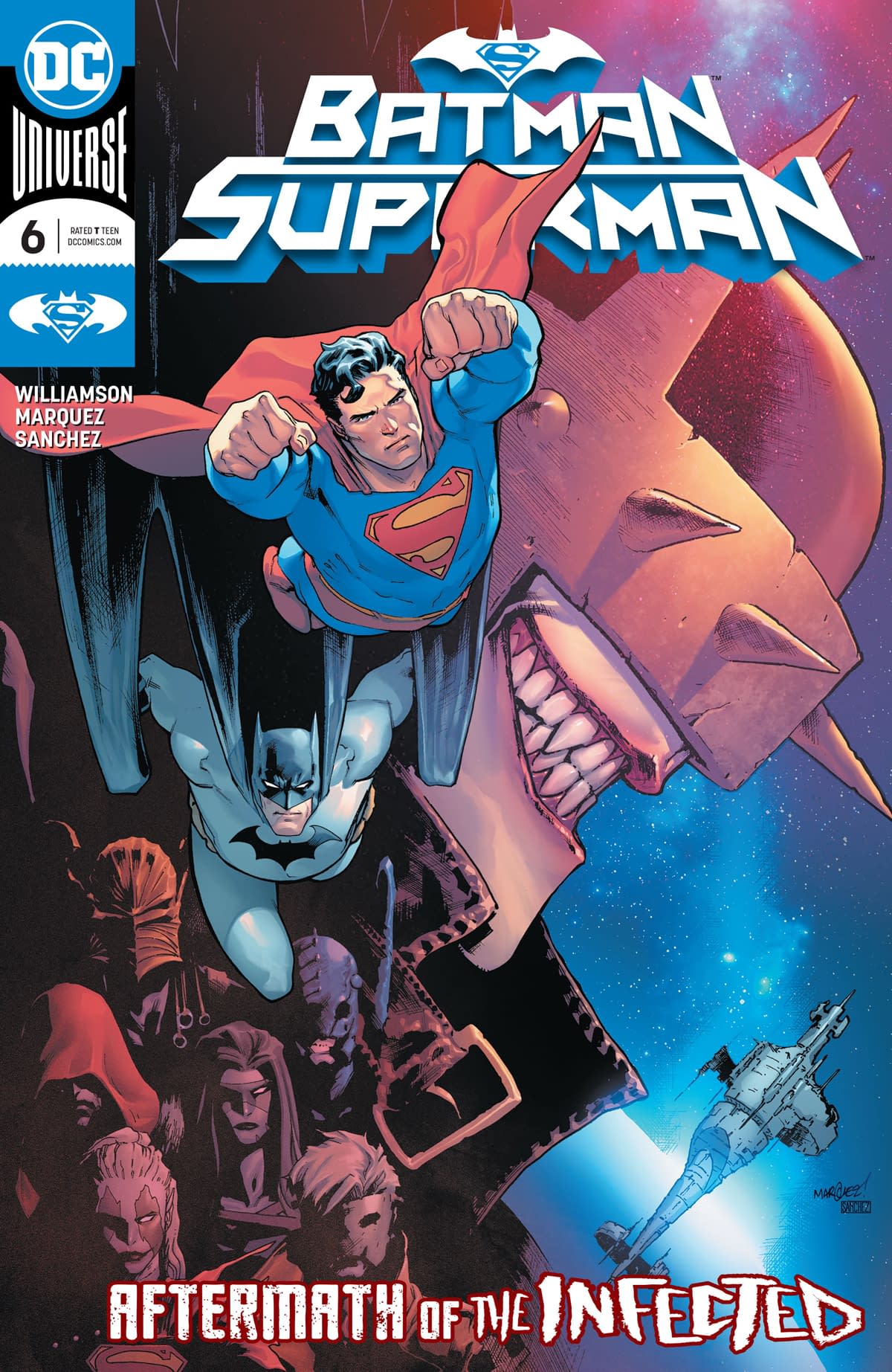 BATMAN/ SUPERMAN #6
written by JOSHUA WILLIAMSON
art and cover by DAVID MARQUEZ
The Secret Six may have met their match when they faced the combined might of Superman and Batman, but don't count these infected heroes out yet. With the Batman Who Laughs freed from his prison at last, the clock is ticking for the Dark Knight and the Man of Steel to track down the escaped Deathbringer, Sky Tyrant, King Shazam, Scarab, and the most tragic to Superman…his cousin Kara.