Richard Littlejohn Takes A Second Shot At Cosplay. After Learning The Word 'Cosplay'.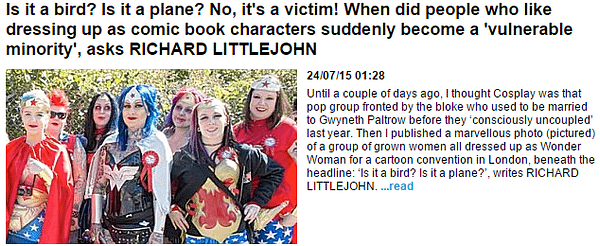 The closest thing that the UK has to Glenn Beck, Richard Littlejohn, found himself shocked by the response to last weeks column for the Daily Mail. the closet thing the UK has to Fox News, in which he mocked cosplayers.
And found that they didn't like being mocked and wrote to him about. Quoting select responses, he replies "calm down dear". You know, I really don't think that's going to work.
Anyway, he states,
These women are determined to draw attention to themselves and cheerfully pose for photographs and post them on the internet. So the self-appointed commissars of the Cosplay community need reminding that freedom of expression is a two-way street. Just as anyone is perfectly entitled to express themselves by dressing up like five-year-olds on their way to a sleep-over, so others should be free to poke fun at them. The idea that making harmless jokes about a crowd of attention-seeking exhibitionists amounts to 'bullying' and 'anti-social behaviour' is ludicrous.
But Richard, by your same argument, people should be free to point out when you are being anti-social and a bully…
But, I suppose, it's what I should have expected. People increasingly demand the right to do what they want, in public, immune from criticism or ridicule.
Does that include you?
As I have frequently observed, those who most noisily insist on 'tolerance' for their own behaviour, no matter how absurd or abhorrent, are usually the most intolerant of others who beg to differ. Anyone who raises an eyebrow at their antics must be shouted down, vilified and, ideally, prosecuted.
Which is why you are returning to the topic for a second week?
Given the propensity of politicians to pander to any self-defined 'victim' group, it can only be a matter of time before laughing at members of the Cosplay community becomes a 'hate crime'. Cosphobia, anyone?
I get the feeling that Littlephobia is more likely right now…