Rick Remender's Devolution, Swamp Thing And Poison Ivy Take Cover Spots On The New Previews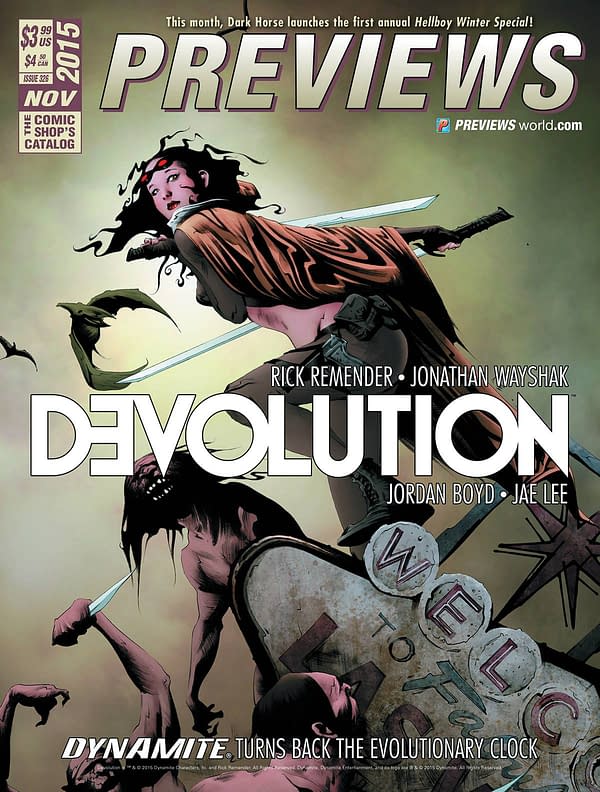 Devolution, the much delayed comic by Rick Remender, now with artist Jonathan Wayshak, from Dynamite makes the front cover of the November Previews catalogue, for comics coming out in January. With DC Comics' Poison Ivy by Amy Chu and Clan Mann, and Swamp Thing by Len Wein and Kelley Jones taking the back page.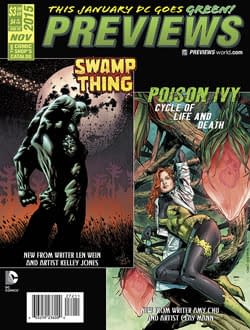 Gems of the month also include: the Hellboy Winter Special from Dark Horse, a themed anthology that features work from Chris Roberson and Tim Sale, the Dark Jem storyline begins in IDW Publishing's Jem and the Holograms #11, Joe Kelly and Max Fiumara return to their magical New York during the Great Depression in Image Comics' Four Eyes: Hearts of Fire and a refugee from the future is trying to change the present for the better in Marvel Comics' Old Man Logan from Jeff Lemire and Andrea Sorrentino.
Further spotlights are given to Joe Kelly and Ed McGuinness' action bromance Spider-Man/Deadpool which also gets the Marvel previews cover, Harbinger's Faith gets her own series in Valiant Entertainment's Faith, an acclaimed webcomic is collected in Oni Press' Graveyard Quest, Derek Fridolfs and Dustin Nguyen reimagine the DC Universe in their illustrated novel, Secret Hero Society: Study Hall of Justice and Graphitti unleashes a new line of Dark Knight III apparel. And The Last Contract by Ed Brisson and Lissandro Estherren for Boom gets the cover of the customer order form.