Saga #51 Review: I Dream of Robots
[rwp-review-recap id="0"]
Hazel's family is still hiding out in a remote location. Squire has a nightmare, which Prince Robot tries to calm. Unfortunately, Squire triggers some intense anger out of Prince Robot.
Also, Marko is writing a novella! Also, someone is looking for these refugees.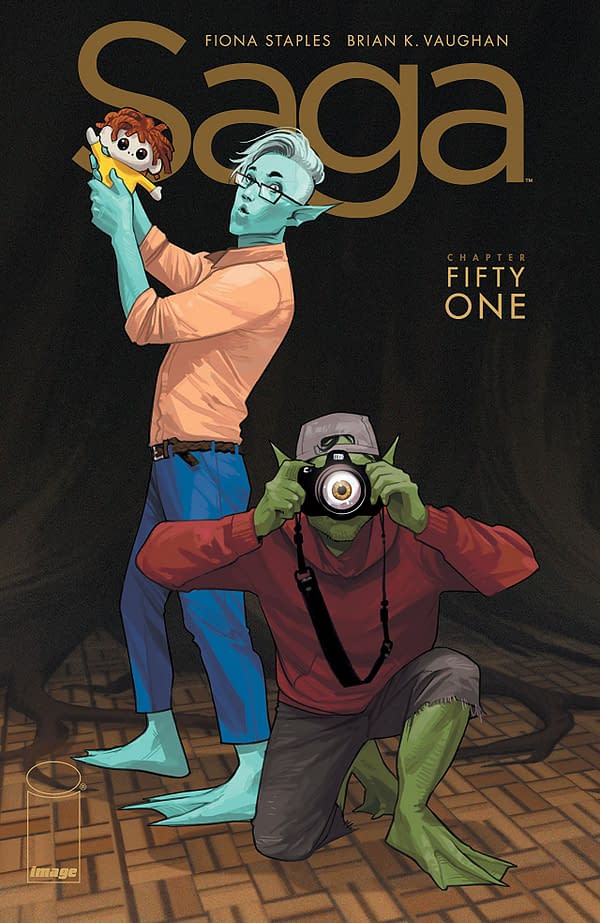 Saga #51 continues its ever-impressive run with an intense and complicated emotion-driven issue for Prince Robot, Marko, and Hazel. The opening scene between Squire and the Robot is almost reminiscent of Breaking Bad in the way a guilty conscience and driven father figure causes strife in the family. There is some levity after this with swimming lessons and the above referenced novella being written by Marko. This brings some humor and joy to what could have otherwise been very dower and depressing.
I do hope that the novella actually comes to something as opposed to being something left behind which leads someone to Marko.
The finale turns darker again and is both shocking and rough. Brian K. Vaughn's ability to make almost every character compelling and engaging one more wins through in making the overall narrative that much more compelling and engaging itself.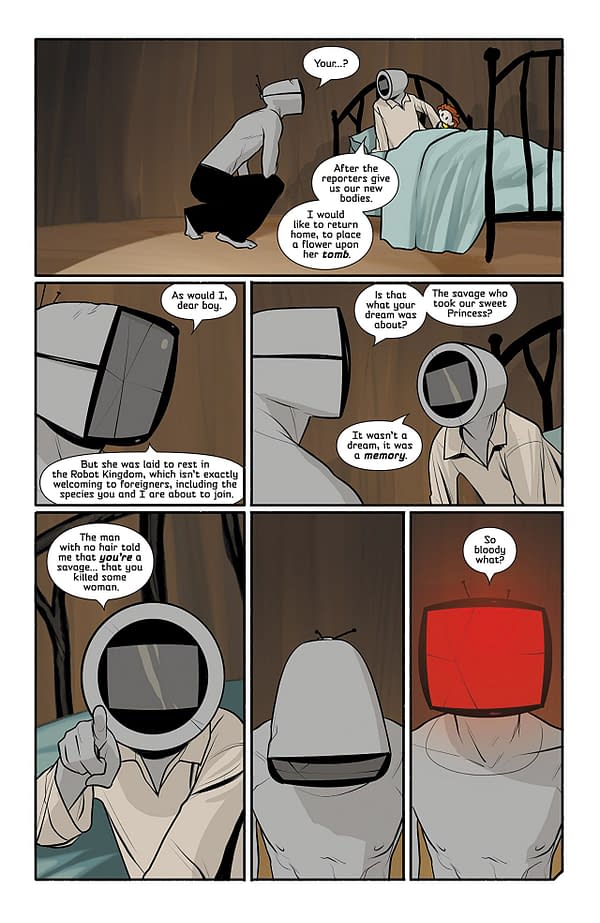 Fiona Staples' artwork remains absolutely gorgeous, detailed, and thoroughly absorbing in its own right. Each character is visually distinct, interesting, and visually expressive. There is a character which shows up towards the end with an anarchic and wonderfully strange design. The color art is bright and popping to boot, and the end book is as beautiful as to be expected.
Saga #51 is another great installment of the Image Comics series, relying on its characters, unique world, and fantastic artwork to power forward while giving the reader a reason to come back for next issue. There is a reason this is among the most beloved Image comics on the market, and, as to be expected, it earns another recommendation. Give it a read.
[rwp-review-ratings id="0"]
[rwp-review-form id="0"]