Savage Dragon #237 – an Attempted Murder of Donald Trump to Save the Future?
Erik Larsen continues to use his Savage Dragon comic book to basically tell any story he fancies on a given day. He is probably the closest to Dave Sim on Cerebus, finding a sledgehammer. And probably as equally obsessed with sex and death. But then again, aren't we all?
Today's Savage Dragon #237 does all that and more, its's somehow Saga, Sex Criminals and John Byrne's Next Men all rolled into one.
But it's Erik Larsen's back-up strip drawn by Billy Penn sees Daredevil and Super Patriot dealing with characters from the future coming to change the past. Obviously a cyborg because a) they always are and b) it's thematic with Super Patriot – as is their desire to kill Donald Trump to save the future. Which may not be much of a stretch for half the book's readers.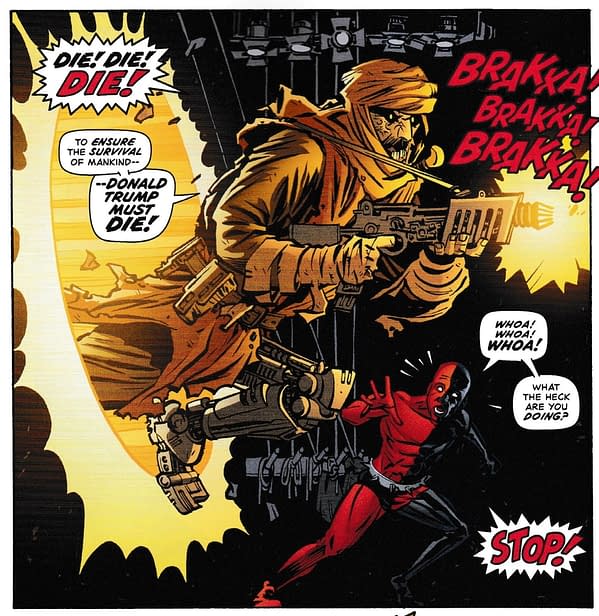 And then another cyborg coming from another future to prevent that future by killing Hillary Clinton.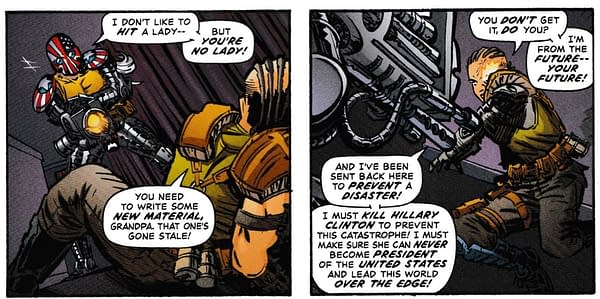 It's smart, ridiculous and, okay, should have probably run last year, but any comic portraying anyone trying to kill an in-office President Of The United States, however even-handedly, is one that isn't afraid to go anywhere it wants.
SAVAGE DRAGON #237 (MR)
(W) Erik Larsen (A/CA) Erik Larsen
"BEWARE THE SCOURGE"-Enter the sinister leader of Toronto's underworld: the deadly Scourge! Malcolm Dragon faces his biggest challenge to date and the world he knows hangs in the balance.In Shops: Aug 08, 2018
SRP: $3.99