If you're on the internet, you've no doubt heard of Rick and Morty. If you haven't, I'm impressed. Almost everyone seems to be into the show, so no doubt some people will want to incorporate Rick Sanchez into their holiday gathering. Well, humans, you're in luck. ThinkGeek has a few items to help you get into the Human Holiday spirit.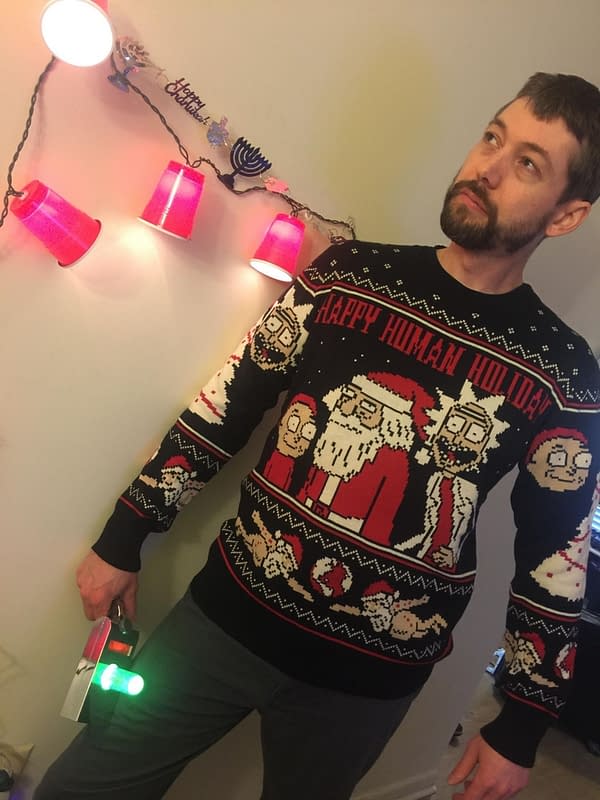 First up, their Rick and Morty Human Holiday Sweater. Now, I've seen a lot of themed sweaters around in my travels. Most places offer cheaply made sweaters, or even just sweatshirts or shirts and call it a day. Not this sweater. Not only does it have a design on the front, but it has a design on the back, too. This is honestly the best Rick and Morty Christmas sweater I've seen on the market. It's also made incredibly well, it's soft, and it's warm. This is absolutely worth the price.
And no human holiday is complete without some ambiance. These Red Party Cup String Lights really bring the schwifty theme together, reminding us that most Human Holidays revolve around parties (and thus, red cups).
These are indeed amazing. And yes, they really are red cups! They add just enough light to bring a room together, and come on. They're fun. This is absolutely perfect for any Rick and Morty-themed holiday party!
Enjoyed this article? Share it!