See a Hot Frost Giant Make-Out Session in This Preview of Unbeatable Squirrel Girl #44
As Unbeatable Squirrel Girl ties into War of the Realms, Squirrel Girl has gone home to Canada to seek out and destroy the home base of the Frost Giants who have claimed North America as their own. But there, she runs into Asgardian squirrel chaos god Ratatoskr, who she feels is definitely to blame for all of this.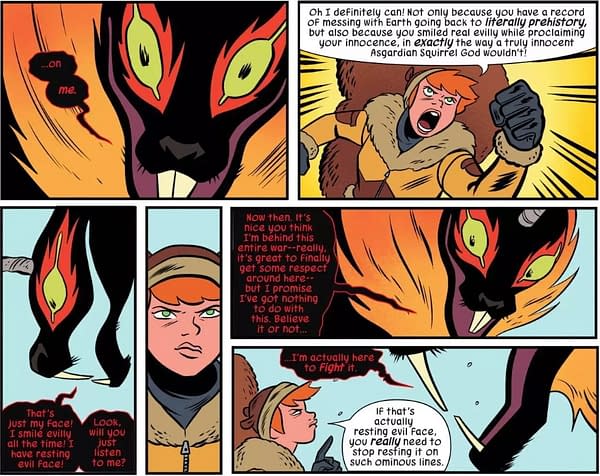 But while they're sorting things out, a pair of Frost Giants, Gary and Danielle, manage to get the jump on them…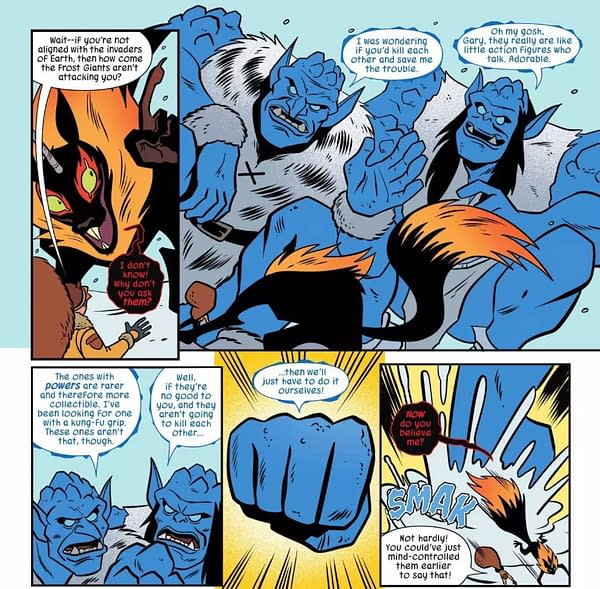 But after Gary manages to capture both, he has a hard time squishing them. Danielle offers her advice, and, well, things get a little steamy for giants so cold…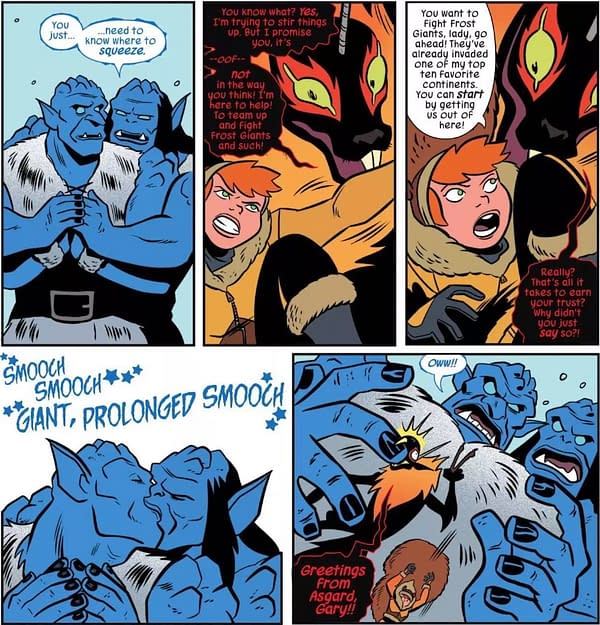 Niiiiiice.
Unbeatable Squirrel Girl #44 hits stores on Wednesday. Will there be more hot Frost Giant action within? We'll have to wait and see. Till then, check out the rest of the preview we stole from The Beat.
Unbeatable Squirrel Girl #44
(W) Ryan North (A) Derek Charm (CA) Erica Henderson
WAR OF THE REALMS TIE-IN!
• The other nine realms have fallen, Earth is under attack and the only one who can save us is DOREEN GREEN, A.K.A. THE UNBEATABLE SQUIRREL GIRL.
• So that's terrific. We're in great hands and don't need to worry at all! Phew.
• Or at least we would be, if it weren't for the complicating factor of an ancient Asgardian Squirrel Chaos God who's decided she wants to be…FRIENDS??
• In this issue, Squirrel Girl and Ratatoskr fight Frost Giants…and their unspoken assumptions about each other!
• This arc is a "WAR OF THE REALMS" TIE-IN, but it's also an awesome stand-alone story that you don't need to be reading all the other comics to get!
• Don't tell Marvel.
Rated T
In Shops: May 08, 2019
SRP: $3.99