Marvel Comics have often enjoyed a politician to play off, especially when they have a point. Senator Robert Kelly is probably the classic example from Chris Claremont and John Byrne, the sponsor for the "Mutant Registration Act," whose murder was said to precipitate the then-dim-and-distant future of 2013 from whence Kate Pryde came from. Far from a villain, he made a clear case to limit the capabilities of mutant terrorists. Or people walking around who were living weapons.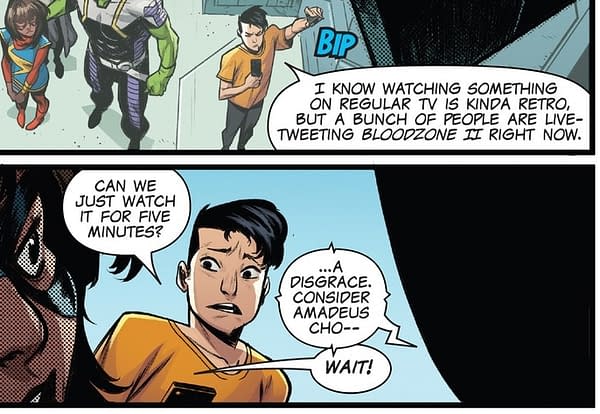 And in Incoming we get to meet Senator Geoffrey Patrick. A politician who makes the very reasonable statement that maybe the state should have some role in governing or caring for children with superpowers who act like superheroes, and classifying them as child soldiers.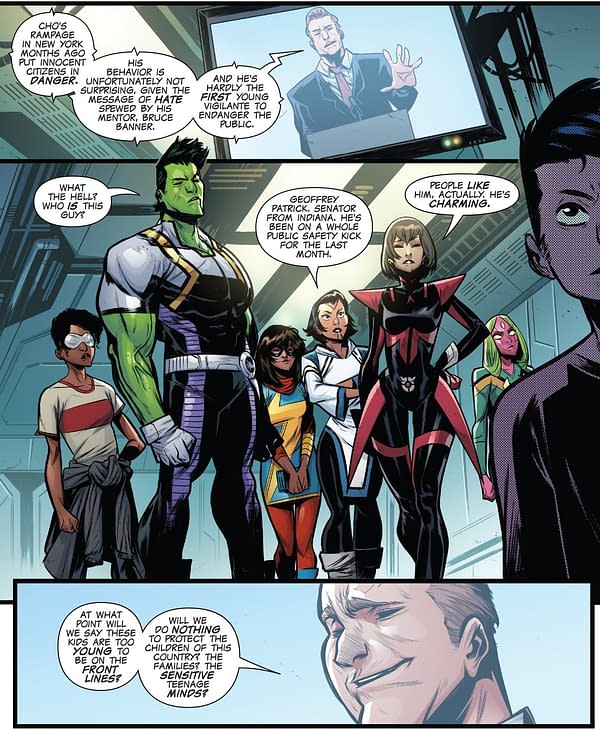 Considering the amount of kids-as-superheroes in Marvel, including Miles Morales Spider-Man, Ms Marvel, Amadeus Cho, Nova, Wasp, Ironheart, Franklin and Valeria Richards, this might be a thing. And, as capable as they are… he does have a point.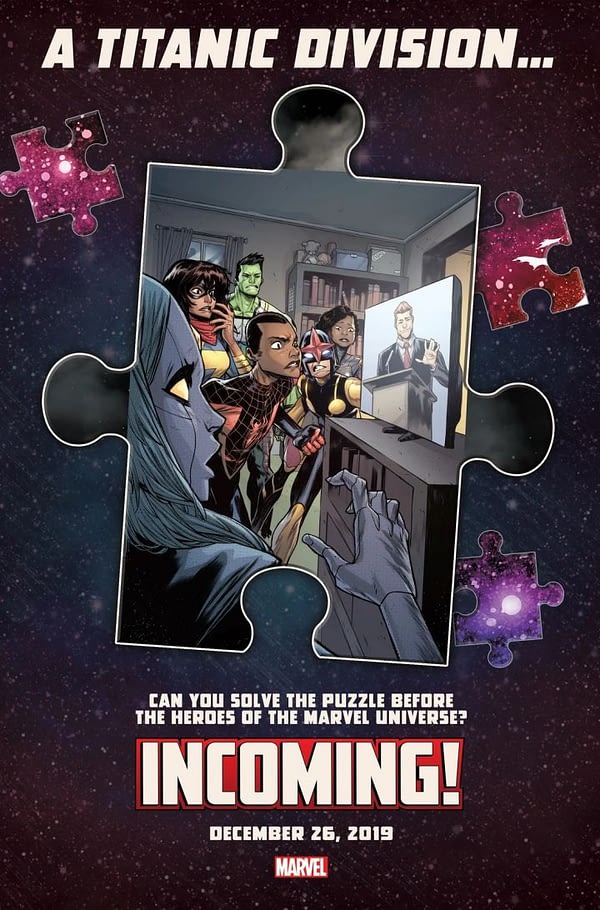 This is also what sets up the Outlawed series  Here's a scene from that preview.
Yeah, that's the Senator. Civil War III anyone? He also has concerns about a certain new country that has been taking the world by storm as well. Or, indeed, by Storm.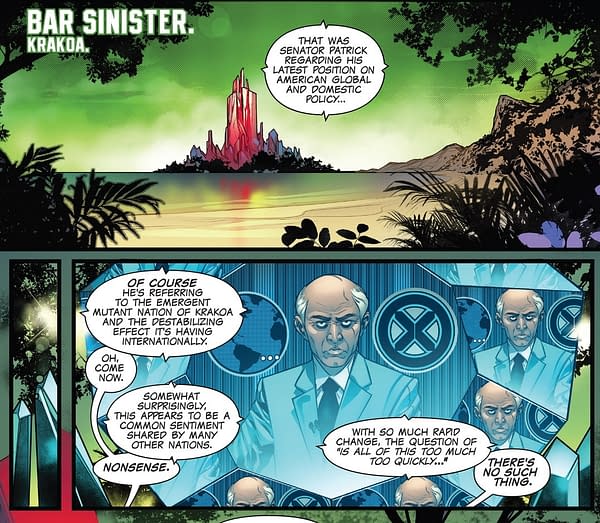 So we get to see The Champions reactions… and that Kamala Khan also reckons he has a point. And he really, really does.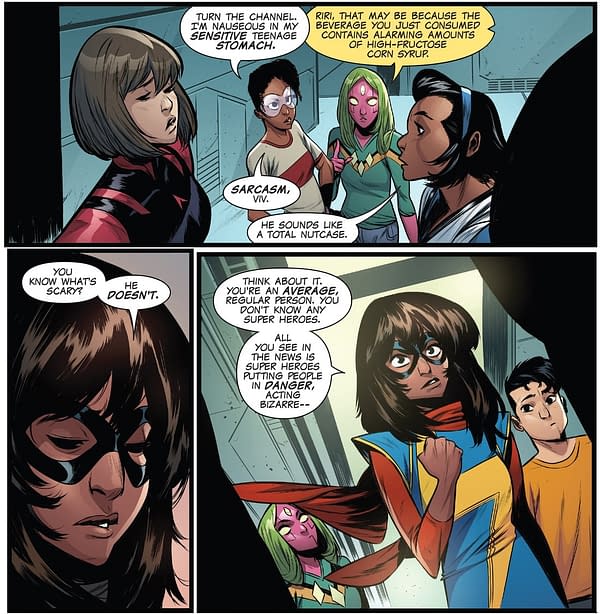 Though Hulking is not in that camp…

So… which side are you on? Kiddy heroes or elected politician concerned for the children – the ones not locked up in cages at the border, anyway.
INCOMING #1
(W) Al Ewing, Jason Aaron, Saladin Ahmed, Ed Brisson, Donny Cates, Eve L. Ewing, Jonathan Hickman, Tini Howard, Greg Pak, Matt Rosenberg, Dan Slott, Kelly Thompson, and Chip Zdarsky. (A) Joe Bennett, Carmen Carnero, Jim Cheung, Mattia de Iulis, Jorge Fornes, Javier Garron, Kim Jacinto, Aaron Kuder, Francesco Manna, Carlos Pacheco, Humberto Ramos, R. B. Silva, Andrea Sorrentino, Ryan Stegman, Luciano Vecchio, and Annie Wu. (CA) Patrick Gleason.
ONE WILL UNITE THEM!
A mysterious murder brings together the heroes of the Marvel Universe in the search for a killer – but no one can imagine where the trail will lead, or how it will affect everything in 2020 and beyond! Who is the victim and who is the assailant?
The closing chapter to MARVEL's 80th year, which will connect the dots of everything that happened in 2019 and propel the narrative into the year that is to come! Featuring the Avengers, the Fantastic Four, the X-Men, the Guardians of the Galaxy, Daredevil, Spider-Man, the Champions, the Agents of Atlas, Valkyrie, the Immortal Hulk, Jessica Jones, Venom, Ghost Rider, the Masked Raider and more! Rated T+In Shops: Dec 25, 2019 SRP: $9.99
Enjoyed this article? Share it!