Sherlock Holmes: The Vanishing Man #2 Review – A Fun Mystery Tale
Lestrade barges into the Baker Street apartment looking for Sherlock's help in curtailing a crime spree, but the detective is away. He and Watson are visiting Michael Williams's family for information about the missing man. Holmes and Watson meet Williams's mother-in-law, the daughter of a former slave who educates unfortunate children from her home. She is reluctant to answer many questions and becomes angry after a time. Elsewhere, Moriarty continues his scheming and nefarious deeds, and a break-in takes place at Scotland Yard.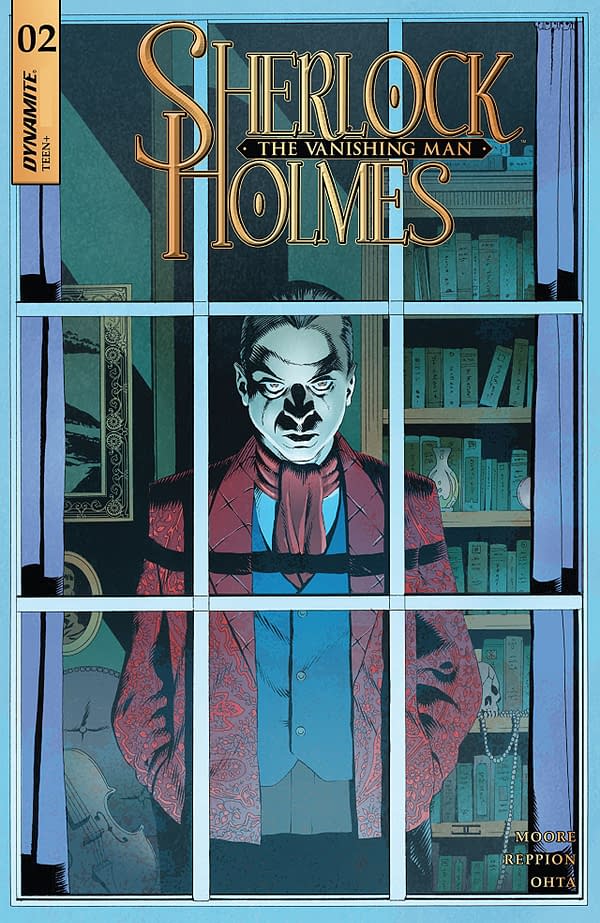 Sherlock Holmes: The Vanishing Man #2 slowly unravels the mystery of Michael Williams with more light hints and intriguing twists. It doesn't give any major revelations as to give the audience any hope of guessing through that avenue. Rather, the comic defers to foreshadowing and practically outright telling you the culprit.
That said, the "why" tends to be as interesting as the "who," and that remains to be revealed.
This comic moves like a traditional mystery tale, so it is a slower read. Should you opt to read this book, that is something that should be kept in mind. There are many lengthy and dry dialogue exchanges that serve to flesh out the life and circumstances of Michael Williams. Arguably, revealing Moriarty's involvement this early is an attempt to quicken the pace of the comic at the expense of the mystery.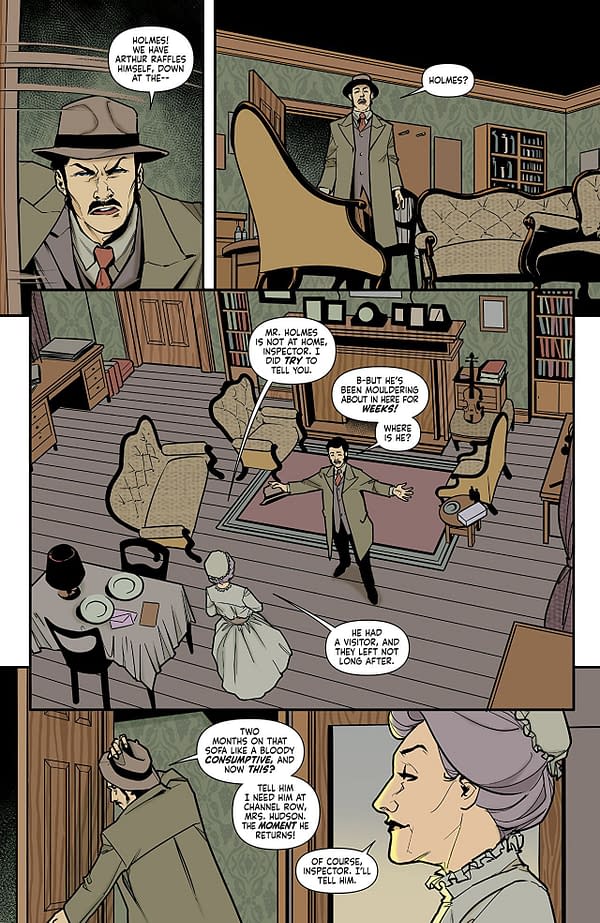 Julius Ohta's artwork stylizes the world more than one may expect from a comic about Sherlock Holmes. It doesn't look bad, and it serves to give the comic more personality than a more photorealistic style would. The characters are given distinctive features and expressive facial movements. Ellie Wright's color work gives that late 19th Century London atmosphere of cold stone and rainy days.
Sherlock Holmes: The Vanishing Man #2 is a solid enough mystery comic. Watson receives a bit more personality than Holmes, and the book has tipped its hand a bit too much already. That said, the mystery is interesting, and the moving parts keep the pace quicker than it would have otherwise been. I can recommend this book. Feel free to check it out.
---
---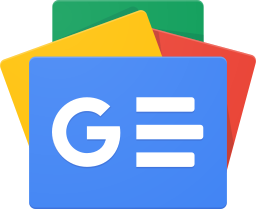 Stay up-to-date and support the site by following Bleeding Cool on Google News today!