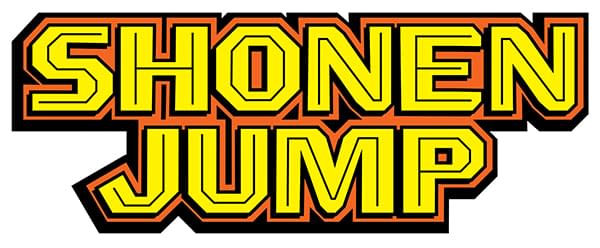 This week, Viz launched a new version of Shonen Jump, the popular digital manga anthology at shonenjump.com and on the Shonen Jump app for iOS and Android devices.
Shonen Jump, which means "boys jump", is Japan's most popular comics anthology, featuring the biggest and most popular series currently running, many of which have popular anime series, including My Hero Academia, One Piece, Bleach, Boruto: Nartuo Next Generations, Dragon Ball Super and many other all-ages series. In Japan, Shonen Jump is published as a weekly print anthology as thick as a phone book, and the bestselling manga anthology in the country amongst dozens of phone book-sized weekly and monthly manga anthologies. In the US, Viz had been publishing Weekly Shonen Jump for the last few years, the final issue was released online last Monday December 10th.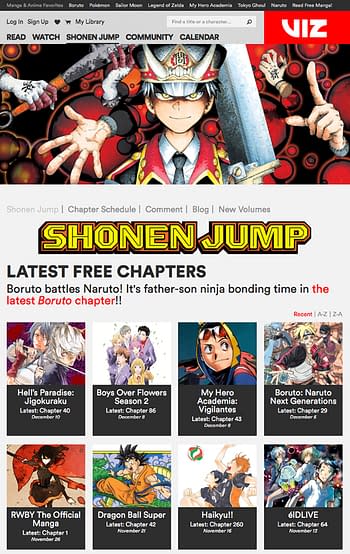 Where Weekly Shonen Jump was a weekly digital magazine that readers subscribed to, the new Shonen Jump is an entire library offering readers a chance to read 25 of the most popular manga series for FREE. This includes the latest three chapters of these series at the same time they're published in Japan. The release schedule for the new manga chapters can be found here.
A $1.99 monthly subscription gives readers access to Viz' library of 10,000 chapters of nearly 100 manga series, which is virtually every complete manga title published in English under the Shonen Jump imprint at Viz.
Current Weekly Shonen Jump subscribers will have their memberships automatically converted to the new service. New subscribers can have a free 7-day trial membership at viz.com/sj-offer.
With this new service, Viz is offering manga fans a legal way to read the latest translated manga series online and directly support the creators of their favourite manga series.
Manga for boys and girls often set out to teach kids about empathy, friendship, community and the redeeming power of finding a family of choice to care about and who will care about them.
We interviewed Shonen Jump editor-in-chief Andy Nakatani, a passionate advocate and ambassador for manga, to talk about the relaunch.
AT: What prompted this change to turn Weekly Shonen Jump to a free online platform with a subscription tier?
Andy Nakatani: We just want more people to read more manga. And we felt the gist of what we are doing – offering free simultaneous content and providing access to back catalog chapters would encourage manga fans to go to the official source that properly gives the creators their due.
How would the service pay for itself if the majority of readers are going to use the free platform?
We're hoping that the new platform will exponentially increase the number of manga fans coming to our platform to read their favorite Shonen Jump manga. From there, we offer an option to sign up for a membership for $1.99 a month to access our digital vault of back chapters. And of course readers can also opt to purchase graphic novels either in digital or print formats.
Can you tell us more about how the free and subscription tiers will work for readers? Will it be available on phones and tablets as well?
We'll be releasing the three most recent chapters of Jump series like My Hero Academia and One Piece for free and instead of paid subscriptions to the magazine, we'll be offering memberships for a monthly fee of $1.99, which will give you access to the Shonen Jump digital vault of back chapters. This includes pretty much everything from the Shonen Jump imprint that we have released in English. The new platform is also available as an app for mobile devices. The new apps have new features such as being able to choose whether you want to stream or download a chapter.
You've said you believe in the positive effects of manga to change people's lives, since you've seen it personally. Can you talk more about that?
Hisashi Sasaki, the former editor in chief of Weekly Shonen Jump in Japan talked about that in our intro video for the new platform that came out a week or two ago. We're fortunate enough to have Hisashi working with us directly here in the United States at VIZ to help us spread the word of Shonen Jump throughout the world. We've talked about how manga has the power to move people to tears and that people can carry that feeling within themselves in their daily lives.
Manga are very good at delivering messages teaching young readers about having hope, the importance of friendship and loyalty to friends. Is this what's informing your belief in manga as a positive force?
Yes! And continuing on from the previous question, I've often witnessed what Hisashi is talking about when we bring manga artists as guests to conventions. I've seen teary-eyed fans tell the artists how their work has helped the get through a difficult time in their life, or has inspired them to become artists, or to keep aspiring to reach their goals despite facing adversity.
The new Shonen Jump homepage can be found here. The Shonen Jump app can be downloaded from the iOS and Android stores.
Enjoyed this article? Share it!