Most publishers are telling us about their offerings for February 2017… American Gothic Press is telling us about their new book for March… and it's an award winner.
Laszlo Tamasfi entered his graphic novel script, Invisible Hands, into the Silver Scream Festival because they had comic categories and were hosted by the team behind Famous Monsters of Filmland. He wrote the script with artist Michael Malatini in mind. It won.
Invisible Hands tells the story of a mysterious man with severe head trauma who disrupts the life of a doctor and his cohort. The doctor, Leonard Gray, soon discovers connections between the man, David Wasp, and a corrupt corporate leader conducting twisted experiments on the human brain.
Holly Interlandi is Editor-in-Chief of American Gothic Press, the comic publishing arm of Famous Monsters. She says they chose Invisible Hands because the script was something they'd never seen before. A different take on science and religion that might make other writer's nervous to tackle.
A prologue to the series appeared in Tales from the Acker-Mansion, AGP's hardcover anthology of short stories dedicated to Famous Monsters late founder Forrest J. Ackerman.
The first issue of Invisible Hands, an oversized issue that includes a reprint of the prologue, will be solicited in the January Previews for a March 2017 release date.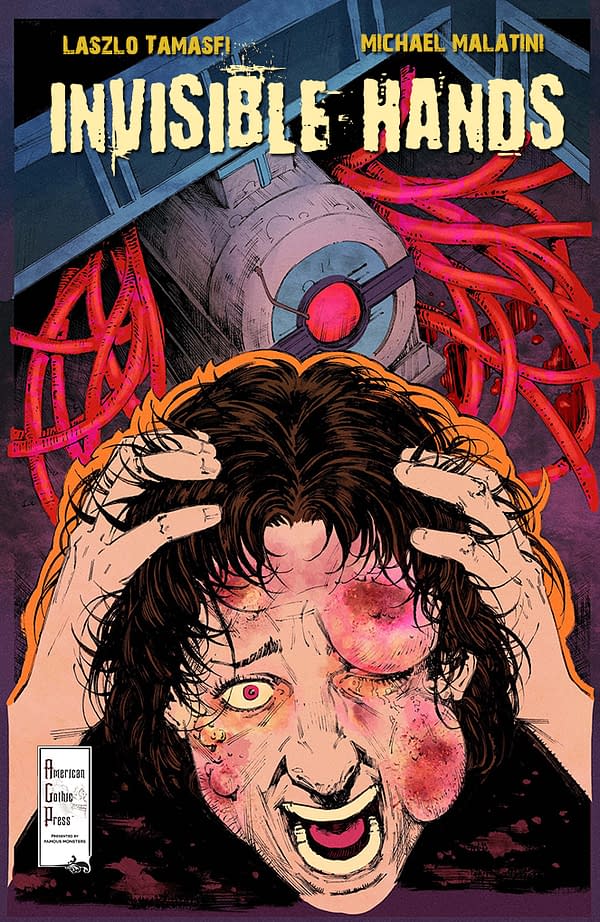 Enjoyed this article? Share it!