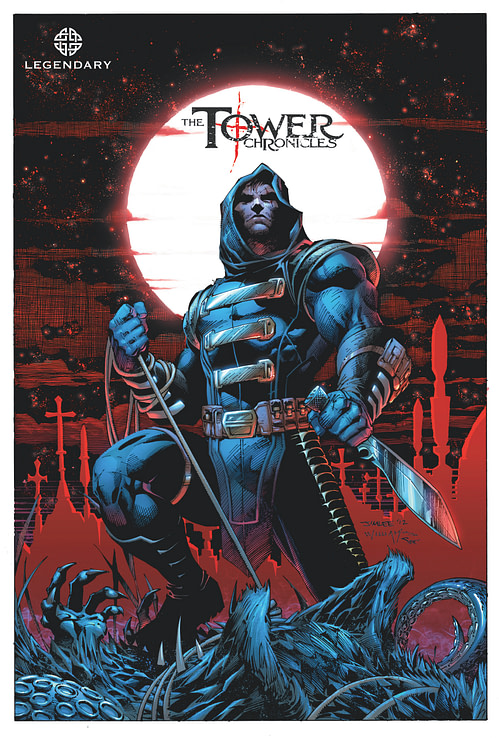 Eliot Rahal and Donny Cates write for Bleeding Cool from C2E2.
We sat down with comics' veteran and Legendary EIC Bob Schreck at C2E2 for a first glimpse into the world of John Tower and the Tower Chronicles. Written by Matt Wagner (Grendel, Mage) with artwork by Simon Bisley (!) and developed by Thomas Tull (Producer of 300 and Dark Knight), The Tower Chronicles marks Legendary's first original IP.
"It's basically the story of a supernatural bounty hunter who has a very small and very wealthy client base. He's a specialist in his field. He's the only one that can take these cases, it becomes kind of a supernatural CSI, and while set in modern day, the book……well, all may not be as it seems."
Schreck went on to talk about the characters origins, which will be revealed as the saga unfolds.
"While he takes these cases for others, he still has to figure out his own conundrums, the ones that made him who he is at the start of the book. There's a real sadness there, he reminds me a lot of Doctor Kildare. That kind of tragic figure really appeals to me."

"When you look at what we've done with Legendary comics and Legendary films, we really try to make each character really have a soul, even though there's poltergeists and monsters around, if you don't care about your characters heart, none of it really matters""
The book is three arcs in length with each comprised of four, 72-page trades and will be released "Sometime in September" Look to San Diego for the first release of the books artwork.
"When Thomas came to me with this property, he wanted someone that could really world build and bring a real life to this character, I immediately thought of Matt Wagner. When you look what Matt does in Grendel or Mage it was a pretty easy choice. Thomas really wanted someone who would challenge him, tell him an idea didn't work when it didn't, and Matt does that better than anyone. When the two of them got together they got on like a house on fire."

"Simon was an easy decision. The three of us got together and talked about who we wanted to do the book ….it was unanimously Simon Bisley."
The first issue of the book will have four covers, one by Jim Lee and three others that Bob would only hint at.
"When you come out of the gate with Jim Lee, the variants have to be pretty huge. I can't tell you who the others are, but I can tell you they go toe to toe."
Bob went on to speak about quieting critics who may have written the company off as little more than a property farm for their bigger film based counterpart.
"Legendary's foundation will be, and has to be, great comic book storytelling," says Schreck, "and I couldn't be more excited."
For more information on the Tower Chronicles go to Legendary.com/comics/