DC's Legion Skin Colour Change Between Original and Reprinted Superman #14, Out Today
Once upon a time, DC Comics demanded that comic stores destroy any copies they had received of Superman #14 and Supergirl #33, featuring the first appearances of the rebooted Legion Of Super-Heroes. They also had postal workers rip copies out of packages going to stores, causing an increase in damages in other titles that week. And offered to pay freight costs for those signed an affidavit stating they had destroyed them. DC also went after the eBay accounts of anyone selling copies online to determine which stores were selling copies. DC Comics had never issued such an extreme recall before.
The reason DC Comics gave was that the covers no longer reflected the interior pages and the banner DC's Year of The Villain did not apply to the stories inside. Though no one noticed this before they were printed. Catwoman #14 also out that week had a cover and a YOTV banner that didn't reflect the story inside but no recall demand was made of it.
Bleeding Cool had a tip-off that it was to do with the racial and ethnic make-up of a few members of the Legion. And there were certainly disparate versions, on covers, in designs, on spreads shown on Late Night With Seth Meyers. It appeared that decisions made by senior editorial were not carried out by the Superman group editorial, or that decisions made had not been approved up top, and the recall was a way to show them who was boss. Whatever changes the Superman group at DC Comics would make, senior editorial could rescind, even if the books had been sent out to comic stores already. It was all power play and internal politics.
Then Bleeding Cool posted what we did. Others followed suit. And suddenly you had a Streisand Effect as sales boomed on eBay. And DC Comics, committed to reprinting Superman #14 and Supergirl #33, were suddenly shy of the attention. The different versions of the Legion had been highlighted. And so senior editorial had to go along with what the Superman group had decided after all. And so the comics were reprinted with a new cover but no other changes.
Okay, not quite. Something, other than adding a Snickers ad, had to change to justify the immense cost of a recall and reprint. And yes, it's a colour change but not a colour switch.
Here are the two versions of the big Legion Of Super-Heroes spread from Superman #14, republished today. Firstly, the one published two weeks ago and then recalled.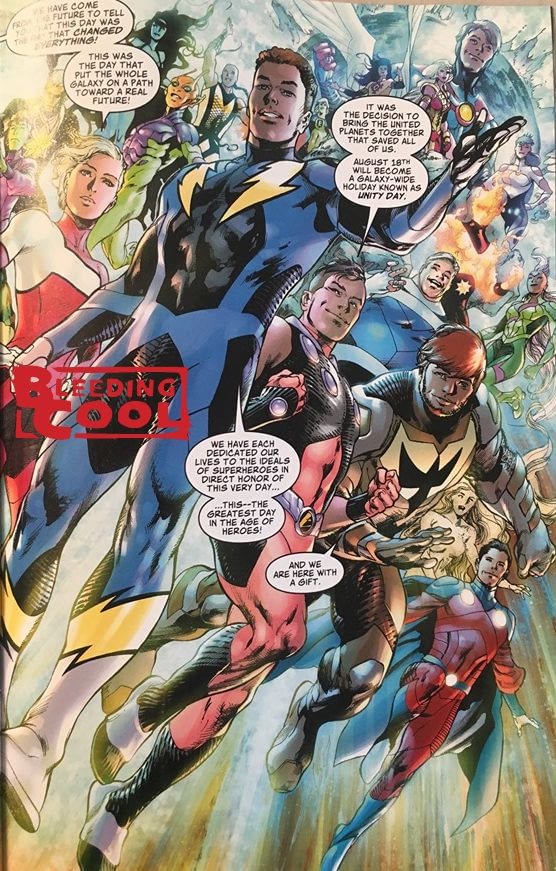 And the one published today.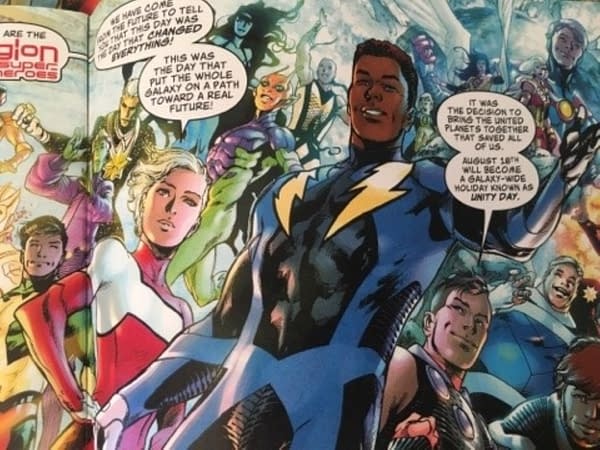 Lightning Lad's skin colour has been significantly darkened. While Superman and Superboy…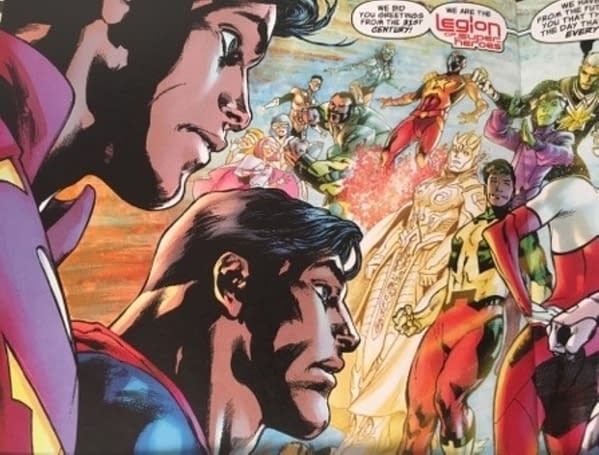 Their skin colour has been slightly lightened as if to provide greater contrast.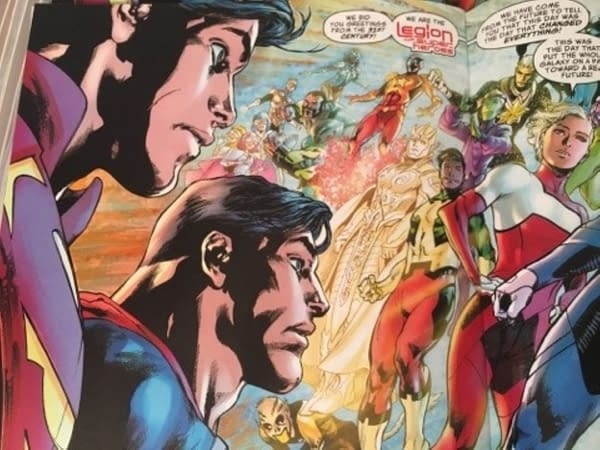 This is an example of DC Comics going full reverse-ferret. They have to make some chance because of the recall. Even if the change they were originally going to make, they can't make anymore. But they have to do something. And this is it,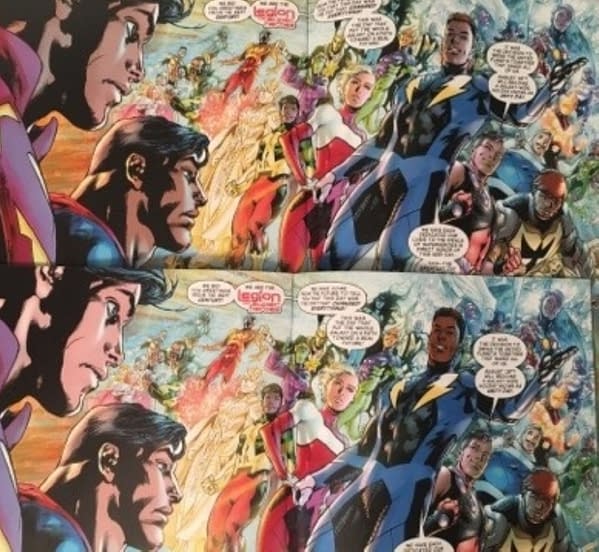 I'm not saying it's not weird. But it is what it is. And you know the seven employees DC Comics had to drop earlier in the year? This recall and reprint could have paid one of their salaries for a year.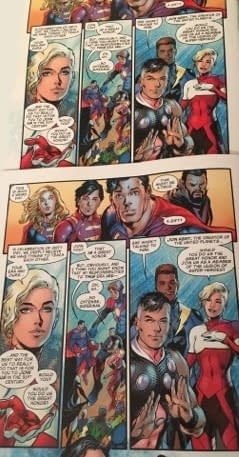 Superman #14 is published (properly) today. Supergirl #33 should be out next week.
SUPERMAN #14 YOTV DARK GIFTS
(W) Brian Michael Bendis (A/CA) Joe Prado, Ivan Reis
Lex Luthor is back in Metropolis–and he's ready to wreak havoc! First stop, the most dangerous woman in the DC Universe: Lois Lane! Alone, her family a galaxy away, will Lois be tempted by Apex Lex's offer? What does Lex have that this reporter can't turn away from? Don't miss this shocking new twist in the Superman mythos!In Shops: Aug 28, 2019
SRP: $3.99