Something Is Killing The Children #1 Goes To Fourth Printing Before First Print is On Sale (UPDATE)
Yesterday we told you that BOOM! Studios is likely taking a victory lap at the thought of their upcoming sixth-and-final printing of Once & Future #1 as the never-to-be-forgotten "The Kieron Wars" continues with their frenemies at Image Comics as the Marvel vs DC of the creator-owned comics world rages on. Or you could think of them as the Betty and Veronica of comic publishers, with Kieron Gillen as the Archie – albeit with less hair (although not where it matters).
But might the true villain of The Kieron Wars actually be… James Tynion IV (which I guess makes him…Reggie or Cheryl)? After all, the clue might've been that he named a comic Something is Killing The Children, which DCeased writer Tom Taylor warned us about back in June.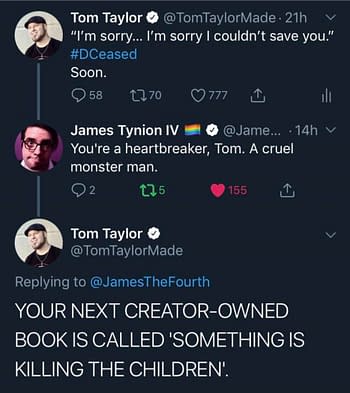 Last week the news was that this Sept 4 debut from Boom was going to a third printing and today we're learning that Something Is Killing The Children #1 is heading to a fourth printing before the book even debuts.
This puts the series on track to eclipse both Once & Future #1 and Die #1 in terms of the all-important (well, to those companies) number of multiple printings.
Something is Killing The Children #1 currently ranked as the highest-selling series debut in Boom's history – and the third series from the company to launch at over 30,000 units this year – and it seems like this could be the first launch to hit seven printings from either of these two publishers of creator-owned series in…maybe forever? And the company rewarded it with an early announcement of an upgrade to ongoing series status.
Both Boom and Image have some big new releases on their way like Folklords and Undiscovered Country respectively – but Something is Killing The Children #1 is already shaping up to be the one that makes the most history, from that unprecedented 170% jump at FOC to its surprise role in The Kieron Wars.
Speaking of which, Die and Something is Killing The Children would make for a pretty great crossover too…
UPDATE: Here's the fourth printing cover by Lee Garbett.