We've got some good news, and we've got some bad news. The good news is that, for the first time since 2012, a new volume of Sophie Campbell's Wet Moon is being release this November, according to a press release from Oni Press. The bad news: this will be the last one. The press release provides the summary:
Trilby is finally out of the hospital, but she feels anything but ready to face daily life again. Even though Myrtle is in prison and Trilby is safe, everything is different and nothing feels right. Cleo, Mara, Audrey, and Martin struggle to support Trilby, but will it ever be enough? Things don't seem like they'll ever be the same again, and everyone must pick up the pieces and figure out where their lives are going.
And Campbell tries to come to grips with the series ending in a meatier-than-usual press release quote:
I've been working on Wet Moon since 2004, so volume 7 being the last book feels really strange for me. It doesn't quite seem real, so I'm having trouble even coming up with something to say about it. It's definitely exciting, but since these characters are my babies it's also a little bittersweet that I'm finally moving on after over ten years. I think I'm too close to the series to say whether volume 7 is a good ending or not, maybe it's terrible, maybe it's perfect (or both?!), but I feel really strongly about the book, so that's what matters at the end of the day. It's a great feeling getting to wrap up a story on your own terms, good or bad. Even though volume 7 is the ending to this story, I can see myself picking Wet Moon back up in the future, maybe revisiting the characters in their 30s or something like that. Oh my god, maybe a story about Penny's daughter grown up and she visits Aunt Cleo and Aunt Trilby?! I better start outlining that.
Okay, so not the last one then, technically speaking? Guess we only had good news after all.
Back in 2008, Campbell had some other ideas about how long the story could go on for, noting in a CBR interview:
I have a loose plan up until/through around Volume 8, and I have enough material that could easily spill over to Volumes 9 or 10. There's no definite end, I want to keep the story going for as long as I'm able, whether that means me being sick of doing it, Oni no longer wanting to publish it, or I have to get a regular job, or something like that. We'll see where things are at Volume 8!
2008 was a magical time filled with hope and possibility. 2018… well, best not to dwell on it. Hopefully, some of those ideas will end up in the spinoff series anyway.
Wet Moon Book 7: Morning Cold hits stores on November 14th.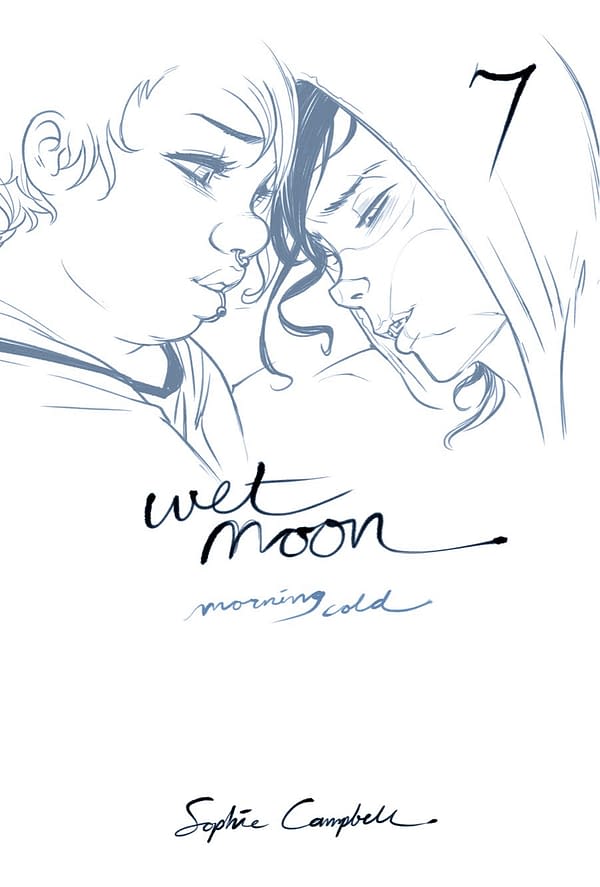 Enjoyed this article? Share it!