Today sees the publication of Amazing Spider-Man Annual #42 – and I love how the Annual got Legacy-numbered as well as the series proper.
And we get a jolly action adventure in the lead by Dan Slott, Cory Smith and Terry Pallot, looking at the legacy of Ned Leeds, political corruption with the Kingpin and a hidden underground of New York City.
And we also get a sweet back-up strip by David Hein, playwright of Broadway hit Come From Away! with Marcos To that focuses on how Peter Parker gets through the day dealing with all the things that set off his Spider-Sense.
However, the main strip also uses Spider-Man's Spider-Sense. His super power that gives him psychic readings of impending danger. And there seems to be an annoying contradiction…
As we see Peter Parker's Spider Sense set off by his Aunt's food choices.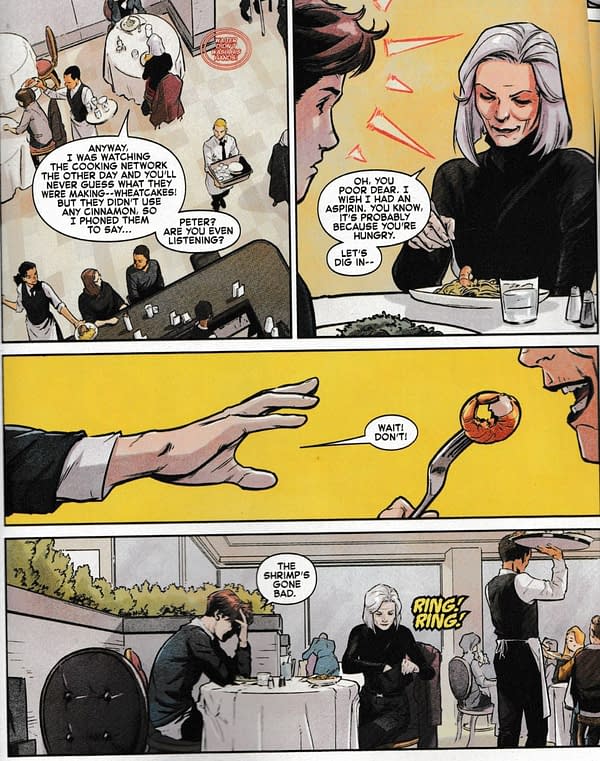 Which, you know, would have been fine. If in the preceding story Spider-Man hadn't gone after a stalker.
Whether he meant harm or not, Spider-Man knows his Spider-Sense differently there, as in something not triggered by a threat to someone else, even someone close to him. So he wouldn't expect a read from someone stalking a friend. But he does get one from Aunt May having a dodgy spoon of shellfish?
Doing it in separate issues may be excusable, but in the same issue? It's a bit annoying.
Something to bring up at the next Spider-Summit? Nick Spencer, take this one on!
AMAZING SPIDER-MAN ANNUAL #42
(W) Dan Slott, Hein, David (A) Cory Smith (CA) Mike Hawthorne
• Searching for answers about a mysterious voicemail from her late husband, Ned Leeds, Betty Brant finds herself in the midst of a mafia conspiracy that stretches back decades!
• Convinced that Ned is alive and trying to help her solve the case, Betty enlists the help of the Amazing Spider-Man to get to the truth…
• …and the ENFORCERS want a word with both of 'em!
• Also includes a short Spidey story by Broadway playwright David Hein (Come From Away)!
Rated TIn Shops: Feb 14, 2018
SRP: $4.99
Enjoyed this article? Share it!