Star Trek: Year Five #12 Review: Warp Factor "Holy Crap"
If you need bracing, you're sure as heck not gonna have much time for it as this issue throws you directly into the deep end as it's tons of plot pushing forward at warp factor "holy crap." An old friend is back, and he ain't so friendly anymore. Starting off with one of those classic Kirk fight scenes normally accompanied by pounding horn stabs, certain doom is the only item on the agenda to protect the timeline from something Kirk can't even fathom.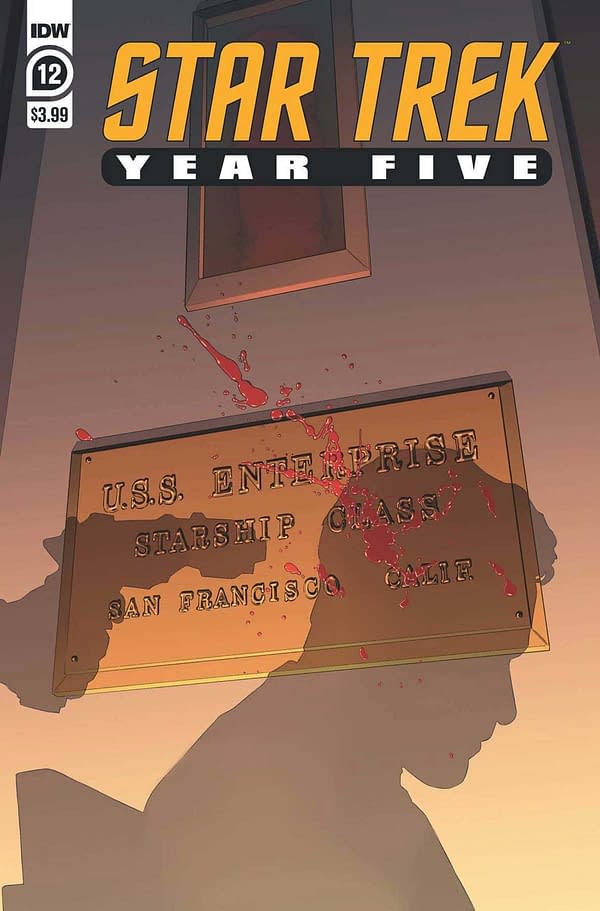 On the surface, Spock's all "logic this" and "reason that" (like he does) and only a very thin degree of decorum stops the whole crew from overthrowing him. When the
nightmare fuel
starts in this issue is almost nothing but full speed plot development. Scott and Bones do pretty regular Scott and Bones things while Spock finally has a moment of clarity (which makes this fit in continuity well), and plot pieces from throughout this series pay off when needed.
There's nothing wrong with this script from Lanzing and Kelly, which is a complete thrill ride but doesn't have much time to engage the individual characters. Likewise, the art from McKeown, Califano, Thompson, Deer, Move, Kirchoff, and Uyetake deliver a solid if unremarkable TOS experience (especially after the spectacle of the aquatic world or the Tholian Web). This issue does nothing wrong, but it doesn't shine as brightly as some other instances either. RATING: HONORABLE MENTION.
Star Trek: Year Five #12
By: Jackson Lanzing, Collin Kelly, Stephen Thompson
At last-the moment you've been waiting for since the first page of issue #1! With a villain revealed, a stranded crew, and a ship on a collision course with total destruction, Captain James T. Kirk will have to face the biggest challenge of his life on his own! Written by showrunners Jackson Lanzing & Collin Kelly (Green Arrow, Nightwing, Gotham City Garage) this is a perfect jumping-on point before the second year of the series begins.