Steve Geppi, Talking Live With Comic Book Retailers Tonight
Tonight, the Comic Book News with Dan Shahin YouTube channel will host Diamond Comic Distributor CEO and owner Steve Geppi, talking about distributing comic books in this time of shutdown. Including what happened with DC Comics and the launch of new distributors UCS and Lunar, and what has been going down during the shutdown. The livestream — billed as "a live and unfiltered conversation" covering "how we got here and where the comics industry is going next", and which will take live questions from a panel of industry pundits and retailers from around the world — is currently scheduled to include the following retailers.
Jeremy Shorr – Titan Comics, Dallas, TX
Cliff Biggers – Dr No's Comics, Atlanta, GA
Jim Mortensen – Comix Revolution, Chicago. IL
Joe Field – Flying Colors, Concord, CA
Brian Hibbs – Comix Experience, San Francisco, CA
A number of those have been very supportive of Diamond Comic Distributors at this time. Come by in a few hours and we'll all see what Steve Geppi has to say. The interview and discussion will be airing today, Tuesday, April 28th from 5:30 pm to 7pm ET, 2.30pm PT and 10.30pm BST. Why not pop by and see/hear it for yourself? We may learn a little as to Diamond Comic Distributors upcoming plans, and of the Geppi Family Enterprise as well. The coronavirus pandemic was just the start, there were other changes coming through anyway, and tonight we get to learn a little more about them.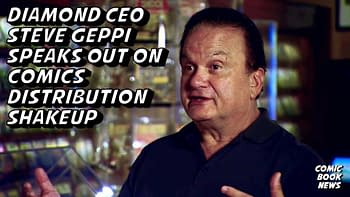 You can follow Bleeding Cool's continual coverage of how the current global situation is affecting the comic book industry with this handy tag and also follow along with the latest skirmishes in the New Distributor Wars of 2020.