Storm Knows How to Make an Entrance in Marauders #4 [X-ual Healing]
Six X-books hit stores last week: New Mutants #4, X-Force #4, Marauders #4, Excalibur #4, Fallen Angels #4, and one surprise book no one was expecting. As a Christmas present to myself, and since I've written over 3,000 words about them collectively (but get paid per article, not per word), I'm going to publish each recap as an individual article, and then reveal the Wolverine's Weiner X-Pick of the Week at the end. Will X-ual Healing continue that way into the new year? Maybe. Maybe not. They'll collectively get more clicks this way though.
In any case, if you don't feel like waiting for each article, just wait until the end of the day and read the finale. Now, let's get on with the show…
---
Sworn to sell comics for Marvel executives who feared and hated the fact that Fox owned their movie rights, The Uncanny X-Men suffered great indignities, but thanks to a corporate merger and a line-wide relaunch, the X-Men can finally get back to doing what they do best: being objectively the best franchise in all of comics.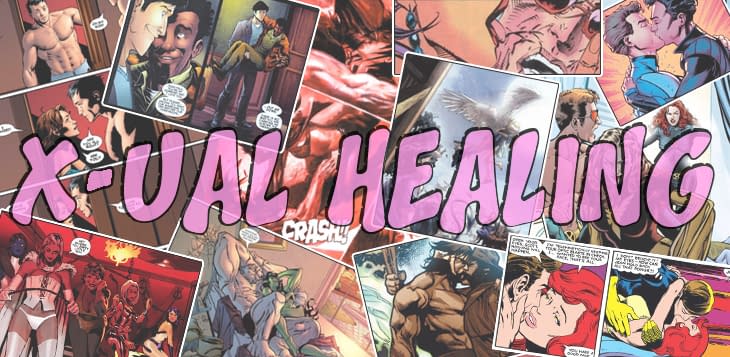 ---
What happened in Marauders #4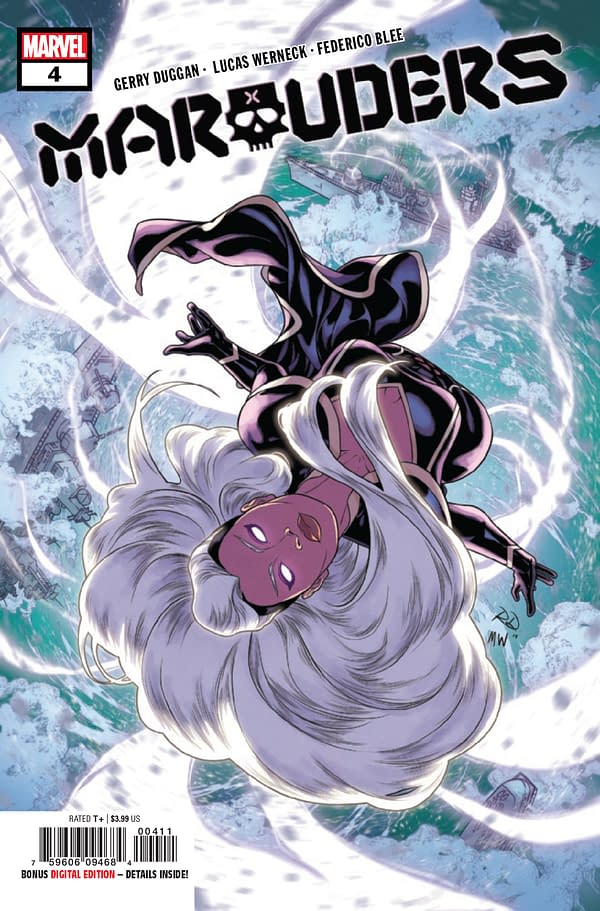 MARAUDERS #4 DX
OCT190920
(W) Gerry Duggan (A) Lucas Werneck (CA) Russell Dauterman
SALT WATER & HELLFIRE! THE NEW BLACK BISHOP OF THE HELLFIRE CLUB!
Sebastian Shaw recruits a new Black Bishop continuing with his machinations against the two Queens of the Hellfire Club! Meanwhile, Captain Kate and her Marauders wreak havoc on the high seas from the Atlantic to the Pacific in the name of the mutant cause!
Rated T+
In Shops: Dec 18, 2019
SRP: $3.99
Like all great comics, this one opens with an infographic page revealing that the United States has an underfunded mutant issues department. In Brazil, a group of mutant refugees are waiting for a rescue from the Marauders to leave the country and go to Krakoa, but there's a blockade of military ships there to prevent it. The Marauders, led by Storm raining lightning down from the heavens, come charging through the blockade. Storm kicks a government super soldier's ass, and insults him as well when she doesn't even recognize him despite him apparently believing he's a big deal, at least in Brazil. In Taipei, Kate and Bishop, who Kate is almost done talking into becoming her Red Bishop, infiltrate the penthouse apartment of the anti-mutant activist, Chen Zhao who claimed her billionaire husband, Lim Zhao, had been kidnapped by Krakoans. Inside the opulent apartment, they find him imprisoned, apparently a member of the mutant-worshipping fan club, the Order of X. After dispatching some untrained guards armed with Lady Deathstrike claws, Kate and Bishop bring him to his wife's rally at the Taipei Arena and expose her lies. Later, Zhao heads to Madripoor where she meets with the former kid Inner Circle of the Hellfire Club led by Kade Killgore to plot revenge. Zhao joins the group as the White Bishop.
Was it any good?
Marauders kind of started out as the drunk Kate Pryde bender book, but it's evolved into a sort of mutant Game of Thrones with all of the Hellfire Club intrigue. Killgore's rival inner circle make good villains for this book, and it was nice to see Storm letting loose and showing why she's one of the most powerful mutants around. Marauders may be the most humorous X-book, but not in a way that detracts from the story.
---
Keep checking back as we recap all of last week's X-Men books today, and pick the best at the end for the Wolverine's Weiner X-Pick of the Week.
Read more X-ual Healing here: