Strange Adventures #2 Review: A Number of Odd Dichotomies
There are a number of odd dichotomies in this work that follow closely the dual nature of its narrative. On one side, Adam Strange lives a life of adventure, seeking to protect Rann from all threats and save his wife and child while performing feats of derring-do. On the other side, Mister Terrific goes through the paces of his life — athletic training, rigorous study, marksmanship practice, and generally maintaining his general level of excellence. Through both, each man is being tested: Adam by the harsh Rannian deserts, apparently avoiding the oppression of mechanical menaces, and Holt is tested by the task in front of him, the question of investigating a beloved hero.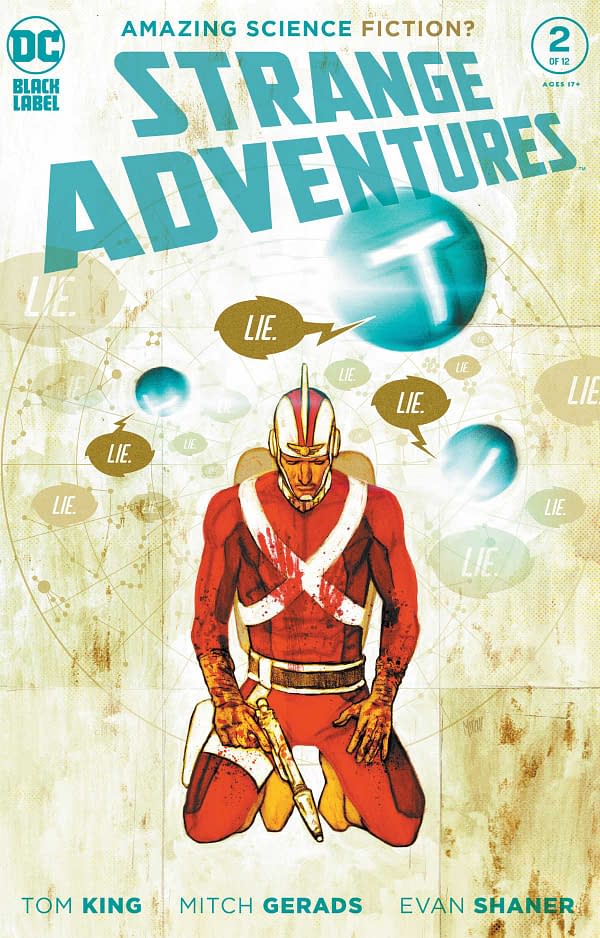 Tom King is a skilled craftsman, and the character work in his script here — as is often the case — is superlative. Likewise, the visuals provided by Gerads, Shaner, and Cowles mixes a kind of pulp adventure with the kind of gritty reality Sean Phillips delivers. All of that is neat and is very interesting to follow.
However, when you get to the end of this, you realize that nothing much really happened. Mister Terrific would have been doing pretty much all of this whether or not he was in this story or not. Most of the book is a flashback to Adam Strange's past, which may or may not be a case of "unreliable narrator" since the truth is being questioned. The phone conversations are the only things that happened worth noting, and they sure didn't need this kind of page count and high octane production values to get those points across.
It doesn't really read like a single issue, but pages of an original graphic novel. For the premium cost of a monthly periodical, that does a disservice to the reader, so the good things here were washed out by the challenges. As such … RATING: MEH.
STRANGE ADVENTURES #2
written by TOM KING
art by MITCH GERADS and EVAN "DOC" SHANER
What is the truth about Adam Strange? When an activist who publicly accused him of war crimes ends up dead, the public begins to doubt Strange's stories about his adventures on the planet Rann — and he's even starting to doubt himself. It's going to take a special investigator to get the truth, and he's going to have to tear apart Adam Strange's life and reputation to do it.

A special miniseries set on two worlds, it takes two artists to bring Strange Adventures to life. Mitch Gerads tackles the earthbound sequences, while Doc Shaner launches us into space. And it's all written by Tom King, the Eisner Award-winning writer who brought you Mister Miracle, Omega Men, and Sheriff of Babylon.