Superman Breaks The Walls Down in Superman #116 UK Edition, at Auction
Who else loves a great silly Superman cover like this one taking bids at Heritage Auctions today.We just love looking at these.
---
Superman and his family of books feature some of the silliest and best covers you will find on the market. I love just standing in my shop and laughing at old Superman covers, as well as Superman's Pal Jimmy Olsen. You haven't lived until you spend an afternoon going through the back issue bins and laughing at the DC Comics covers from back then. This one, for the cover of #116 and a UK Edition, is no different. Why would Supes need a giant fist contraption to break through anything?? Great stuff. You can bid on a CGC 5.5 copy today at Heritage Auctions, and what a deal. It currently sits at only $1. Check it out below.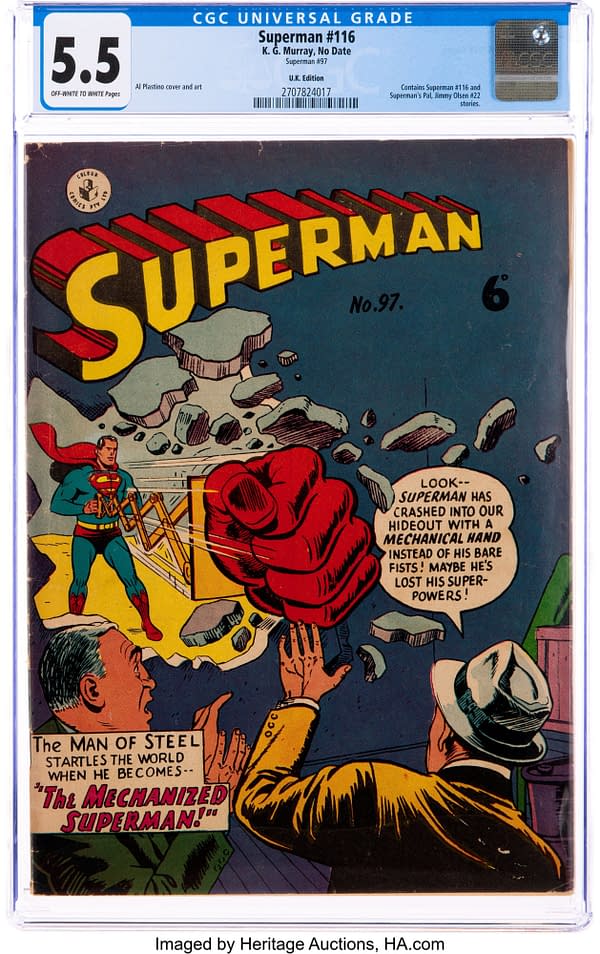 Superman Is Always Hilarious. His Book Looks Cool Graded As Well
"Superman #116 UK Edition (K. Gordon Murray Productions Inc., No Date) CGC FN- 5.5 Off-white to white pages. UK Edition published as #97. Contains Superman #116 and Superman's Pal Jimmy Olsen #22 stories. Al Plastino cover and art. Not listed in Overstreet. CGC census 1/23: 1 in 5.5, none higher. CGC has not published grader's notes for this comic. Cover art by Al Plastino. The Ray That Changed Superman starring Superman and Rex Malcolm, script by Jerry Coleman, art by Al Plastino. Disaster Strikes Twice, art by Al Plastino; Kal returns to Smallville. The Mechanized Superman starring Supes and Professor Ephraim Snively, art by Al Plastino; A Green Kryptonite dust cloud endangers Clark. 36 Pages, Full Color. Cover price $0.10."
As far as silly Superman covers go this one is classic early 1950s DC Comics silliness. If you want to add this to your collection, you may be able to do so very cheaply. Go here and check out the book and place a bid after reading all the info. While there, check out the other books taking bids today. There are some real good ones that you can score for pretty great prices.

Affiliates of Bleeding Cool buy from and/or consign to Heritage Auctions.