Sweeney Boo, New Ongoing Artist On DC's Punchline Comic
Sweeney Boo may best be known as a comic book cover artist right now, but she has drawn comic book stories such as Rat Queens, her graphic novel Eat, and Love Yourself, Dead Beats, Marvel Action: Captain Marvel, Love Is Love and Over My Dead Body. And, along with her cover illustration, and design work on Marvel Rising animation, she has amassed over 350,000 followers on Instagram. Readers she may now be introducing to Joker sidekick, Punchline.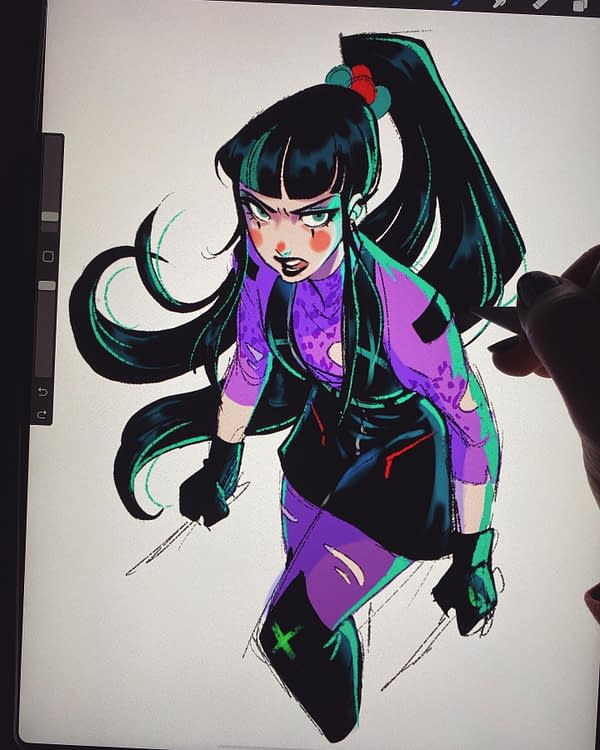 DC Comics' solicitations for July 2021 include Sweeney Boo drawing the Punchline back-up strip to The Joker from #5 onwards, the first comic book she has drawn for DC Comics. In a story that will see "things get worse and worse for Punchline and Bluebird." Here's the solicitation.
The Joker #5
story by: James Tynion IV and Matthew Rosenberg
art by: Francesco Francavilla
backup story by: James Tynion IV and Sam Johns
backup art by: Sweeney Boo
cover by: Guillem March
ON SALE: 7/13/21
$5.99 US | 40 PAGES | FC | DC
variant cover by: Kaare Andrews
variant cover by: Sean Phillips
1:25 variant cover by: Riccardo Federici
US $5.99 (card stock for both covers)

The never-before-seen tale of The Joker's first night in Arkham Asylum is finally revealed!
When a lunatic in a clown suit tries to poison Gotham City's reservoir and is placed in Arkham Asylum before his trial, Detective Jim Gordon realizes something's different about this new inmate that could forever change the future of Gotham.
Backup: Rising-star artist Sweeney Boo joins the series as things get worse and worse for Punchline and Bluebird. Punchline's prison war against the Queen of Spades escalates, and no prisoner at Blackgate Penitentiary will be exempt from choosing sides. And after barely escaping death at the hands of Punchline's former accomplice, will Bluebird have the will to continue her investigation and find the mysterious woman from Punchline's past who has the answers she's looking for?