I feel kinda bad putting new issues of Buffy: The Vampire Slayer and The Life And Death Of Toyo Harada next to a stone cold classic of French science fiction, but c'est la vie.
Druillet's The Night
Druillet's The Night: "Death…everywhere, Death with its garland of glistening rot…" Created as a response to his wife dying of cancer, the 1976 album by Phillipe Druillet suggests where 2000 AD (ABC Warriors and Judge Dredd specifically) would eventually go, though Humanoids published The Night one year before Thrillpower started.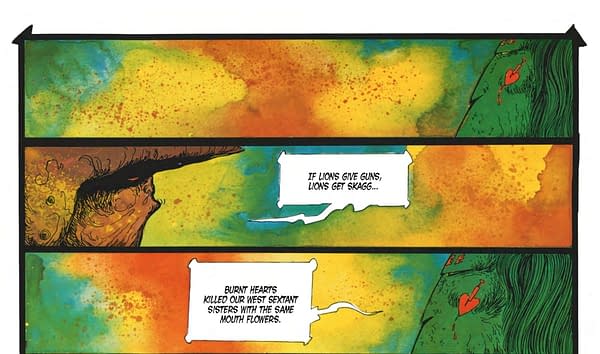 The plot: Bikers and barbarians hack each other to pieces in an apocalypse. Shades of Mad Max, for that matter. Reading The Night for the first time makes a lot of other comics clearer. On a technical level, I can't think of a thing like The Night, maybe some combination of J.H. Williams III art nouveau and psychadelics + Geof Darrow detail + The Black Hole-era SMS. The paint splatter between the two figures on page 21 (above) makes that page for me. There's a warmth from analog colors that comes through here. Once the reader arrives at the back half, Druillet cranks up the wild page layouts. Druillet created a darkly flamboyant apocalyptic comic that left me speechless and gawking.
Titan will re-release Druillet's The Night on August 21st.
Buffy the Vampire Slayer #7
Buffy: The Vampire Slayer 7: Jordie Bellaire and Co. hit another comic staple, the fill in issue. In this case, it's a Xander dream sequence drawn and colored by Sas Milledge. David López contributes the framing sequence, which it looks like he draws in a manner close to Milledge's style. I can't show the rest of the page it comes from, but, I like the wobble of a bloodied knife near the end of the issue. Milledge does well, but the change in style from Mora and López's fairly traditional comic art is noticeable.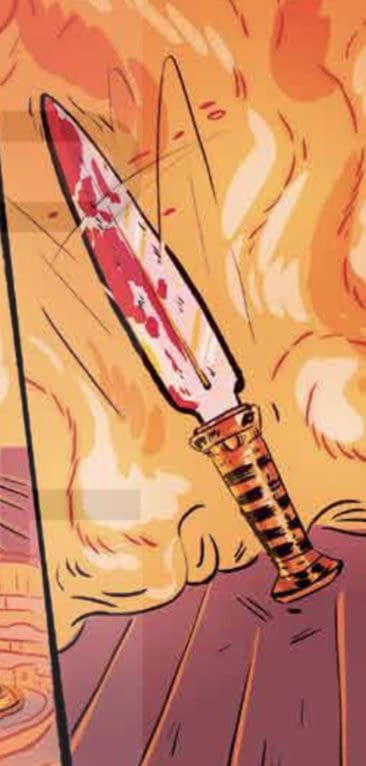 The Life and Death of Toyo Harada #5 & #6
The Life And Death Of Toyo Harada 5 and 6: Finally, more Sunlight On Snow! I can't say much about the final issue (out August 14th) without spoiling, but there's some particularly evocative Lovecraftian nonsense from Doug Braithwaite in the final issue of the mini. Main artist CAFU does a great job as well. Writer Joshua Dysart ties off all the loose ends, puts the toys back in the box and comes to a satisfying conclusion to the stories of the characters he helped guide for years. I can't imagine a reader's dissatisfaction with the Toyo Harada's forthcoming final issue.
Enjoyed this article? Share it!