The Best Pop Culture Placards I Saw at the Trump Protest March in London
I went to the London protest march against Donald Trump visiting the UK today. I was especially keen to go as my eldest daughter had expressed a strong interest in attending, and it's that kind of involvement I really wanted to encourage. So, with permission from her school, which decided that this would be an educative experience, off we went.
And, because this is me, that meant a printed placard from of Printstore in Kingston-Upon-Thames and a couple of T-shirts from Streetshirts in Lincoln. No freebies, I'm just plugging them anyways.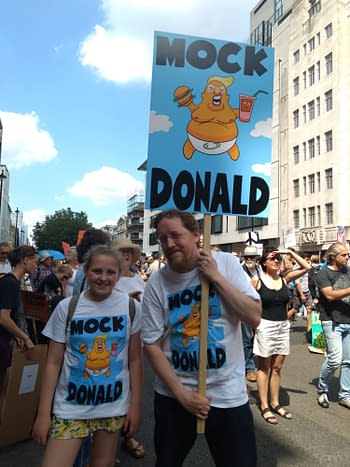 But I was also taken by the pop culture placards and the cartoons that were on display from many others as we walked from Portland Place to Trafalgar Square. There were several thousands of people on the march, so I will have only seen a fraction. But here are a few of the messages I enjoyed.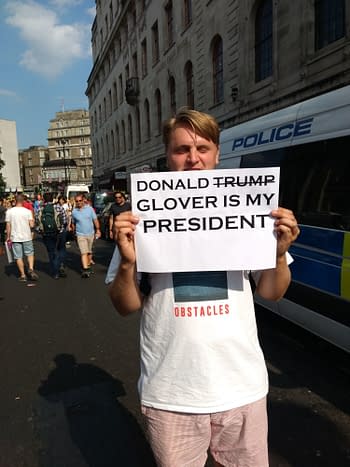 He's Lando, he's Spider-Uncle, he just released the songs of the summer, why not?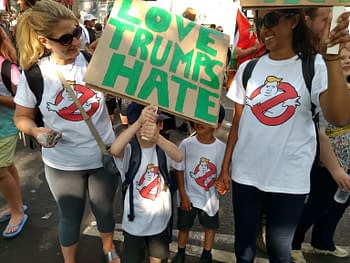 A family of Trump busters.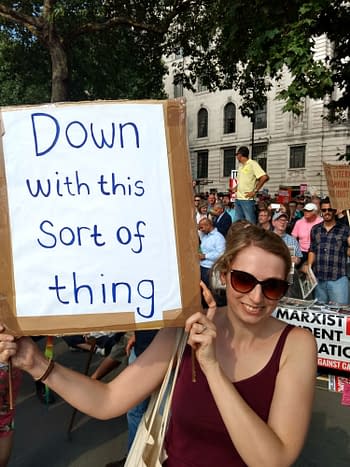 Every protest has to have a Father Ted contingent.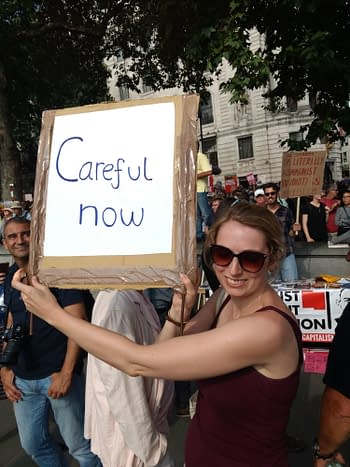 Thankfully there was no terf warfare on this march.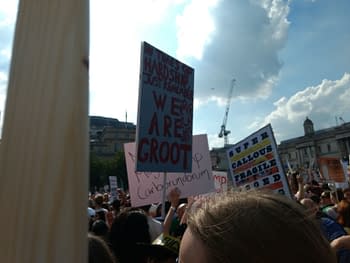 We are Groot — well, most of us.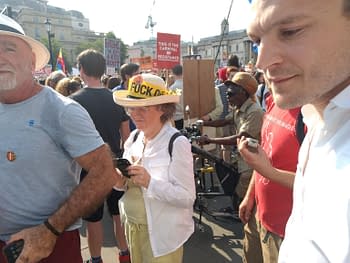 No pop culture reference here, but it's funny when old peoples' hats swear.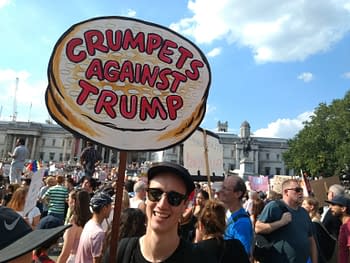 Or when breaded produce take a stance.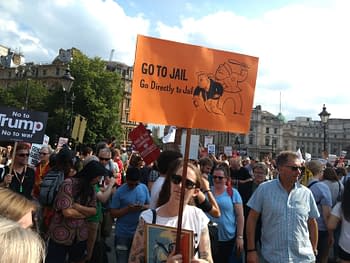 Monopoly represented. Has anyone done a Trump Monopoly? You get to deal yourself a Get Out of Jail Free card…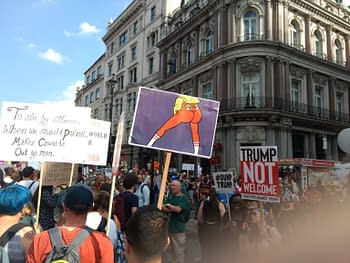 It may be what he talks out of, but maybe he could grab himself at the same time?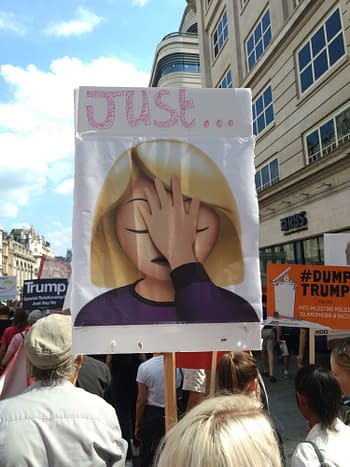 My daughter's favourite. She uses it on me all the time.
Cartoons go three dimensional — and we bonded over our similarity of signs.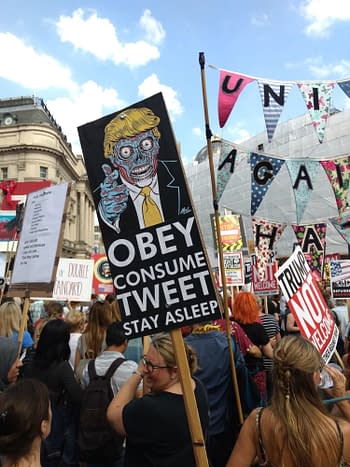 They Live made an appearance….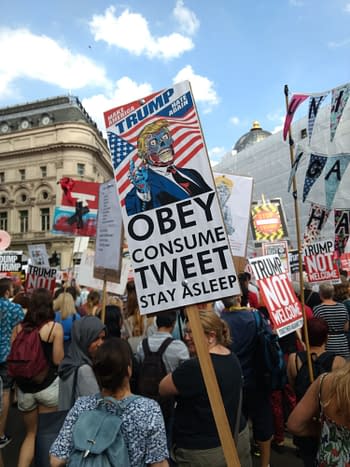 …both sides…
This cartoon flipped with the wind.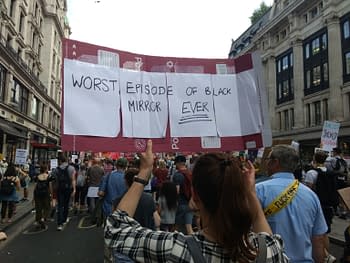 Charlie Brooker clearly sent his minions to promote the upcoming new series…
The cartoon may have been done many times. But it remains a powerful summation.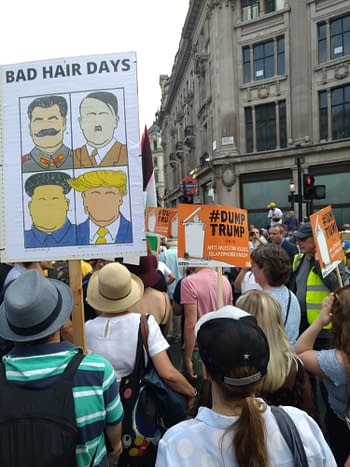 Always a good way to start a discussion about Josef Stalin.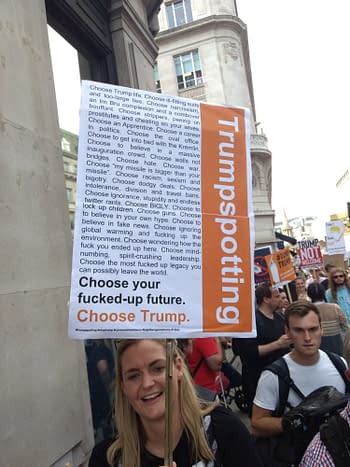 Choose march…
And this was… shocking in its simplicity, by way of not being a march at all.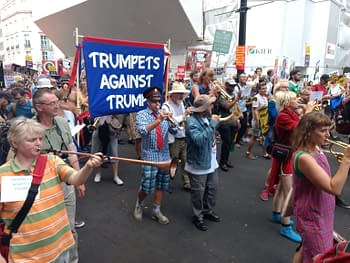 Break out the Sergeant Pepper…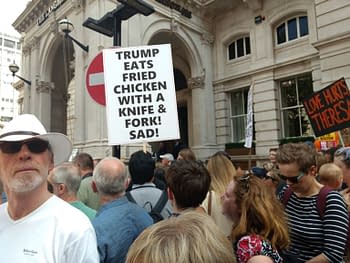 Or any other condiments you fancy.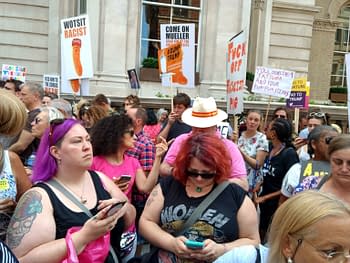 Or even cheesy snacks. DC Super Hero shirt there as well. Women At Work…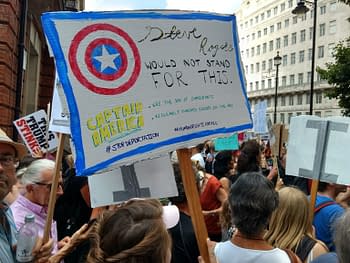 Captain America was drafted in…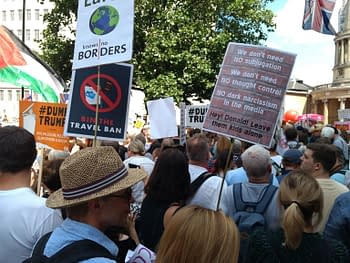 As were Pink Floyd…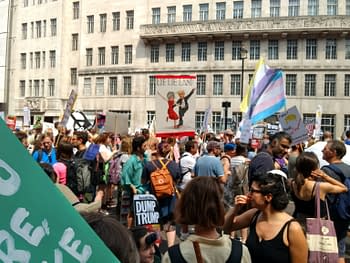 La La Land became Lie Lie Land…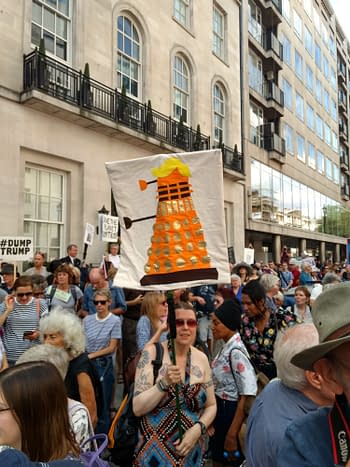 And remember, the orange Dalek is the most feared of its species…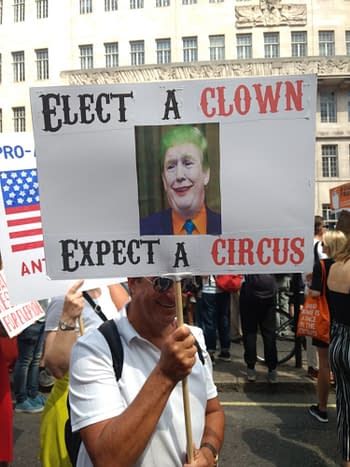 Trump Joker has faded from popularity but it's sweet to see its return.
And, of course, Rick of Rick and Morty was there. Not sure what the relevance was; maybe Trump is a Morty who got out of control?
Did you see any others you feel like sharing?