From Terry Moore's Abstract Studios in May – a crossover that has been decades in the making. But only called Five Years…  crossing over all his self-published titles into one comic book. Strangers In Paradise, Echo, Motor Girl and Rachel Rising.
Marvel? DC? Valiant? This is what you call a crossover event…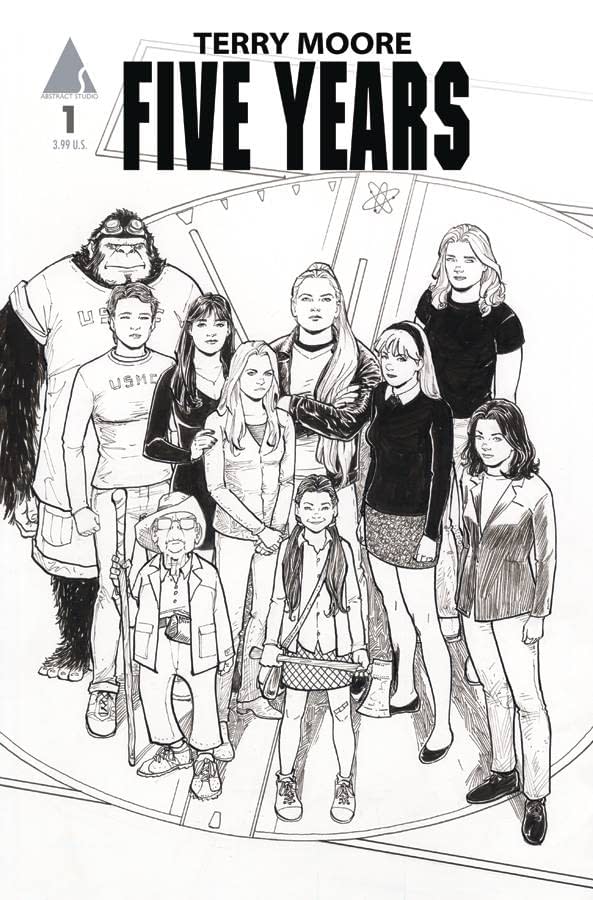 FIVE YEARS #1
(W) Terry Moore (A/CA) Terry Moore
Five Years weaves the many strands of the "Terryverse" into one epic saga, years in the making! A dangerous paper written by Lilith has been leaked to the nations of the world containing a formula for the ultimate weapon, and now labs around the globe are attempting to build and test the Phi Bomb. Tambi, in an all-out effort to find the labs and stop them, has enlisted the help of Ivy Raven, Julie Martin, Rachel and Zoe. Meanwhile, Katchoo and Francine have moved their household – including the kid's new bodyguard, Samantha Locklear – to the beach where Katchoo devises her own solution to the problem…
In Shops: May 29, 2019
SRP: $3.99
And as Terry says on his Facebook page,
The New Series: FIVE YEARS
What would you do if you knew the world had five years left? If you could do something about it, would you? Who would you call for help? The Terryverse joins together to fight a common enemy and the countdown begins in May!
Ah, that explains the title a little more…
Enjoyed this article? Share it!