Welcome to Thank FOC It's Friday (mostly) every Friday and planned to coincide and cover the demands of Final Order Cut Off at Diamond Comic Distributors. Of course, in these times, so much of this is up in the air. There's a lot of product coming through that needs adjusting. Because this represents the comic book industry returning to comic book stores en masse, Almost. And there are a lot of Marvel Omnibuses.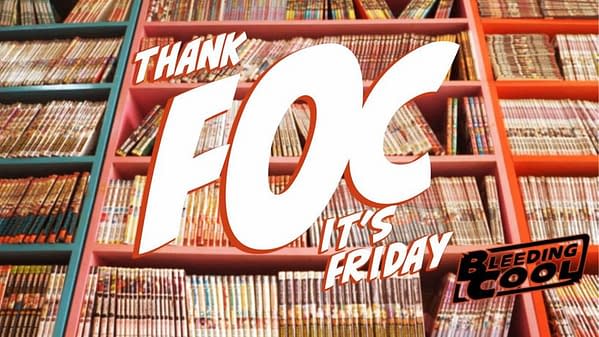 Traditionally FOC is the date when retailers have a last chance to amend their advance orders for comic books without penalty. A final chance for publishers to promote books while orders can still be added. A time for credits to be amends, new covers to be revealed and a final push given. This is an attempt to sift through them all and find the most relevant items.
So what's FOC'ing today? And from whom?
Strangers Things has its fourth issue at long last. Don't forget those one.
Sleeping Beauties has its second
How did Adventureman #1 do this week? #2 is up. Get on this.
Oblivion Song is back with #25 and a J Scott Campbell cover.
Doctor Strange returns with #5 and we now know we have a #6 for August.
Empyre: Fantastic Four #0 is up. A shorter, tauter Empyre may be what Marvel need to recover, but it kicks off here.
Remember Strange Academy #1 all that time ago? #2 is up for FOC if anyone remembers. You should, it was good.
X-Men: God Loves Man Kills finally gets its new extended cut.
Buffy The Vampire Slayer: Willow begins with the Buffyverse…
Monster Men is launching from American Mythology if you remember that one.
And hey, why not, Bleeding Cool is owned by Avatar and there are lots of Avatar variant back issues up for FOC as well, from over the years.
This is the first week without DC as part of Diamond's FOC. Through Lunar and UCS there are still FOCs happening.
Batman #94 continues Joker War, as does Detective Comics #1023.
DCeased: Dead Planet #1 begins Tom Taylor's new takes on DC zombies
Very late, even more than before, Doom Patrol Weight Of The World #7
Joker Harley Criminal Sanity spinoff Secret Files launches
And Lois Lane has a finale… where will this series jump off?
What's on your FOC?
Sign up below and we'll see what Thank FOC It's Friday brings next week… on time possibly.
Enjoyed this article? Share it!