The Cimmerian Writer Sylvain Runberg Speaks on Ablaze's Conan Comics
It appears that Ablaze has won their continued battle to publish their Conan comics under the title The Cimmerian. As Bleeding Cool reported earlier, the controversial comic is back with a new series, The Cimmerian: People of the Black Circle, to be published August 26th from writer Sylvain Runberg and Jae Kwang Park. Runberg is no stranger to writing literary icons, as he was responsible for Titan Comics' Millennium: The Girl with the Dragon Tattoo, which gave the late Stieg Larsson's iconic Lisbeth Salander new life in comic book form. Bleeding Cool spoke exclusively to Runberg about the long-fought Ablaze release of The Cimmerian, the writer's influences, and what artist Jae Kwang Park, who Ablaze described as "pupil of the immensely popular Korean drawing virtuoso Kim Jung Gi," will bring to this new take on Conan.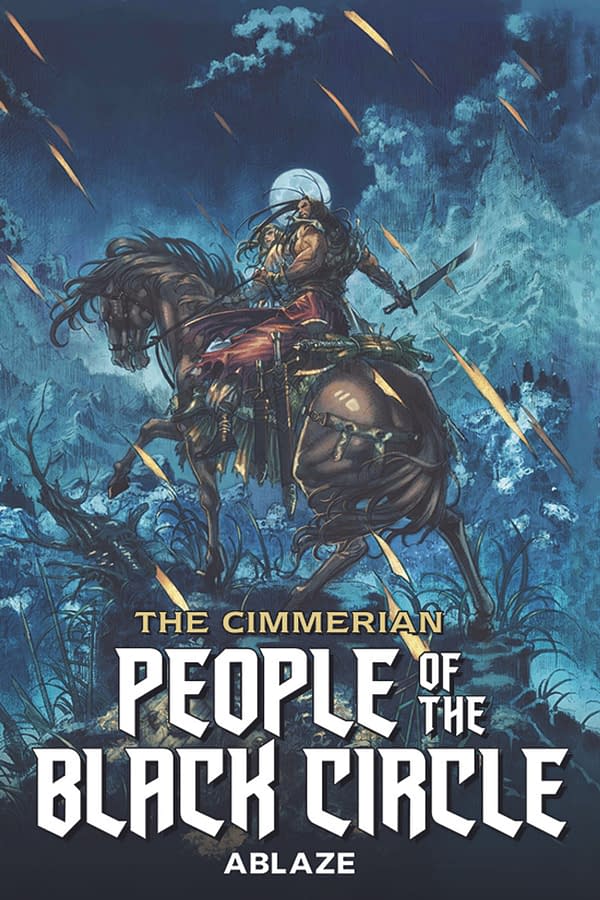 Sylvian Runberg writes:
"When I was offered to do an adaptation of Conan, I was immediately thrilled, and for several reasons.


The first is that this character was a part of my childhood, especially with the comics drawn by John Buscema and obviously the film with Arnold Scharwzenegger.


But the second, and maybe the most important reason, is Patrice Louinet, one of the worldwide best specialist of Robert E. Howard, who could advise us during the making of this adaptation, offered me the possibility to discover an another Conan from the one I had in mind from this childhood, a more complex character living in a more complex world, even if we're still talking about fantasy, magic spells, epic adventures and monsters.

This story "The People Of The Black Circle" is really an example of what was the "real" Conan when Robert E. Howard was writing those tales. He can fight, sure, he's brave, of course, he can be brutal, no doubt about that, but he can also read a map, manage to be a commander, and be involved in politics, in the larger sense of the term. This is what is happening in this story, when he's trapped in a war between different kingdoms and forces, trying to overcome betrayals, with an environment inspired by ancient Central and South Asian history and culture."
Runberg continues:
"We have also several strong and independent female characters, like Queen Yasmina, who dares to face Conan and shows as much determination and courage as he does in this adventure. For me, it was an opportunity to bring a real modern, epic, fantasy tale
from great original material and try to show that Conan is not only a brutal warrior seeking blood. And also strong and interesting secondary characters, including women.

So having a fantastic illustrator like Jaekwang Park on my side, coming from South Korea, a student form the worldwide famous illustrator Kim Jung Gi was also a fantastic opportunity to propose a faithful story to the Robert E. Howard universe, with a graphic style where you can see some Asian influences, in terms of epic-ness and powerful drawing, like I think Jaekwang Park has given to our adaptation."
Park isn't the only artist that readers and collectors alike may want to watch out for with this title. The popular Mirka Andolfo, who has her own series running at Ablaze, also provides a cover for the title that offers as much of a departure from her style as it offers a departure of the characters' heads from their bodies.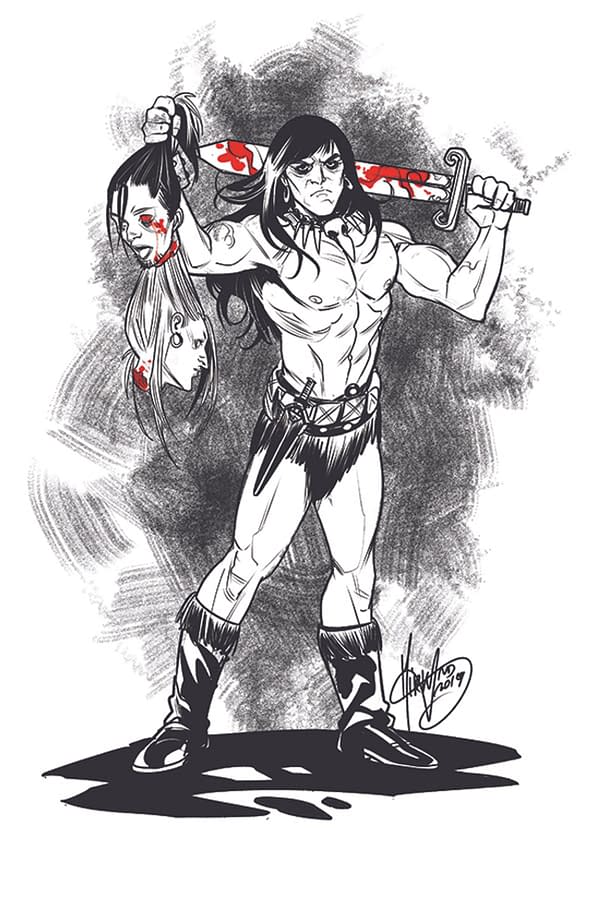 The Cimmerian continues August 26th from Ablaze.