Director Adam Marcus Makes FCBD Trailer for The Comic Bug
The Comic Bug has two locations in Southern Califronia, one in Manhattan Beach and another in Culver City. And while most stores are celebrating Free Comic Book Day this Saturday, May 5th, Mike Wellman and his team will be celebrating it on both the 5th and 6th turning his two stores into a mini-comic convention.
Some of the guests scheduled to appear are: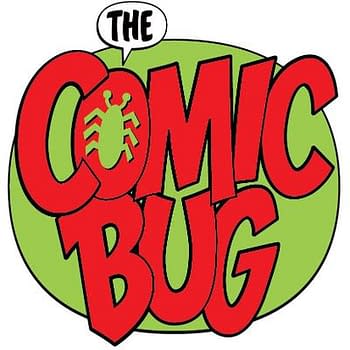 James O'Barr (The Crow)
Chiara Bautista (www.chiarabautista.com)
Scott Koblish (The Many Deaths of Scott Koblish)
Barbara Kesel (Shadowzone)
Ryan Odagawa (Shadowzone)
Joe Allard (www.designdevil.com)
Nicole Dubuc (Bruce Lee: The Walk of the Dragon)
Renae Geerlings (Bruce Lee: The Walk of the Dragon)
Brandon McKinney (Bruce Lee: The Walk of the Dragon)
Rafael Navarro (Guns A' Blazin'!)
Mike Wellman (Guns A' Blazin'!)
Luke Lizalde (Mac Afro)
Don Walker (Agent Wild)
DJ Kirkbride (Amelia Cole)
Dan Wickline (Metal Hurlant)
Vince Hernandez (Charismagic)
Frank Mastromauro (Overtaken)
Karl Altstaetter (Emerald City Blues)
Kids Entertainment (HoneyDew and MaryLu)
Lord Mesa (www.lordmesa.com)
The Comic Bug has a few famous customers including Friday the 13th: Jason Goes to Hell director Adam Marcus, who took the time to put together a trailer video for the event. Wellman talked about how it came to be and where the idea to go Superman with it came from:
Adam Marcus and I were hanging out in the back room chatting about other stuff when Superman The Movie was starting on the tv. I looked over at the credits and we were admiring how awesome that title sequence was. Then my eyeballs went wide and I said "Waitaminute…" and Adam buried his face in his hands saying "oh no…" knowing full on what was coming next! The rest, as they say, is history!
Comic Bug Free Comic Book Day 2018 Promo Final from Adam Marcus on Vimeo.
You may have seen my name zoom by in there. I will be attending both days of the show with copies of my Lucius Fogg novels and some comic/graphic novels I've written.
The Comic Bug Manhattan Beach – 1807 Manhattan Beach Blvd, Manhattan Beach, CA. 90266 – May 5th 11 AM to 4 PM
The Comic Bug Culver City – 4267 Overland Ave, Culver City, CA. 90230 May 6th 11 AM to 4 PM