The Dollar Store Hawkeye of Salt Lake City Charged, History Revealed
The so-called 'Dollar Store Hawkeye' or 'Falling Down Green Arrow', Brandon E. McCormick, has been charged with three felony counts at the lowest grade, for aiming his bow and arrows at Black Lives Matter protestors in Salt Lake City last week as well as an additional misdemeanour charge of threatening or using a weapon in a fight. The felony charges could see five years jail each, with a year for the misdemeanour.
It has also been revealed that the 57-year-old McCormick from Taylorsville who said he turned up, armed with a bow and arrow and a knife, to protect the police, spent almost twenty years in jail in California. He has previously been sent to prison seven times, beginning in 1989, when he was convicted of first-degree burglary in San Bernardino County and was sentenced to six years. He was paroled in April 1992 but returned to prison twice later that year for parole violations. Since then, he has been in and out of jail including parole violations and new convictions, including attempted burglary in 1993, possession of a controlled substance in 1996 and 2000, burglary again in 2004, and theft in 2008 and 2014, spending a total of 18½ years in jail. He was also convicted of a felony count of battery on a police officer or firefighter and has a pending case where he is charged with misdemeanour assault from a road rage incident last month, which states that after being cut off my another vehicle, he pulled the driver out of his vehicle at a stoplight, followed by a fistfight. He has yet to make a plea on that charge.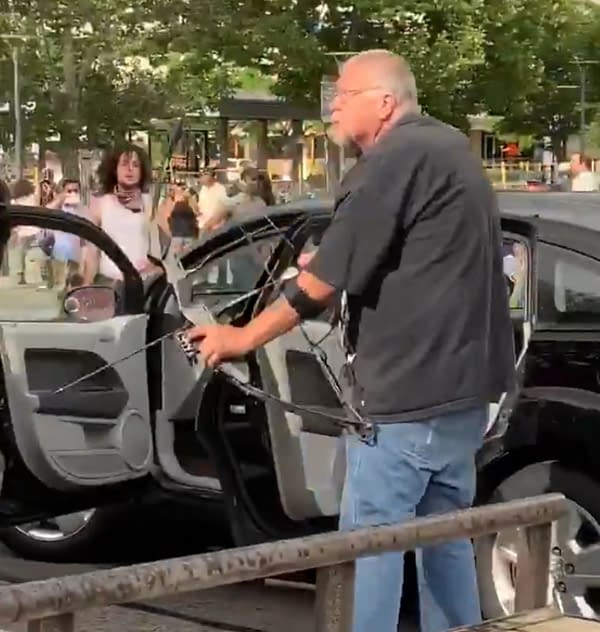 His bail has been set at $100,000. Prosecutors state "Because the defendant is alleged to have committed two violent offenses against random strangers in public during a short time frame, the state is requesting a higher bail to assure the safety and welfare of the community."
Video on the streets showed McCormock getting out of his car during a Black Lives Matter protest in Salt Lake City, parked his car in front of the library, on a corner where many demonstrators had gathered. He began yelling 'I'm an American, all lives matter!' before producing demonstrating that might not be true, by taking out a compound bow and arrow and aiming it at the protestors, in different directions at different people, before he was jumped upon and forced to the ground. His car was later flipped and set on fire. Separate videos show protesters crouching behind cars to avoid being shot by McCormick before running towards him, and one such can be viewed here. McCormick was taken into police custody, who discovered he had a large knife in his possession as well, but he was released. A petition had begun for the police to open an investigation against him.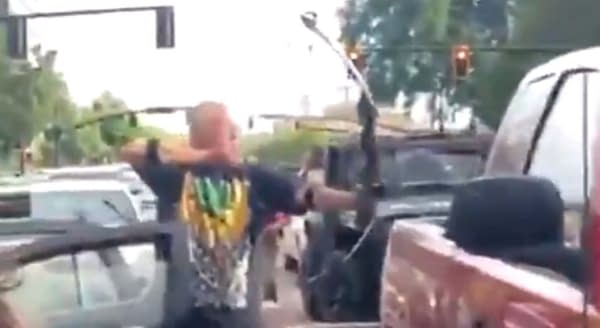 Midvale resident Sky Montiero told the Salt Lake Tribune that she saw McCormick draw the bow and arrow. "He knew for two blocks that he was driving into a protest or riot or whatever you want to call it. This guy had intent to kill." And that he police's failure to take MCcornick directly to jail, rather release him, only later putting out a warrant for his arrest after much publicity, makes the demonstrators' point about bias at the Salt Lake City Police Department.