The Real-Life Green Arrow/Dollar Store Hawkeye Reveals His Politics
A political activist taking to the streets with a crossbow to dispense justice? That's Green Arrow. And that was also Brandon McCormick of getting out of his car during a Black Lives Matter protest in Salt Lake City, Utah, yelling 'Yes I'm an American, all lives matter!' before producing a compound bow and arrows and aiming it at the protestors, to screams, in different directions at different people, before he was jumped upon and forced to the ground. The video posted by @gingersonfire can be seen here. after which the poster stated 'A civilian brought a hunting bow to the #slcprotest and began shooting it at protesters. He got out of his car, yelled "that's it", and shot into the crowd before being tackled. He was yelling and me, and then aimed his bow at a black man standing behind me. The black man saw it coming, charged, and tackled him. The SLC police retreated and allowed rioters to light the man's car on fire.'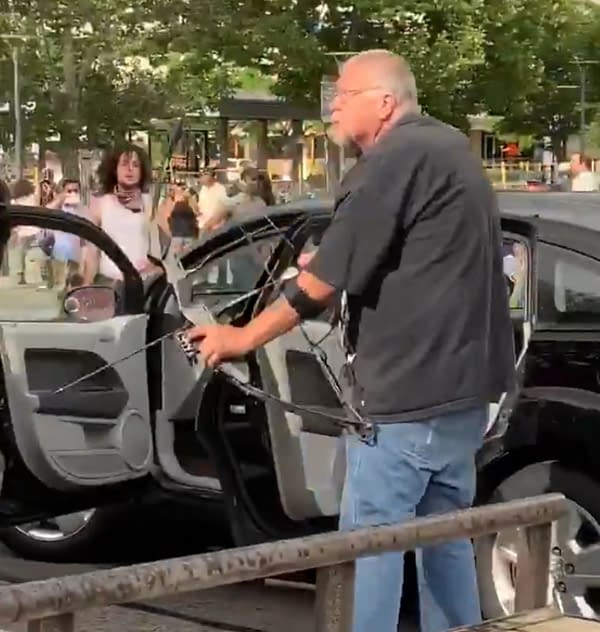 His car was later flipped and set on fire. Separate videos show protesters crouching behind cars to avoid being shot by McCormick before running towards him, and one such can be viewed here. McCormick was taken into police custody who discovered he had a large knife in his possession as well, but he has not been charged. A petition has begun for the police to open an investigation against him.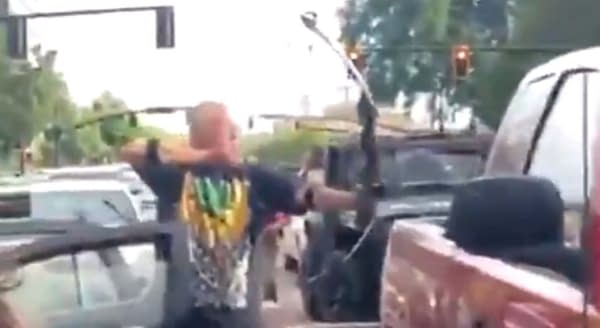 McCormick later claimed to the New York Post that he was there to support the police, that protesters set on him first after he shouted at them from inside his car, . "First I got beat up when I yelled, All Lives Matter, then I pulled out weapons, then I got beat up some more, then cops grabbed me and my car got totalled," He told KSL-TV that "First, I got beat up when I yelled "All Lives Matter. Then I pulled out weapons and I got beat up some more. The cops grabbed me and my car got totaled … I lost everything, coming down here to try to protect officers with what weapons I had. I back up the law enforcement. I know some cops are bad. I know some people are racists are bad." He later told Deseret News: "I came down here originally to help the cops. But, all I did was yell out, "All lives matter" and I got beat up by black people."
His version of events has yet to be backed up by anyone else, let alone video shot at the scene. There's also been no detail on how he believed wielding a bow and arrow would actually help police officers. While he has shown his injuries to reporters, it is notable in video that he doesn't show those injuries before he slowly gets his bow and arrow out of his car.
As this incident went viral, Brandon McCormick got the nickname of Dollar Store Hawkeye after the Marvel Comic character on social media – and hey, he started as a villain as well, but this seems more in the DC Comics Green Arrow vein, even if his politics are flipped, in a Michael Douglas Falling Down style. McCormick of Barstow, California has a Facebook page full of anti-Obama and ani-Clinton rhetoric, including one from last week saying "I wish I could go back in time. I would kill Abraham Lincoln, Adolf Hitler, and stalled and musaliny in there cribs. I also wish I could go back in time to take out Oboma and Hillary in the crib" and "If you didn't grow up during the cold war and or you and or your anaesters are here ileagely. You shouldn't be alloud to vote!!!!!"
Green Arrow or Hawkeye? You decide.