Flash #755
6.5/10
The death of the multiverse comes at you kinda fast, but Barry West knows how to keep making the almost identical right moves.
Barry Allen, the Flash is forced to team up with two of his most dangerous villains — the cop turned murderer Godspeed and his long time nemesis the Reverse Flash — to battle Paradox, whose family died as a result of a Flash battle and led him to seek universe-shattering power for vengeance.
There are two surprises in this Joshua Williamson script. At one point, a character who almost literally always does the same thing does something different, yet does so in a way wholly consistent with his character and goals. That's a neat trick to pull, even if it's done in a somewhat unclear fashion (can that character affect behavior? Oh well). Then there's a single page splash with a surprise so matter of fact you'd think that Adrian Veidt came up with it. That's mean spirited and brilliant.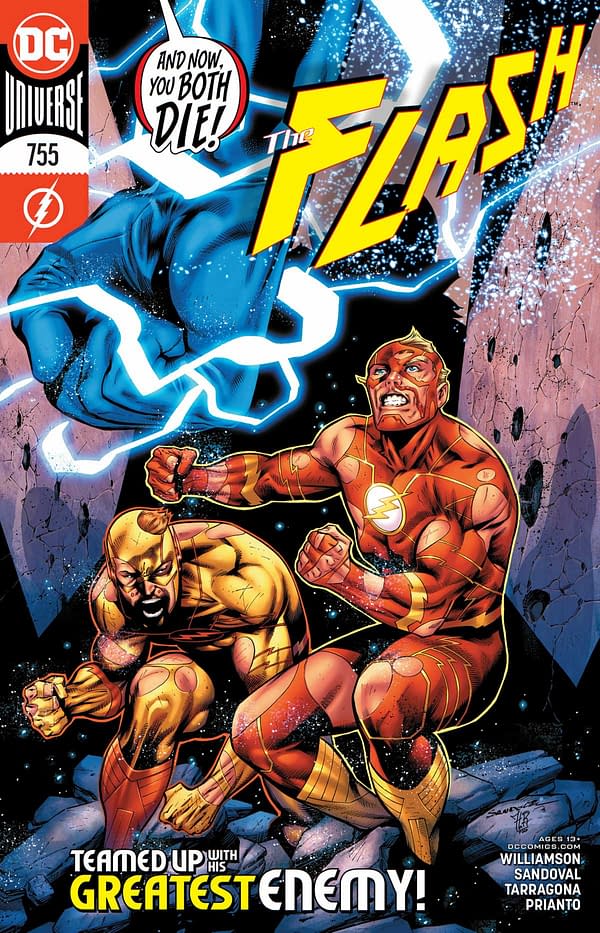 Alas, the actual main conflict with the "god powered" Paradox was a paper tiger, sturm und drang that in effect snapped reality back to its original shape with very little effect and no real arc of development for the title character. Likewise — and this is an ongoing issue with this character — most of his work here relies on three bits: reacting like "whaaaat?", posing and saying something cliche and heroic, and finally fairly inconclusive fisticuffs. You should be able to sing along with this song of hope and pugilism, as it's not playing any new chords.
For what it's worth, the art team of Rafa Sandoval, Jordi Tarragona, Arif Prianto, and Steve Wands do a yeoman's work with this script in capturing the rush and the sense of movement inherent in the characters. The coloring is great, ditto the lettering, all very high in quality.
Alas, the story at the core of it has some leaps in logic and a whole lot of blah blah blah that's less than compelling. In the end analysis, that's a wash, so … RATING: MEH.
THE FLASH #755
written by JOSHUA WILLIAMSON
art and cover by RAFA SANDOVAL and JORDI TARRAGONA
colors by ARIF PRIANTO
letters by STEVE WANDS
"The Flash Age" races to its stunning conclusion! Flash is forced to work side-by-side with his greatest foe as he teams up with the Reverse-Flash against his new foe, Paradox! But the damage Paradox did to the Flash legacy might be too much to undo!
Enjoyed this article? Share it!