The Movement Brings Back A Familiar Face (SPOILERS)
This is one of those rare occasions when I run the final page of a comic book on the day of its release. I'm not going to alter it, I'm not going to hide it, I'm just going to spoil it. So, you know, big spoilers. If you were planning to read The Movement #2 by Gail Simone and Freddie Williams II, today then run away, run away, run away. And come back later to join in the discussion.
But if you weren't planning to pick it up, it's just possible this may change your mind.
A few years ago, DC Comics tried to reboot and restart the Wildstorm universe. It faltered as Grant Morrison's WildCATS series just… wasn't written or drawn, and surrounding titles didn't receive the momentum that they needed. It was a rather embarrassing moment for the publisher.
But one of those books was Gen 13, written by Gail Simone, and was well received. Last year, Gail write;
Gen13 is a weird one for me. I had no real attachment to the characters, and they had fallen a bit into disrepair. They'd been retconned and revamped and weird stuff, and it didn't seem to take.

When Wildstorm was going through a big relaunch, they asked me to write Gen13, and the thing was, I had a pitch I really wanted to do, Welcome to Tranquility. So there was some quid pro quo there.

But the weird thing is, I fell in love hard with the Gen13 cast. And we did good, really good. We were the number one selling ongoing WSU title, a fact which didn't get a lot of mention because most of the higher profile relaunches were either not coming out due to lateness or not faring as well with readers.

So it was a hit, and I think it's probably the most underrated run I have ever worked on. The art was gorgeous, and I am extremely proud of the writing. It's got a lot of experimental storytelling for a superhero team book.

I think WS thought it was going to be more of a romp, and there's definitely funny stuff in it, but it's also got a pretty grim vision of how society treats marginalized teenagers. It has some really dark moments.

But I love the cast. I often regret leaving the book. I think we had something quite special.
The New 52 has seen the return of Caitlin Fairchild from Gen 13 in Superboy, as well as Grunge as an agent of N.O.W.H.E.R.E.
By the way, if this has you intrigued enough, you can still stop reading, pick up the issue, then come back. Just saying. Because we're about to cross the spoiler point of no return.
Because The Movement, now dealing with the police they have kidnapped have to see someone.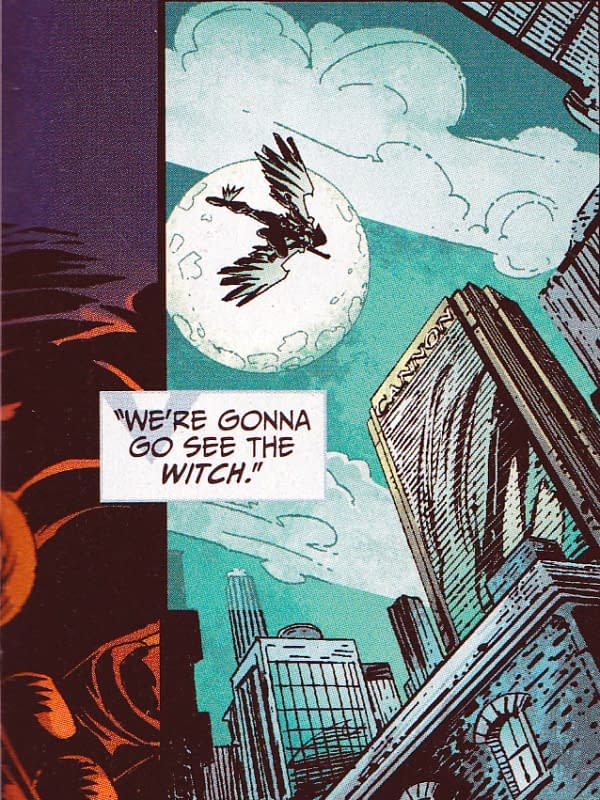 What kind of witch? A wicked witch?
Why, who could that be?
Sarah Rainmaker was an Apache Native American member of Gen 13 with a line in making a stand and being part of organised protests. A perfect character to pick up for a book like The Movement.
Okay, now will you go and buy it?
The Movement #2 is published by DC Comics today. Comics courtesy of Orbital Comics, London, currently exhibiting the work of Carl Stimpson.