The New Green Lantern Writer, Geoff Thorne, Hates Hal Jordan
At the weekend, it was announced that Geoffrey Thorne – or Geoff Thorne – the solicited writer for the John Stewart Green Lantern Corps story in the Future State: Green Lantern anthology – would be writing the new ongoing Green Lantern series featuring John Stewart in March. Geoff Thorne is someone Bleeding Cool originally highlighted ahead of his then-upcoming work on DC Comics 5G. An actor through the eighties and nineties, most prominently as one of the leads in long-running In The Heat Of The Night TV remake cop show as Sgt. Wilson Sweet, in 2000, he changed careers to become a writer, initially a Star Trek novelist, he went on to write for Law & Order: Criminal Intent, Leverage and The Librarians, which he produced. He also wrote for animated series Ben 10, Super Dinosaur, Niko and the Sword of Light, Ultimate Spider-Man and Avengers series. He went on to create the Avengers: Black Panther's Quest series and the character Mosaic for Marvel Comics as part of their Inhumans push.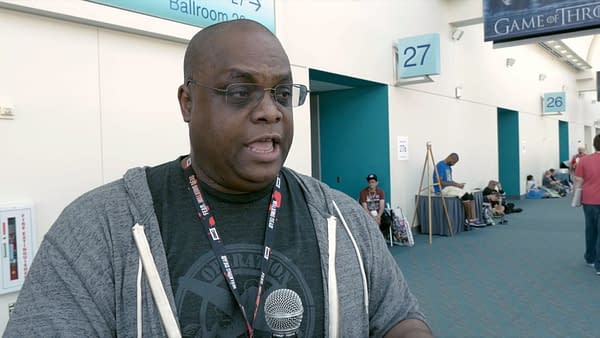 But he also has a long history of hateposting on the main Green Lantern from the sixties on, Hal Jordan. Tweets that are still available.
He was definitely of the opinion that the New 52 Justice League should have featured John Stewart rather than Hal Jordan. And that Warners missed a massive trick by not having a John Stewart movie Green Lantern as a result.
And replying to an Unpopular DC Opinions request:
Something he has repeated at any given opportunity.
And these are opinions he is still sharing, here from a couple of weeks ago.
And he is happy to boycott anything with Hal Jordan in it.
Of course, Hal Jordan is not the be-al-and-and-all.
Although…
And he also has a lot of issues with Geoff Johns, former CCO of DC, who was also behind the rebived prominence of Hal Jordan, Barry Allen as the Flash and Cyborg in the Justice League.
There are some people who complain about writers from other media being headhunted by Marvel and DC to write big books, without having gone through the usual comic book career. And say that these people don't really care about the characters they are writing. Well, it is evident if nothing else, that Geoff Thorne really, really cares.
Of course, with his Future State: Green Lantern anthology, he is going to be writing a comic book with other stories featuring Hal Jordan. Is this a betrayal of his deep-seated anti-Hal Jordan principles?