The New World #2 Review: Dystopian Romeo and Juliet
The New California government and the Guardians have tracked down Kirby's residence. Logan Maximus and the police are using Kirby's friends to get an in to Kirby's house. President Herod tells Stella that this is her kill, and he is planning on retiring soon and appointing Stella Maris as his replacement. All she needs to do is follow through with killing Kirby.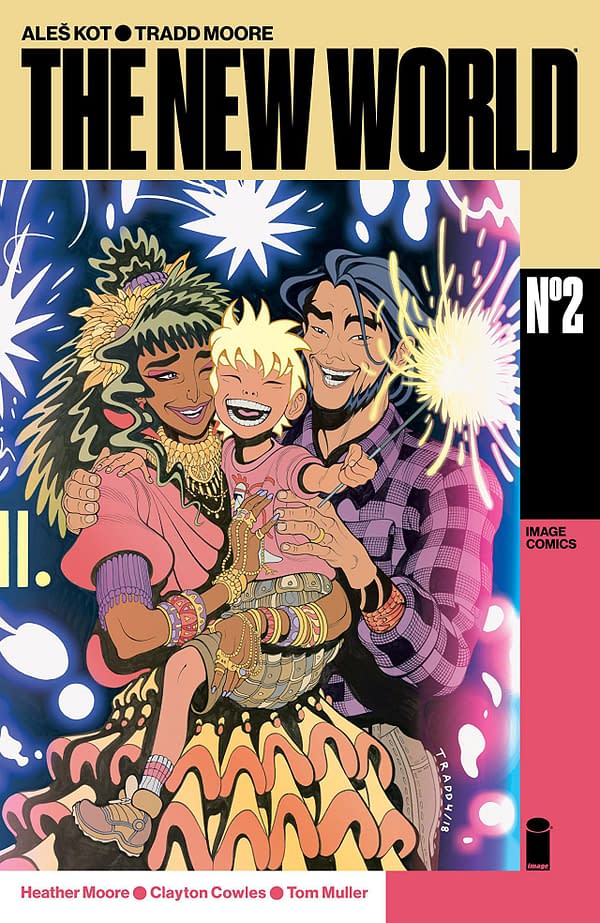 The New World #2 busts out the gate with action, as Kirby must make his way past Logan Maximus and the police. The ante is upped for Stella now that she knows she could be president after her grandfather steps down. The stakes are high, and the intensity of the comic reflects this fact.
Well… sorta.
You see, both Kirby and Stella seem to have had their self-preservation instincts removed, and that's where we are going to reach spoiler territory. You've been warned.
Kirby almost immediately stops his daring escape to try to recruit Stella, one of the top cops of New California. Bear in mind, he has just driven a car through cops and his friends to escape, but this girl he had a one-night stand with is enough to get him to stop the car. Meanwhile, Stella has almost zero conflict in abandoning her job, her ascendancy to the presidency, and her grandfather to leave with this boy she had a one-night stand with. The stakes are harmed when suspension of disbelief goes out the window, and we trot out a weird rendition of Romeo and Juliet for the audience. There's little conflict in this either, as it's resolved in the blink of an eye.
This is pretty much the entire comic too, so there's little else to salvage this installment.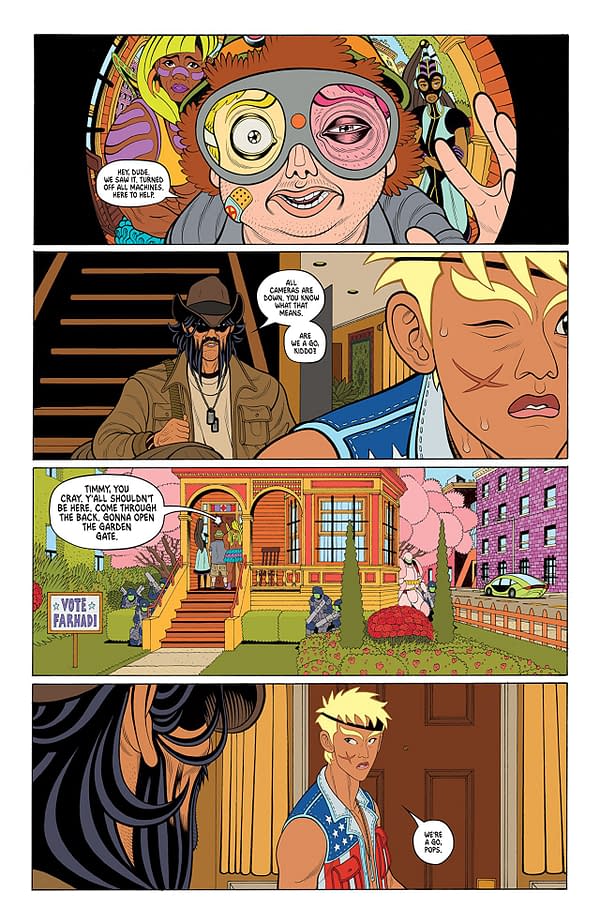 Tradd and Heather Moore do imbue this book with a hardy helping of psychedelic stylism which does give it a lot of visual personality. It is enjoyable to watch the comic progress in this manner, and there is little-to-nothing to criticize as far as the art goes. The out-there visual style mixed with the popping color work is great.
The New World #2 is a fast-moving but mostly disappointing follow-up to the first issue. We have these two characters well established, but we throw many of their traits out the window to unite them romantically. The art is solid, but I can't quite recommend this one unfortunately. Hopefully, next issue will redeem this book.